Eastern Promise: The Baykar Bayraktar TB2 in Profile
In a year where seemingly everything that could go wrong proceeded to do so in spectacular fashion, a UCAV of all things wound up having a better year than most of humanity. Baykar's Bayraktar TB2 UCAV's exploits this year have both made it a media darling and the symbol of how the year has gone terminally wrong for anyone filmed on the wrong side of one. With over 200,000 flight hours under its belt, the TB2's reputation has been well and truly cemented.

Striking Out On One's Own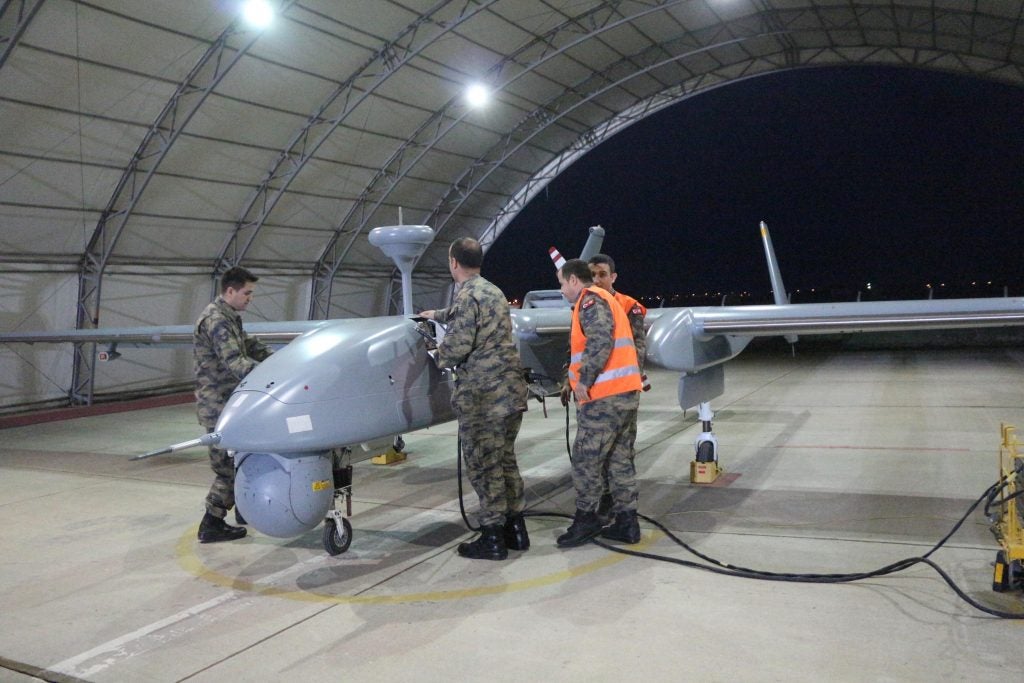 The Turkish military's drone operations can be traced back to 1994, when the Turkish Army took delivery of General Atomics GNAT 750s. However, due to a lack of doctrine for them at the time, these were used solely for directing artillery. Joint operations with the US piqued Turkish interest in armed drones, and they sought to purchase MQ-1 Predators from the US. However, what wound up being offered due to proliferation concerns were unarmed Predators, driving the Turkish Ministry of Defense to instead purchase 10 Israeli Aerospace Industry Herons in 2005, again unarmed. Continued delays, technical problems and diplomatic spats between Turkey and Israel cast a long shadow over the deal, even with deliveries finally concluding in late 2009.
The Israeli raid on the Gaza Freedom Flotilla on 31 May 2010, that resulted in the deaths of eight Turkish nationals caused a diplomatic crisis between the countries, solidifying the future direction of Turkish UAV use. The Anka from Turkish Aerospace Industries would make its first flight on 30 December that year, although it did crash land after its first time out.

Flagbearers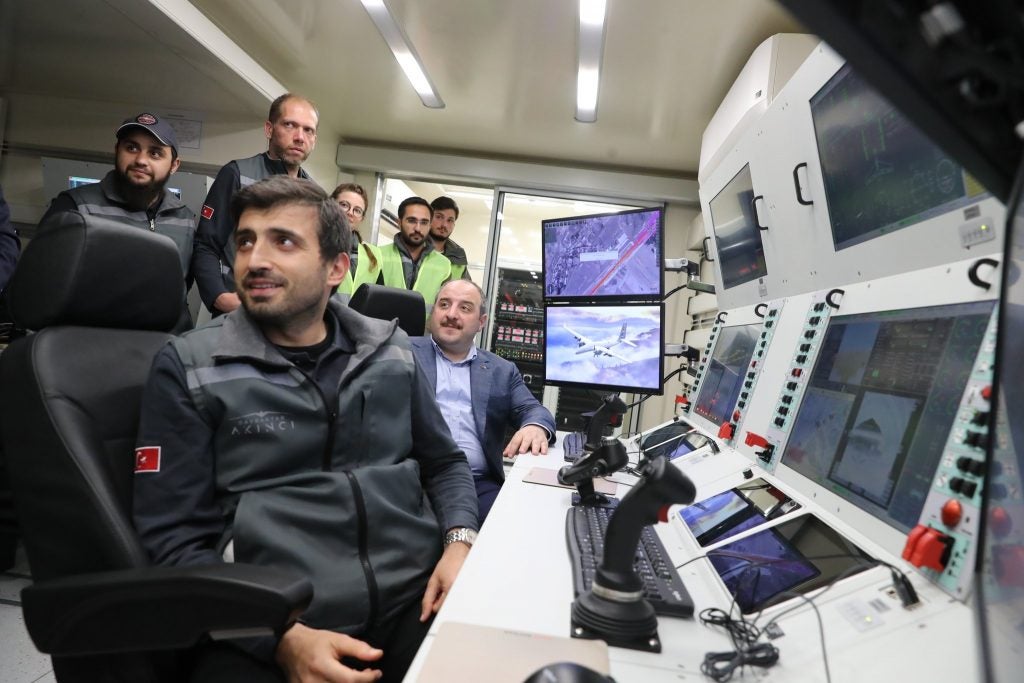 Compared to the well established, state-owned behemoth that is Turkish Aerospace Industries, Baykar Makina, more commonly known now as Baykar, wasn't exactly what one would expect to be the company occupying the Turkish popular imagination when you mention the "national UAV". The family-run company was founded in 1984 as a supplier of parts for the automotive industry but had begun exploring the development of UAVs by 2000, conducting its first flight test in 2004.
Enter Selçuk Bayraktar, now the Chief Technology Officer of Baykar. Selçuk had studied UAV development during his master's degrees at the University of Pennsylvania, and later the Massachusetts Institute of Technology on a scholarship. Upon the completion of his studies, he returned to Turkey in 2007 to take on the role of CTO, with the first Baykar-made mini UAV delivered to the Turkish military for testing that year. Development of what would become the TB2 started in 2012, with the first fully autonomous flight tests of the TB2 taking place in 2014 and deliveries starting that year.

The Airframe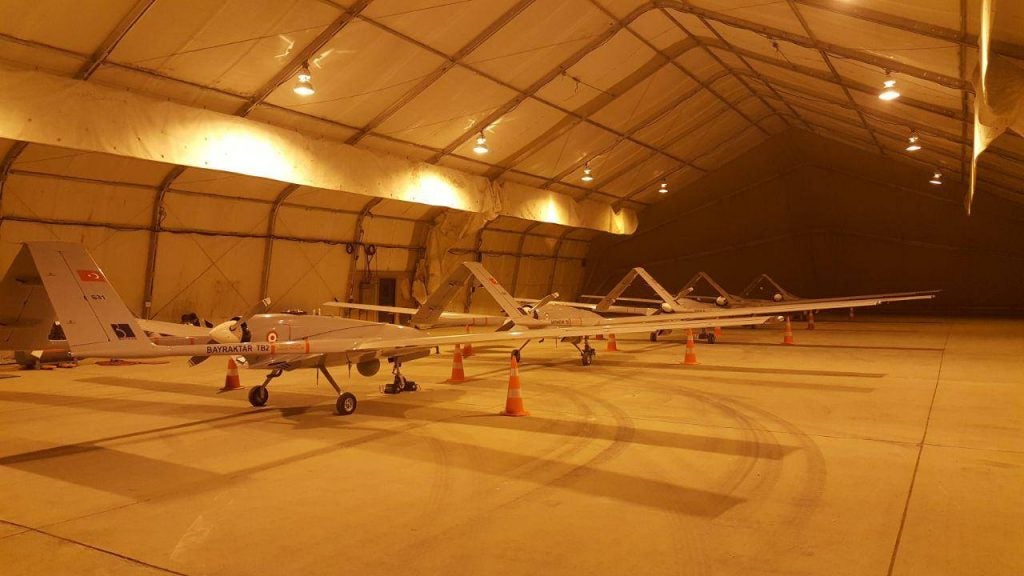 The TB2 is 6.5 meters long, with a wingspan of 12 meters. Its most distinctive external feature is its inverted V-tail and pusher propeller. Its 100 horsepower Rotax 912 engine drives it to a cruising speed of 70 knots and a maximum speed of 135 knots, cruising at an altitude of 22,500 feet, with its maximum altitude being 25,000 feet.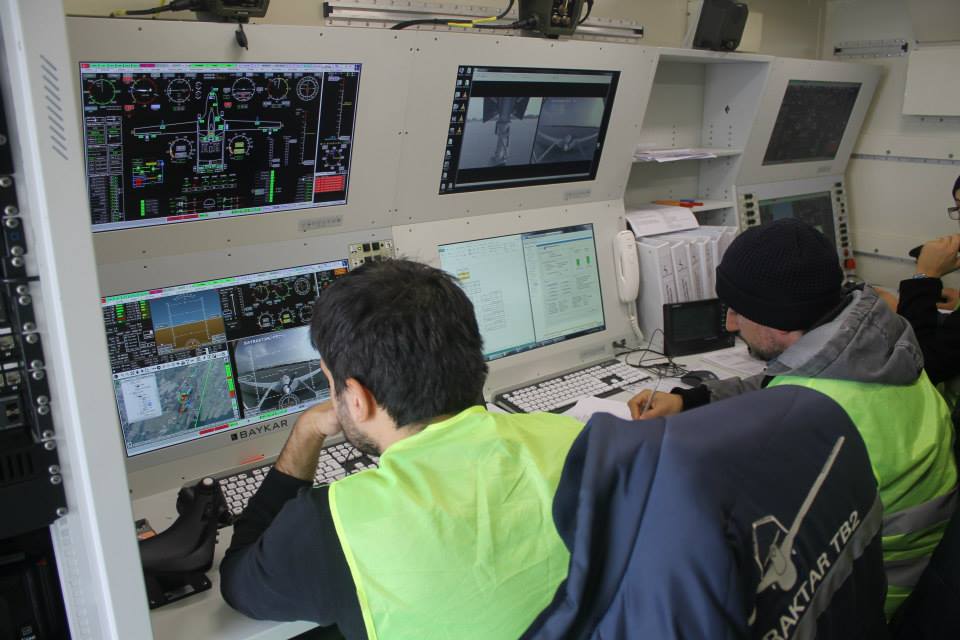 The TB2 possesses an endurance of over 24 hours of continuous flight, depending on loadout and mission profile. It is capable of fully autonomous parking and taxiing on the ground, as well as takeoff and landing. The TB2 is controlled by line of sight communications from its ground control station or relays, with a maximum range of 150 kilometers from the nearest control station or relay.

Reach Out and Touch Someone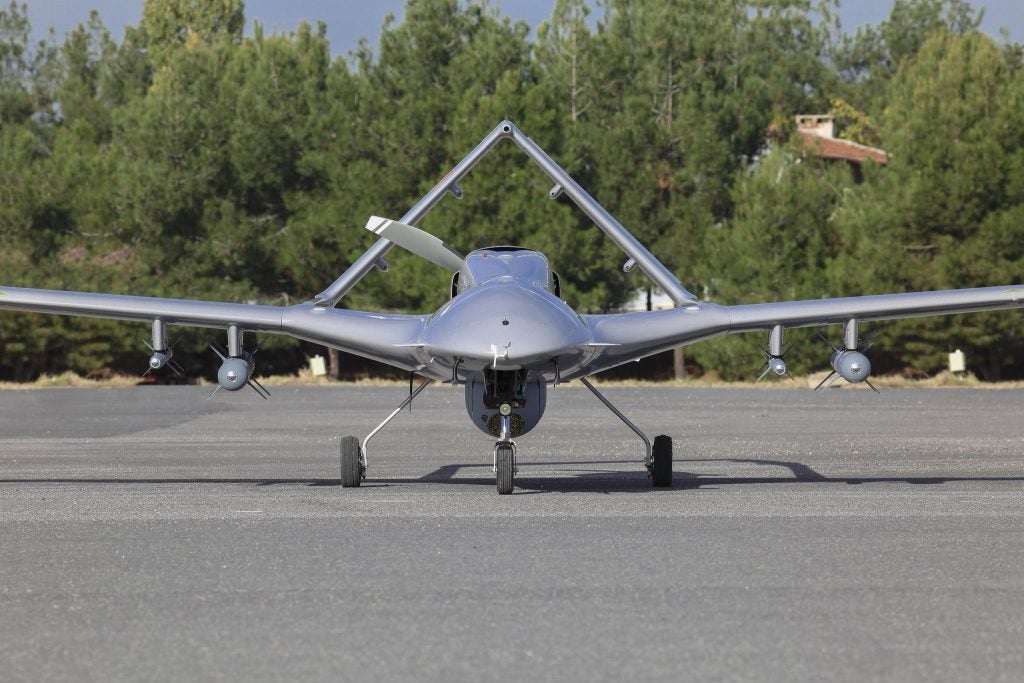 The TB2 uses a WESCAM MX-15D electro-optical and thermal image sensor as its primary sensor, providing 24-hour surveillance capability. To engage what it has found, the TB2 can carry two MAM-C and two MAM-L micro munitions, or four MAM-Ls. The MAM-C is a 22kg missile with a tandem HEAT warhead for use against heavy vehicles equipped with reactive armor, with high explosive blast fragmentation and thermobaric versions available for anti-personnel use. The MAM-L weighs in at 6.5kg, with a multipurpose HEAT warhead effective against both light vehicles and personnel. Again, a high explosive blast fragmentation warhead is available.

Orientation

The TB2 successfully fired its first missile in 2015, and by 2017 its armed version had formally entered service with the Turkish Air Force. Its first combat missions would be against the Kurdistan Workers' Party (PKK), as part of Turkey's long-running counterinsurgency campaign against the Kurdish group. In a portent of what was to come, the TB2's ability to engage from above drastically changed the nature of the campaign, with redoubts in mountainous areas in southern Turkey and northern Iraq no longer able to provide safe haven to PKK fighters, making the TB2 and Selçuk Bayraktar national icons.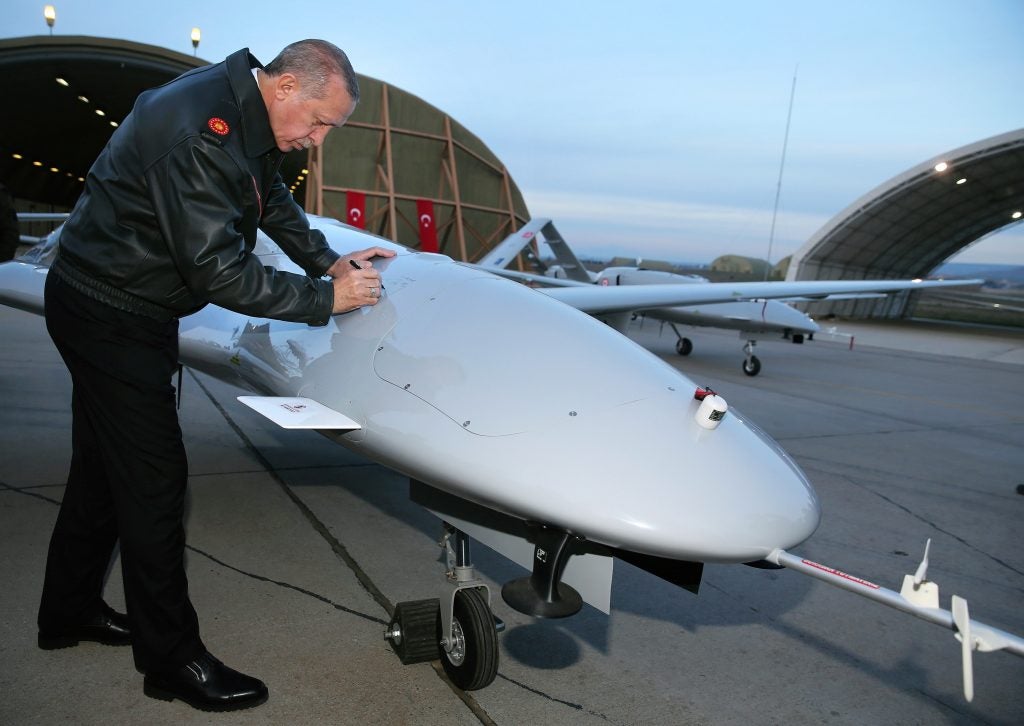 The TB2 would play a large role in Operation Olive Branch, Turkey's 2018 offensive into Syria's Afrin Canton that was previously held by the Kurdish People's Protection Units, otherwise known as the YPG (while a member of the Operation Inherent Resolve coalition, the YPG's origins in the PKK and continued relations with it has led to Turkey considering both organizations to be one and the same). A particularly infamous propaganda clip from the operation showing a TB2 using one of its micro munitions to destroy a mural of PKK founder Abdullah Ocalan on the side of a mountain in the canton. Like with the American drone campaigns in Afghanistan, Pakistan and Yemen, human rights groups voiced concern over civilian casualties and the rules of engagement for these targeted attacks. However, these concerns failed to draw significant attention to Turkey's use of drones, at least for a while.
Onto the World Stage

On the night of 27 February 2020, what was shaping up to be just another night in the Turkish border town of Reyhanli turned out to be something totally different. Ambulances streamed in from the Bab-al-Hawa border crossing with rebel-held Idlib Governorate just south of the town, delivering dead and injured Turkish soldiers to the town hospital. Airstrikes on a Turkish military convoy in Balyun, Idlib had resulted in the death of at least 33 Turkish soldiers and the injury of over 30 more soldiers. It is still disputed as to whether Russian Air Force or Syrian Air Force aircraft were responsible for the airstrikes, but what happened next was beyond question.

That night, Turkey announced the launch of Operation Spring Shield. The TB2 and Anka-S played pivotal roles in the operation, acting in concert with other Turkish military assets like the Koral electronic warfare system. In blitzes on social media and over Idlib, Turkish UCAVs racked up both kills and social media engagement as the Russian-Syrian offensive into Idlib was stopped dead in its tracks. Perhaps the greatest shock from Operation Spring Shield was the destruction of multiple Pantsir-S1 SHORAD systems by TB2s, with video of seemingly oblivious Pantsirs engaged and hit. In the end, Russian forces were able to down several TB2s and Ankas, but it was too little, too late. While the following ceasefire is still violated to this day by artillery shelling and Russian airstrikes that routinely kill civilians, neither Damascus nor Russia have dared any serious new pushes into Idlib.

No Fluke

Following the Syrian ceasefire, attention soon turned to Libya. Warlord Khalifa Haftar had commenced an offensive on the capital in April 2019, only for his forces to bog down in southern Tripoli. While the Government of National Accord operated TB2s, Haftar had his own UCAVs, Chinese-made and UAE-operated Wing Loong IIs, as well as support from the Wagner Group and other private military contractors or mercenaries, meaning that neither side had a significant qualitative or quantitative advantage. At least, that's what the situation seemed to be circa January 2020.

While the initial arrival of Turkish advisors, their hardware and Syrian National Army fighters in Tripoli in January did not appear to change much, even with GNA Prime Minister Fayez al-Serraj announcing the Operation Peace Storm counter-offensive in March, that would soon change. On 18 May, the self-styled Libyan National Army forces based at the al-Watiya airbase south of Tripoli retreated following a month-long siege by GNA forces.
In the days up until their retreat, Turkish state media had steadily released footage of TB2 kills in southern Tripoli and around al-Watiyah, including more Pantsirs. While pro-Russian sources claimed that it was recycled footage from Syria, GNA forces securing the airbase soon discovered multiple Pantsirs that had been abandoned, with some showing damage identical to what those targeted on video sustained. By mid-June, LNA forces had fully retreated from southern Tripoli and even lost their final stronghold in western Libya, Tarhuna.

Rewriting the Nagorno-Karabakh Status Quo

On 27 September, the Azerbaijani army mounted an offensive into the disputed region of Nagorno-Karabakh, blaming Armenian forces for shooting first. Unlike an inconclusive bout of fighting on the Azerbaijan-Armenia border in July, the fighting would turn out to be a wholly different beast from that engagement. Despite early Armenian video claims of successful engagements of Azerbaijani units, the true problem for Armenian forces would come from above.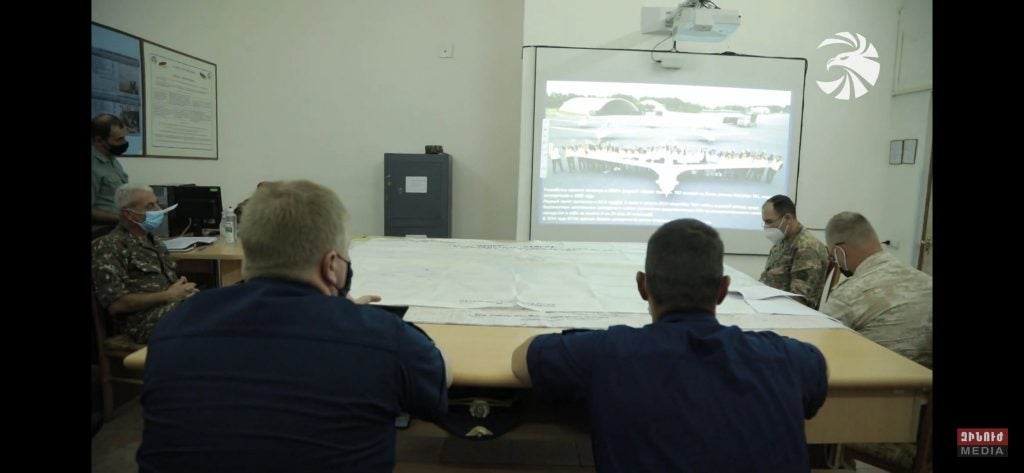 Despite training with the Russians after the July fighting on how to counter UCAVs, with photographs of the training showing a slide dedicated to the TB2, the Armenian military proved itself to be totally helpless in the face of the drone onslaught. The TB2 and Israeli loitering munitions neutralized Armenian forces' traditional terrain advantages, in addition to systematically destroying their air defense systems to cap off a veritable annus horribilis for Russian air defense systems.

While Azerbaijani propaganda campaigns on social media were laughable at best, their Ministry of Defense's near-daily release of TB2 engagement footage wound up being a valuable resource for open source investigators tracking the progress of the conflict, giving the lie to Armenian claims of besting a disorganized Azerbaijani military and the ever-growing roster of entities alleged of assisting them, starting with Syrian mercenaries and ending with unproven claims of Pakistani soldiers and "thousands" of Turkish special operations forces. 43 days later, a defeated Nikol Pashinyan, prime minister of Armenia, announced on his Facebook page that he had accepted a ceasefire that cemented Azerbaijan's war goals of retaking the areas surrounding Nagorno-Karabakh and the strategic city of Shusha in Nagorno-Karabakh proper.

After Action Reporting

With its combat outings so recent, evaluating the strengths and weaknesses of the TB2 would normally be a fairly difficult task. But here the photogenic nature of the TB2 aids it, with the release of footage from it being popular with its users. It's not an all-encompassing view, but it is very revealing.

Strengths
High Integration with Supporting Systems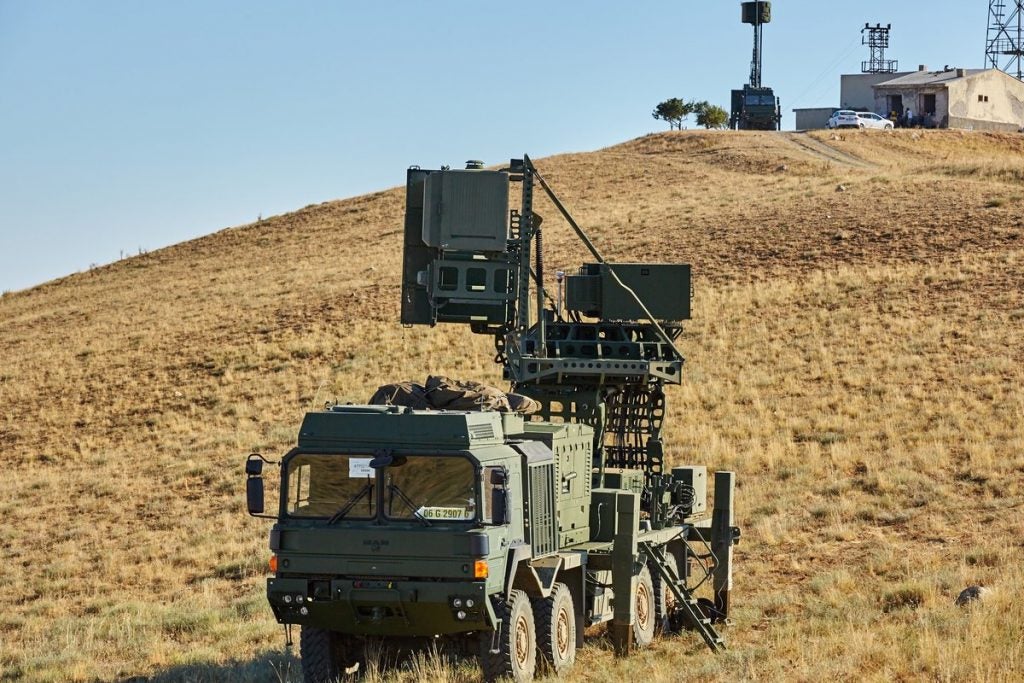 It is sadly too common to attempt to evaluate a system in a vacuum, devoid of a variety of other factors which would be of critical importance in any representative field test or actual fighting. In the case of the TB2, its effectiveness in providing intelligence, surveillance and reconnaissance or just destroying targets outright would probably not be the case without its ability to work together with support assets like the Koral system, or cooperative engagement of targets should its MAM-L or MAM-C micro munitions not be enough to do the job. This is no mean feat, with the US still researching how to integrate its MQ-9 Reapers into something ready for near-peer conflict rather than targeted eliminations of al-Qaeda, Taliban or ISIS members. Indeed, while the GNA's TB2s played a role in grinding Haftar's Tripoli offensive to a halt, they only became key to turning the tides after the support systems it works alongside in Turkish service became available.

Precise Targeting

That the TB2 and other UCAVs are taking over air operations that were previously the domain of counter-insurgency aircraft, armed jet trainers or even converted air tractors is unsurprising when one looks at what they can do compared to those. In the case of the TB2, the WESCAM MX-15D means that it comes stock with precision targeting capabilities beyond what an Su-25 or armed L-39 has without expensive upgrades. While it lacks the sheer payload of an Su-25, it can engage from further away and with greater chances of killing or neutralizing its target on the first shot, "kicking down the door" for manned ground attack aircraft by suppressing air defenses as it has in Nagorno-Karabakh.
High Indigenous Content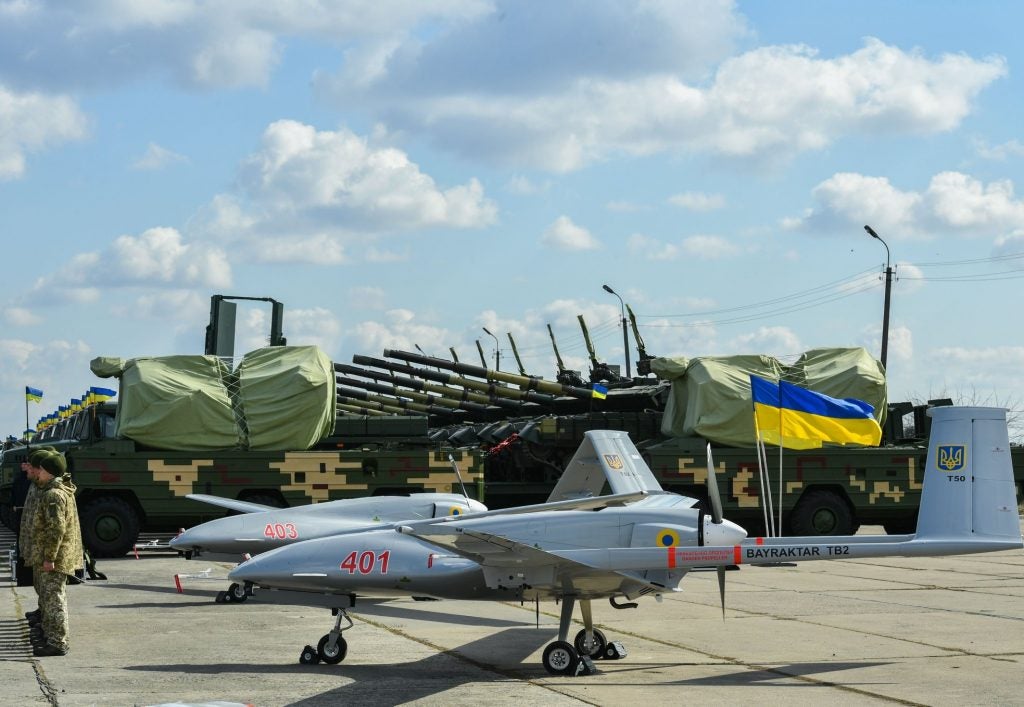 Fully indigenous military hardware has been a long term goal of the Turkish government, with painful memories of the 1975-1978 US arms embargo still lingering and ongoing wrangling surrounding the F-35. Additionally, indigenous military equipment means no terms of use can be imposed, freeing Turkey's hands with its arms exports and foreign policy. Here Baykar delivers, with the TB2 claimed to have 93 per cent indigenous content today, with the amount planned to further increase in the years to come.

Limitations

Limited Range
The TB2 currently has a limited range of about 150 kilometers from the nearest drone communication station. This is due to its current dependence on line of sight communications. While Turkey has a network of ground relay stations in its southern provinces to facilitate cross border operations into Syria and northern Iraq and a similar network created in western Libya. This presents a hard cap on operations that can be carried out with the TB2. The range limitation also contributes to the Turkish military describing it as a "tactical" UCAV, as opposed to a medium-altitude, long-endurance UCAV like the Anka.

Critical Systems are Still Foreign-made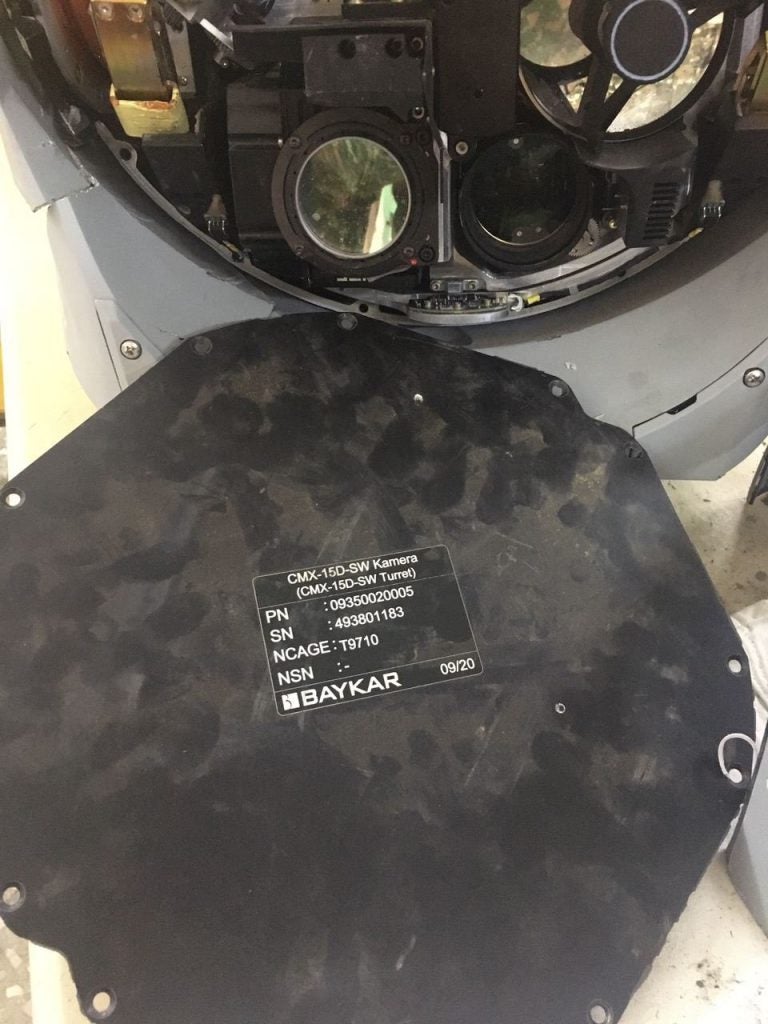 While much of the TB2 is made in Turkey by Turkish companies, the most critical systems of the TB2 are still imported from overseas, without which the TB2 can't see or even take flight. Canada, where the WESCAM MX-15 electro-optic/thermal imaging sight is made, and Austria, where the Rotax 912 engine is made, have both suspended exports of the components to Turkey following domestic political pressure. While Baykar almost certainly has spare systems for such an eventuality, this could present a long term problem.

Future Prospects

While Baykar has made no secret of its development of the Akinci, whose ambitious design is only matched by the battlefield success of its predecessor, development for the TB2 is far from over. Baykar announced the first flight of indigenous sensors on the TB2 on 6 November, releasing both true color camera and thermal imaging imagery. TB2s equipped with satellite communications systems have now begun testing as well, potentially lifting the range limitations sooner rather than later. Last but not least, a new generation of indigenous UAV engines by Tusaş Engine Industries will power a forthcoming "TB3", in addition to the Akinci.

Looking Back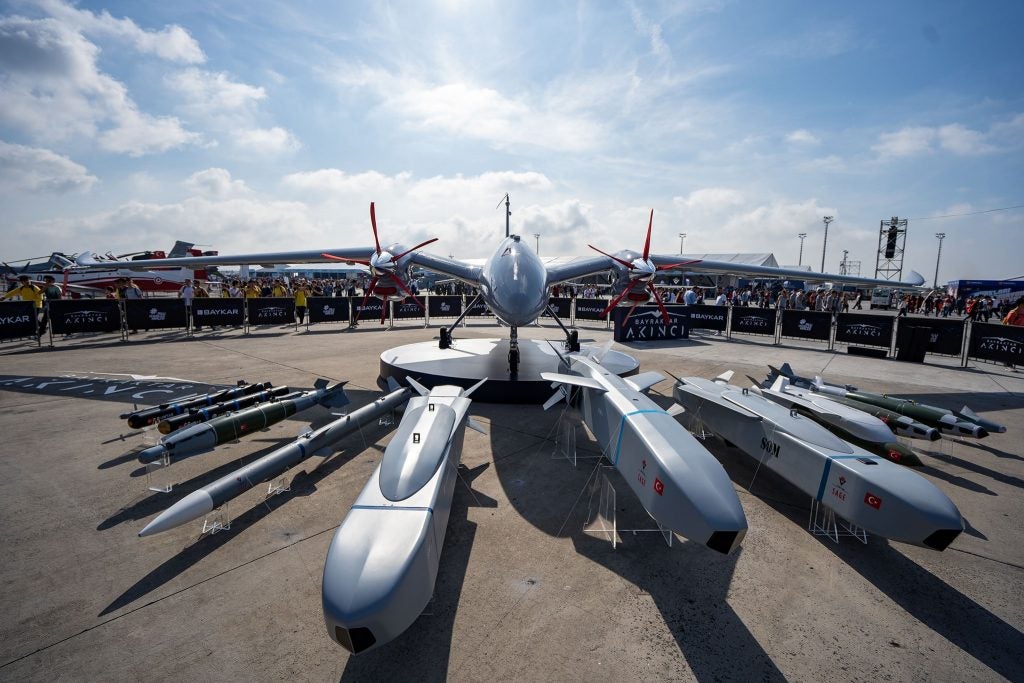 The story of the TB2 is the story of Turkey's rise to the cutting edge of drone warfare, as countless other media accounts testify. Even as the Akinci and other members of Turkey's next generation of UCAVs get ever closer to completing development, entering service and potentially replacing the TB2, it's clear that the TB2's place in Turkish aviation history is assured.