French and American Governments Sign Agreement on E-2D Hawkeyes for Marine Nationale Carriers
The governments of France and the United States have signed a Letter of Offer and Acceptance (LOA) on the future purchase of E-2D Advanced Hawkeye carrier-based Airborne Early Warning (AEW) aircraft for the French Navy.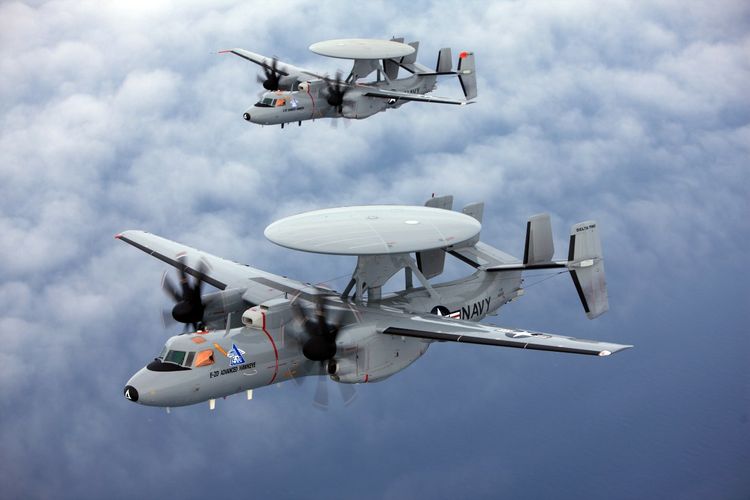 The LOA allows the U.S. Navy to begin contracting activities with the aircraft's manufacturer, Northrop Grumman, for production to commence on three E-2D aircraft. It also covers ancillary engineering, spares and follow-on support.
Though not a confirmed order – which is expected to be worth around $2 billion – the LOA represents a significant step in the acquisition process and a contract award is anticipated in 2022 with aircraft delivery to France by 2028. Janice Zilch, VP for Northrop Grumman's manned airborne surveillance programs, said: "The procurement of the E-2D Advanced Hawkeye will provide France a generational leap in capability for unparalleled situational awareness for their air defense fleets."
The French Navy currently operates the previous generation E-2C Hawkeye, which has been in service with them since 1998. France is the only country other than the United States to operate its E-2 Hawkeyes from an aircraft carrier. By upgrading to the newer model, which is also operated by the U.S. Navy, the French will maintain interoperability with the American fleet.
Compared to the E-2C, the -2D has a completely new radar featuring both mechanical and electronic scanning capabilities, fully integrated "all glass" tactical cockpit and vastly improved Identification Friend or Foe systems and data links.
In 2013 the French E-2Cs were upgraded by Northrop Grumman to maintain compatibility with the newer American aircraft, but with new carriers proposed for the French fleet a suitable upgrade in their AEW capability will be required and the growth potential in the newer model is substantially more than with the existing aircraft.