US Marine Corps KC-130J / F-35B Mid-Air Collision – Crews Return To Units
A spokeswoman for the United States Marine Corps has confirmed that all Marines involved in a mid-air collision between a KC-130J and F-35B over Southern California last week have safely returned to their units. The statement was made to the Marine Corps Times by Nikki Gallegos, a spokeswoman for the Marine Corps.

The mid-air collision happened around 4 PM local time on 29 September, while the F-35B was in the process of inflight refueling from the KC-130J. The pilot of the F-35B ejected following the collision, with the stricken jet crashing in the Ocotillo Wells State Vehicular Recreation Area. The KC-130J belly landed in a field in Thermal, California near Jacqueline Cochran Regional Airport. All of the Marines involved were reported safe after the incident, with only minor injuries reported.

The F-35B was from the "Green Knights" of VMFA-121, while the KC-130J was from VGFR-352 "Raiders". The aircraft were participating in Weapons and Tactics Instructor (WTI) course 1-21, a seven-week training event held by Marine Aviation Weapons and Tactics Squadron One at Marine Corps Air Station Yuma that trains Marine aircrews on operations in support of a Marine Air-Ground Task Force.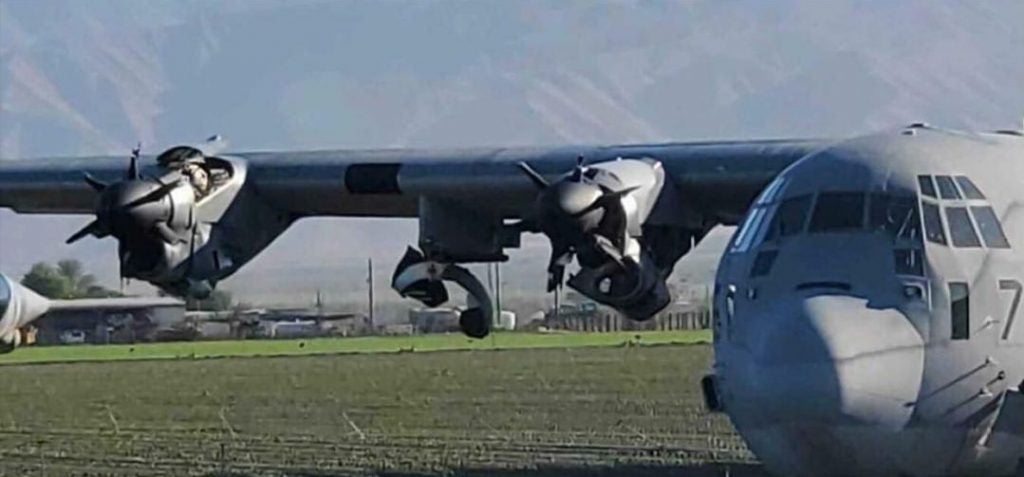 Photographs from the scene of the KC-130J's belly landing show extensive damage to the KC-130J's propeller blades, with the two starboard propellers having all their blades broken off, and damage to the outboard port propeller's blade tips. Fuel could be seen leaking from the port wing, with the refueling pod having been sheared off. It is not currently known what damage was caused by the collision and what was caused by the belly landing.

Recordings of air traffic control communications at the time of the incident have since been uploaded to the internet.

The incident is now under investigation, with the Marine Corps stating that updates will be provided as information becomes available.