First public display of Baykar Akinci UCAV at TEKNOFEST 2019
Turkish drone manufacturer Baykar Makina has displayed its latest Akinci unmanned combat air vehicle on static display at the TEKNOFEST Istanbul Aerospace and Technology Festival. This is the first time the Akinci has been placed on display to the public. The Akinci is being displayed alongside an array of precision-guided munitions that will be integrated with it, ranging from guided rockets to the SOM cruise missile.

The Akinci (Raider) unmanned combat air vehicle is Baykar's latest unmanned combat air vehicle, and has been in development since 2017. It is developed from the Bayraktar TB2 unmanned combat air vehicle, which is currently in use with the Turkish Armed Forces, Gendarmerie General Command, General Directorate of Security (Turkish police), as well as the Ukrainian and Qatari militaries.

According to the Turkish Presidency of Defense Industries, the Akinci will be capable of carrying 900kg in external stores, in addition to 450kg internally. It has a service ceiling of 40,000 feet, and can fly continuously for up to 24 hours. Manufacturer specifications state that the Akinci has a maximum take off weight of 5,500 kg and a 250km range.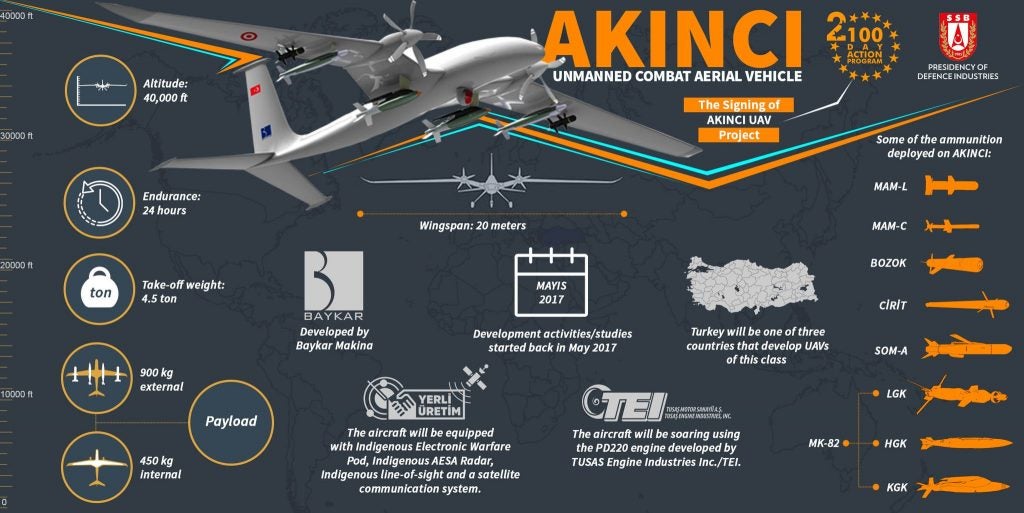 In addition to its payload, the Akinci has a suite of advanced Turkish-made avionics, including an AESA radar, electronic warfare pod, line-of-sight and satellite communications systems. UkrOboronProm of Ukraine has joined the Akinci project as well, helping to develop the twin 750HP PD220 turbodiesel engines that will power the Akinci.

Daily Sabah reports that the Akinci has recently completed engine tests, and is on track for its first test flight in October. Baykar expects the Akinci to enter service with the Turkish Armed Forces by 2020. Baykar officials have stated that the Akinci may be equipped with Turkish air-to-air missiles in the future for air combat.
Turkey has pursued the development of indigenous drones as part of a broader effort to cultivate a fully indigenous defense industry capable of making products competitive on the global market. Turkish indigenous UCAVs have already seen combat in Turkey, Syria, Iraq and Libya.