Despite Growing Evidence, Azerbaijan Denies Presence of Syrian Mercenaries
In an interview with France 24 today, the president of Azerbaijan, Ilham Aliyev, again rejected accusations that his nation was utilizing Syrian mercenaries in the fight against ethnic Armenian forces in Nagorno-Karabakh. In the interview he stated that "not a single country had presented us with evidence". However, despite this statement, for weeks now videos have been leaking out of the embattled region.
From before the conflict even began, there were warnings that mercenaries were being sent to Azerbaijan. While often laughed down and met with doubt from all sides, the reports continued to grow. Indeed, the Syrian Observatory for Human Rights reported as early as 29th August that Syrian mercenaries were being sent to Azerbaijan after receiving training. This report was followed up with an additional report on 27th September, the day in which hostilities began in which SOHR confirmed that Syrian mercenaries were in-country. That same day, a grainy video of men in pickup trucks accompanied by an AIL Storm armored vehicle was released. The video claimed to show Syrian Mercenaries moving towards the front. However, the low quality of the footage made it impossible to decisively confirm at the time.
Whilst the above video was geolocated, the quality made it easy to dismiss. This would not be the last time Horadiz was mentioned, though. Shortly afterwards, a video of men speaking Syrian Arabic and dressed in Azeri border guard camouflage was leaked to several group chats and local news channels in rebel-held Syria. The caption is simple: "The (Syrian) National Army in Azerbaijan" and it appears to show just that. In the video, the men are listening to music associated with the rebel group Firqat Sultan Murad and state that they are at the border crossing to Armenia before quickly correcting each other to being in Libya.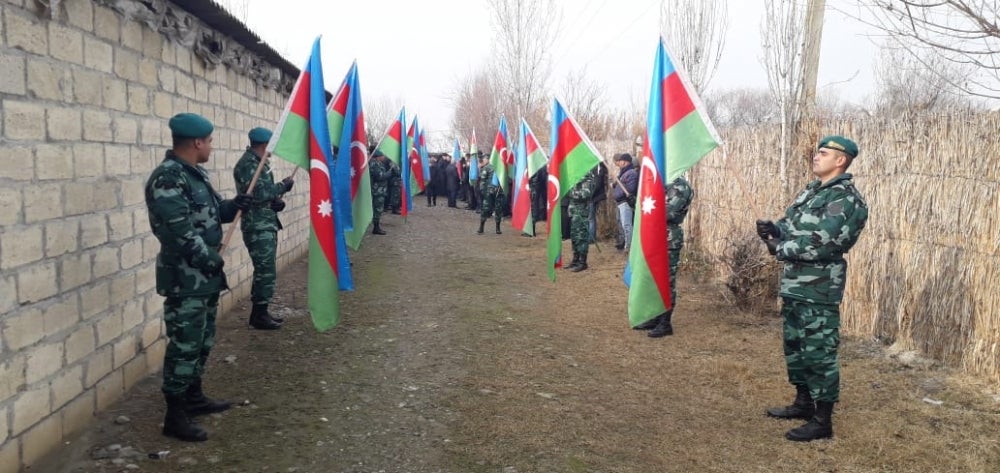 Syrian mercenaries were not only spotted in Horadiz. On 1st October, footage came out from Barda, Azerbaijan which again showed men in the now familiar dark green uniforms and hats. Barda is over 100km away from Horadiz, demonstrating that Syrian mercenaries are dispersed over a wide front around Nagorno-Karabakh.
Syrian fighters merely being present does not prove that they are in combat. And for much of the early fighting there was no evidence of them actively being engaged in combat except for hearsay by Armenian fighters and SOHR. This changed on 10th October, when footage filmed by the fighters themselves was released. The hectic footage shows rather disorganized men wearing the same Azerbaijani uniform, speaking Syrian Arabic, and next to a familiar AIL Storm. Unfortunately, there is no announcement of which group these fighters are from in the video.
Further proof of Syrian involvement is appearing on social media as time goes on. Syrians on the front lines have acquired phones and are taking videos to show the combat off to others. A graphic video was released a week ago where the member identifies himself as being from Liwa Farouq of Firqat al Hamza. Throughout the video, he repeatedly calls dead Armenian fighters derogatory names. The video was geolocated to Marjan, recently captured by the attacking Azeri forces.
The video embedded includes graphic images of corpses.
Syrian mercenaries seem to be eager to show off their presence in Azerbaijan, despite likely restrictions upon them doing so. The most explicit of these videos comes from Firqat Sultan Murad members. The Turkmen fighter on the right side of the screen points out Armenia behind him and wishes for a liberation of the territory and then attempts to flash the Grey Wolves symbol. The man on the left then hurries to point out that Iran is nearby.
As time goes on, it is likely that more videos and images will be released from Nagorno-Karabakh. What is clear is that the Syrian fighters from the groups Firqat al Hamza and Firqat Sultan Murad (which both have many Turkmen fighters) are in Azerbaijan despite claims from both the Turkish and the Azerbaijani governments to the contrary.