Updates: War In Ukraine (29 March)
This morning negotiations continued in Istanbul discussing a ceasefire and potential peace deal. Ukraine also submitted written proposals outlining that Ukraine would take on neutral status, ruling out joining NATO but requesting guarantors of their defense. Head of the Russian delegation Vladimir Medinsky told press "we have received written proposals from Ukraine confirming their desire for a neutral, non-aligned and non-nuclear status, with a refusal to produce and deploy all types of weapons of mass destruction, including chemical and bacteriological, and a ban on the presence of foreign military bases and foreign troops on the territory."
Yesterday Russian forces also passed a dubious threshold with OSINT analysts Oryx announcing they have verified 2,000 individual Russian vehicle and equipment losses. Read more here.
Yesterday Kremlin spokesman Dmitry Peskov told PBS on a video interview that "no one is thinking about using… even about the idea of using nuclear weapons."
The situation on the ground remains largely unchanged with Mariupol still under heavy assault with Russian forces pushing into the city centre in the face of dogged resistance. Small scale Ukrainian counterattacks in Kyiv's suburbs continue, with Irpin recaptured, while Russian forces largely attempting to establish defensive position. The progress of counter-offensives around the southern city of Kherson remain unclear.
The UK Ministry of Defence confirmed in an intelligence update that private military contractors Wagner Group are active in Ukraine. The UK believes that Russia has, or will, deployed more than 1,000 Wagner mercenaries, including senior leaders, at the detriment of Wagner deployments in Syria and Africa.
Check out our earlier updates on Ukraine here.
This feed timestamps using local Eastern European Time (EET).
---
Updates
2:22AM (EET) – Amy Mackinnon, a national security reporter with FP, has shared some of the latest satellite imagery released by Maxar. It shows the scale of the devastation at the besieged city of Mariupol. Entire apartment blocks are shown to be collapsed and gutted.
---
12:40AM (EET) – Sirens have sounded over Kyiv tonight as numerous reports of explosions have been shared by residents. There are also, as yet unverified, reports of heavy shelling heard in Kyiv's suburbs.
---
11:34PM (EET) – The UK Ministry of Defense believes that Russian forces around Kyiv have lost the initiative and that it is "almost certain that the Russian offensive has failed in its objective to encircle Kyiv."
---
10:38PM (EET) – UK Defence Minister Ben Wallace has confirmed that the UK's short range air defense weapon, Starstreak HVM, has been deployed within Ukraine following training completed by Ukrainian personnel. We first reported on Starstreak's potential deployment on 9 March.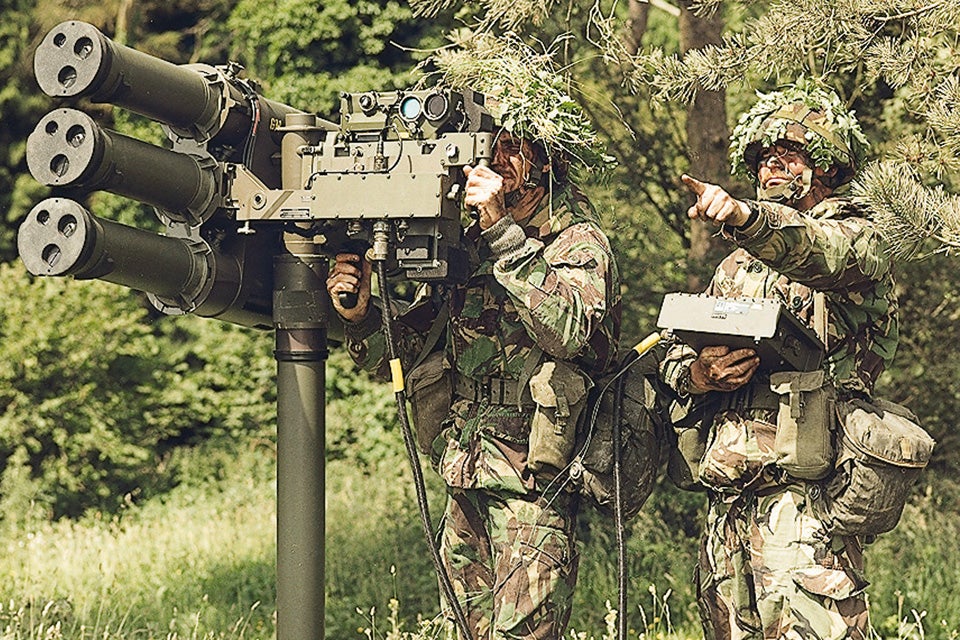 ---
8:15PM (EET) – It is reported that Ukrainian forces have recaptured the town of Trostianets in eastern Ukraine. This coincides with reports from the Ukrainian Ministry of Defense that elements of the 1st Guards Tank Army have been withdrawn from Ukraine, likely to regroup. Read the full story here.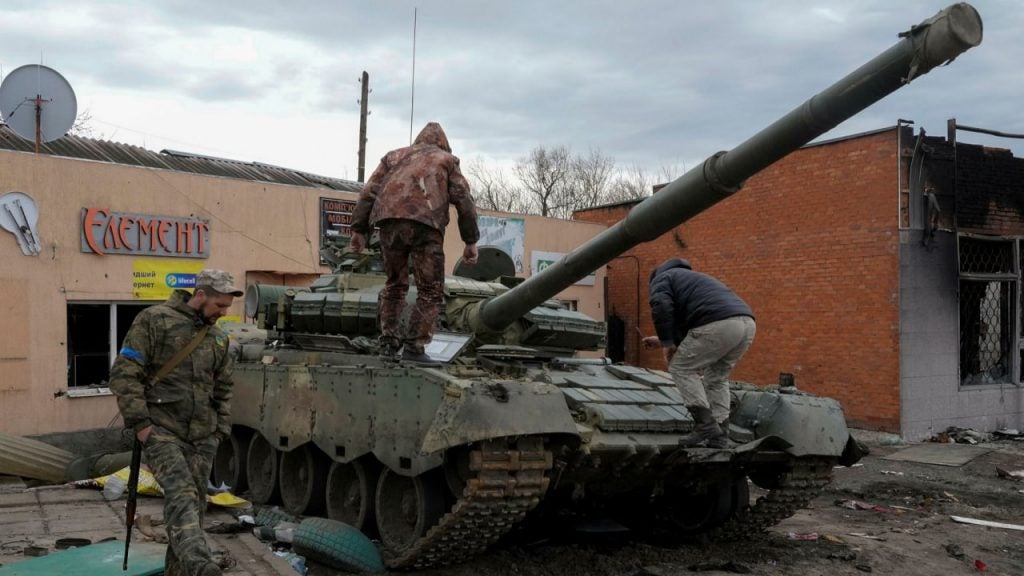 ---
7:02PM (EET) – According to Russian state news agency TASS Russian Defense Minister Sergei Shoigu has told press that "over the past two weeks, more than five hundred mercenaries have left the country and about six hundred more have been destroyed." Shoigu is likely referring to international volunteers who have travelled to fight with Ukrainian forces like the Ukrainian International Legion.
---
6:40PM (EET) – Olga Ivshina, a BBC World correspondent, has shared some data on Russian losses and noted that perhaps 20% of verified losses have been officers, many of which linked to the VDV. The estimates were taken from a survey of Russian local government and media.
---
6:14PM (EET) – The latest figures from the UN Refugee Agency suggest that the number of people who have fled the war in Ukraine is approaching 4 million. The UN's latest estimates, as of 28 March, state that 3,901,713 have fled to neighboring countries.
---
5:03PM (EET) – OSINT analysts Oryx have updated their verified list of Russian losses.
---
4:47PM (EET) – Russian forces appear to have captured several Turkish-made MAM-L, a small laser guided munitions typically launched from TB2 drones. This represents the first physical confirmation of MAM-L use, outside of drone strike footage. OSINT suggests these photos originate from the Eastern front and the damage to the munitions may suggest they were captured from a downed TB2, this is yet to be independently verified.
More on Ukraine's drone operations here
---
4:20PM (EET) – During today's peace talks Russia promised to dramatically reduce its operations around Kyiv and the northern Ukrainian city of Chernihiv, the scene of recent heavy fighting. This falls in line with Russian Ministry of Defense announcements last week that they would be focusing on operations in the south of Ukraine.
---
3:55PM (EET) – Russia's Ministry of Foreign Affairs accuses Ukraine of War crimes, referencing a piece of footage that emerged over the weekend. The footage allegedly shows Ukrainian troops shooting captured Russian soldiers in the legs. This footage has not been independently verified and its veracity has been questioned by analysts.
---
2:58PM (EET) – The UK Ministry of Defence has released their latest map showing the situation on the ground. Showing more Russian strikes and contested areas.
---
1:23PM (EET) – Ukraine has reportedly directly purchased over 5,000 RGW90 dual purpose anti-armor/anti-structure weapons. The first batch of which have reportedly already been delivered. The purchase is notable as it represents a direct procurement rather than a transfer of aid.
---
12:10PM (EET) – The Ukrainian Ministry of Defense has shared some photos from the beach defenses near Odessa – featuring a cat and a bipod mounted DShK heavy machine gun.
---
11:35AM (EET) – The Ukrainians continue to make and disseminate ad hoc training films for Western weapon systems, the latest of these is the M141 Bunker Defeat Muniton.
Read our rundown of the anti-armor weapons thst have been sent to Ukraine
---
8:50AM (EET) – The UK's Ministry of Defence has shared their latest intelligence update. It notes local Ukrainian counterattacks are continuing around Kyiv and Russian assaults on Mariupol continue.