Rundown: Western Anti-Tank Weapons For Ukraine
Since the Russian invasion began on 24 February, Ukraine has been promised a plethora of infantry anti-tank weapons. More than half a dozen Western nations have pledged to send anti-tank weapons specifically, while others have promised other lethal and non-lethal aid.
The transfer of Western anti-armour weapons started before the war even began. The United States transferred significant shipments of Javelin anti-tank guided missiles and M141 SMAW-D Bunker Defeat Munitions while the UK sent some 2,000 Next Generation Light Anti-Tank Weapons (NLAWs). On 20 January, Lithuania, Latvia and Estonia announced that they planned to deliver Stinger man-portable surface-to-air missiles and Javelin anti-tank guided missiles to Ukraine. Once Putin's tanks rolled over the Ukrainian border and the conflict escalated the flood gates opened and Western nations including Finland, Sweden, Spain, Luxembourg and even Germany promised anti-armour weapons.
The weapons promised ranged from the venerable 66mm M72 LAW to the cutting-edge Javelin and almost everything in between. As promises of aid were made the weapons already on the ground reportedly began to find their mark. On the first day of the war the Ukrainian Ministry of Defense announced that NLAWs had knocked out '3 enemy tanks' and numerous videos and photographs of tanks and armored fighting vehicles said to be knocked out by Javelin missiles have surfaced – though these are difficult to verify.
In a report from 3 March, however, a U.S. Special Operations official monitoring the conflict claimed that 280 Russian armored vehicles had been knocked out by the Javelin, out of a total of 300 missiles fired. We have yet to see any footage of Javelin used in Ukraine, this may be down to good Ukrainian operational security protocols.
The transfer of weapons from European nations has been facilitated by the European Union's historic move to finance and organise the transfer the weapons to a nation at war, a first in its 65-year history. The transfers to Ukraine will be facilitated via the EU's European Peace Facility (EPF), a 5 billion Euro ($5.6 billion) budget (running from for 2021–27) designed to assist faltering or failed states in Europe's neighbouring regions. From the EPF budget 450 million Euros will finance the weapon transfers.
What Is Being Sent?
Perhaps the most notable announcement, on 26 February, from Europe was Germany's announcement that 1,000 Panzerfaust 3 anti-tank weapons (it is unclear if this refers to the reusable firing units or projectiles) and 500 Stinger surface-to-air missiles would be sent to Ukraine. The Panzerfaust 3 is a shoulder-launched weapon with a fire control/launcher unit which can be reused. It is not known what projectiles have been sent with the launcher unit. Some evidence suggests that the Panzerfaust 3s have arrived. There have also been reports that Germany is looking at sending 2,000 former East German 9K32 Strela-2 MANPADS, though the condition of these is said to be poor.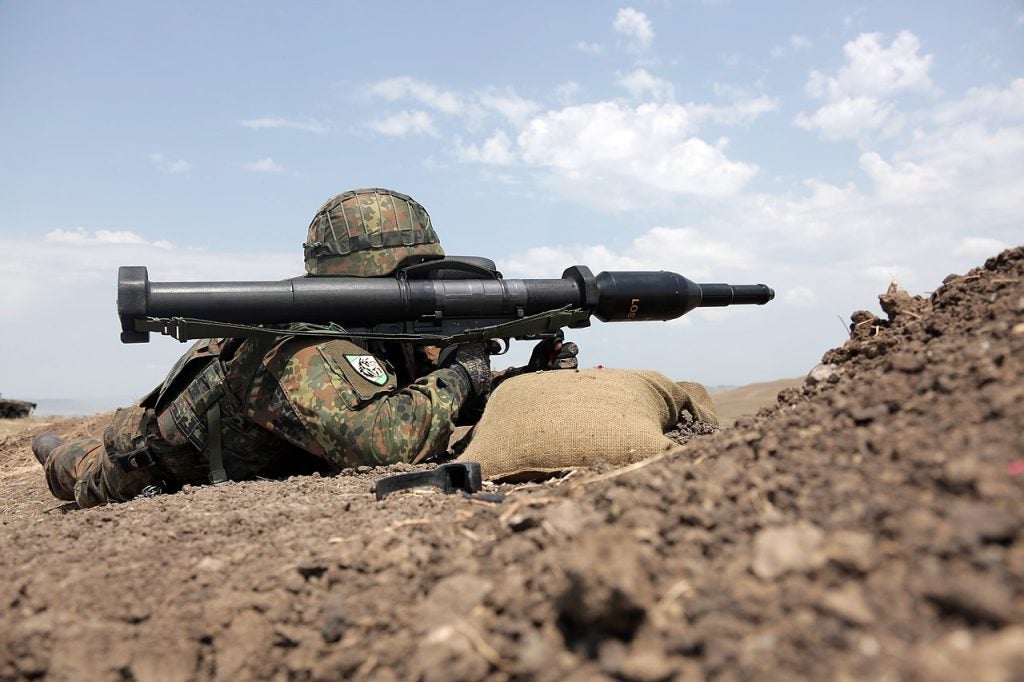 Germany's u-turn on militarily supporting Ukraine also enabled countries who wished to send German-made weapons to Ukraine. These included 50 Panzerfaust 3 launchers and 400 projectiles which the Netherlands confirmed they would dispatch along with 200 Stinger MANPADS. It also feed up the Soviet-era, East German-built D-30 howitzers Finland had hoped to send in January.
Denmark committed to donate 2,700 shoulder launched anti-tank weapons. It was confirmed on 27 February, that the anti-tank weapons would "come from the Armed Forces' operational stock," and that "the Chief of Defense has assessed that it is justifiable for the Danish defense to do without these weapons in the current acute situation." The weapons have been confirmed as the single-use, shoulder-fired 66mm M72 ECLAW (Enhanced Capability Light Antitank Weapon). The Danish Ministry of Foreign Affairs shared a video on 2 March announcing the shipment of the weapons for Ukraine.
On the 27 February, Sweden also announced the transfer of some 5,000 anti-armor weapons, with Swedish Prime Minister Magdelena Andersson and Defense Minister Peter Hultqvist confirming Swedish aid would also include some 5,000 body armour kits, 5,000 helmets, and 135,000 field rations. It is believed that the 5,000 systems to be sent will be Pansarskott m/86, the Swedish Army's variant of the AT4 with a forward grip, it is a single-use, shoulder-fired 84mm anti-armor weapon. These are believed not to be the AT4-CS, suitable for use in confined spaces. On the same day the Norwegian Ministry of Defense has announced its intention to also dispatch 2,000 M72 LAW anti-armour weapons.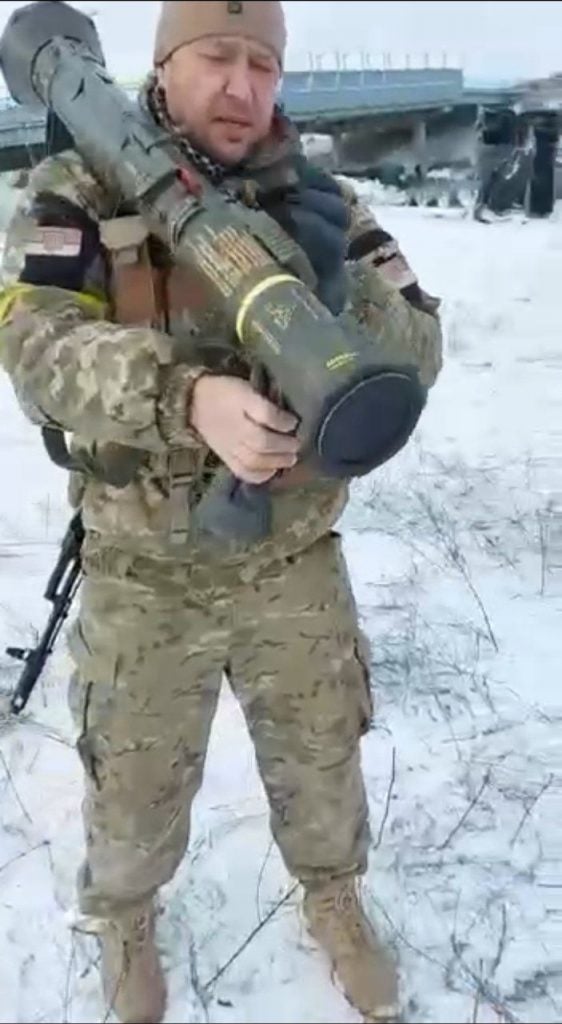 On the same day Belgium pledged 200 anti-tank weapons but Prime Minister Alexander De Croo did not specify which type would be sent. The Belgian armed forces currently stock M72 LAWs and RGW 90s. However, given the RGW 90 is slated to replace the M27 LAW it is possible that the older LAWs will be sent. Greece is also reported to have dispatched AKM-pattern rifles and an unspecified number of an unidentified 'missile launcher'. Greek media has speculated that the launchers sent will be RPG-18, an older single-shot, disposable, shoulder-fired weapons similar to an M72 LAW.
The 28 February, saw a fresh round of weapons promised. The Finnish Ministry of Defense (Puolustusministeriö) confirmed that they will provide 2,500 assault rifles, 150,000 rounds of ammunition for the rifles, 1,500 single-use anti-tank weapons and 70,000 combat ration packages to Ukraine. The rifles are likely to be East German-built MPi-KM/KMS or Chinese Type 56s, both are AKM-pattern rifles. While unconfirmed the anti-tank weapons could be either French RAC 112 APILAS (which are nearing the end of their service life) or M72A2/A5 – both of which are currently in service with the Finnish defence forces. Both are single-use, shoulder-fired weapons.
The 28th also saw Italy's government ratify a decree on sending military aid to Ukraine including small arms and light weapons. The shipments have reportedly included Stinger MANPADS and anti-tank weapons believed to be Panzerfaust 3s. Some Italian media outlets speculated that the weapons sent might be Spike ATGMs but this seems relatively unlikely as permission for their transfer would have to be cleared with the system's Israeli manufacturer and it is a fairly new system for the Italian military. The types and quantities of the weapons sent have not been officially confirmed at the time of writing.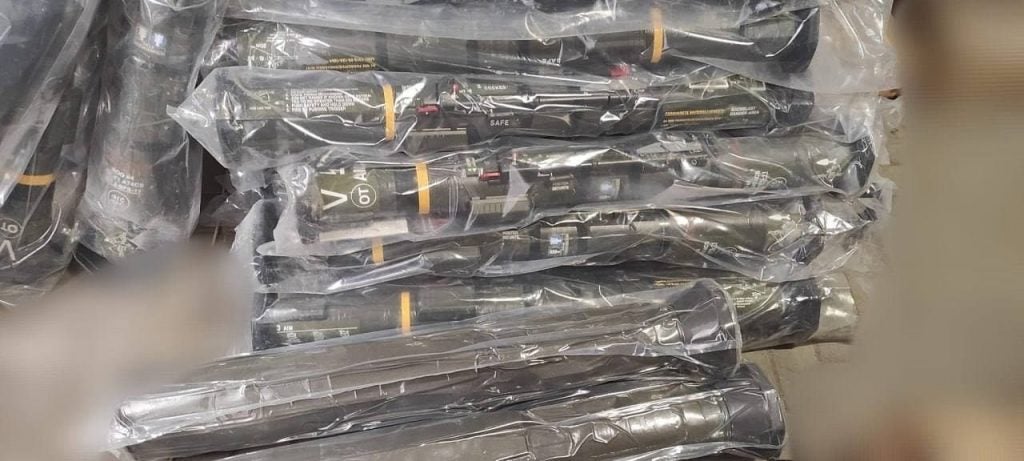 Luxembourg, one of Europe's smallest nations also announced their intention to supply military aid to Ukraine with the transfer of 100 unspecified anti-tank weapon systems (reportedly NLAW, as this Luxembourg's primary infantry anti-tank weapon), 20,000 rounds of small arms ammunition, some jeeps and tents.
Australian Prime Minister Scott Morrison announced that Australia will send $70AUD million in military and humanitarian aid to Ukraine. "We're talking missiles, we're talking ammunition, we're talking supporting their defense of their own homeland… I'm not going to go into specifics of that because I don't plan to give the Russian's a heads up about what's coming their way. But I can assure them, it's coming your way." The Australian Army currently fields M72 LAW, Carl Gustav 84mm recoilless rifles and Javelin ATGMs – it is likely that the type of 'missile' sent will be one of these.
Prime Minister Justin Trudeau announced on 28 February, during an address, that Canada will supply Ukraine "with anti-tank weapons systems and upgraded ammunition". Minister of National Defence Anita Anand offered further detail stating Canada would be sending "100 Carl Gustav anti-tank weapon systems and 2,000 rockets… which we will be working to deliver as quickly as possible." The Saab Bofors Dynamics-produced Carl Gustav 84mm recoilless rifle is not a rocket launcher but a recoilless rifle capable of firing a variety of munitions. It is a more robust weapon, capable of being used repeatedly, but as a result it heavier than some of the smaller single-use, shoulder-fired systems. The variant being sent by Canada is the older M2.
1 March saw Florence Parly, France's Minister for the Armed Forces, announce that France would be sending "not only talking about protective equipment and fuels, but also about missiles and ammunition." Le Monde have subsequently suggested these missiles represent a shipment of several dozen MILAN 2 wire guided anti-tank missiles.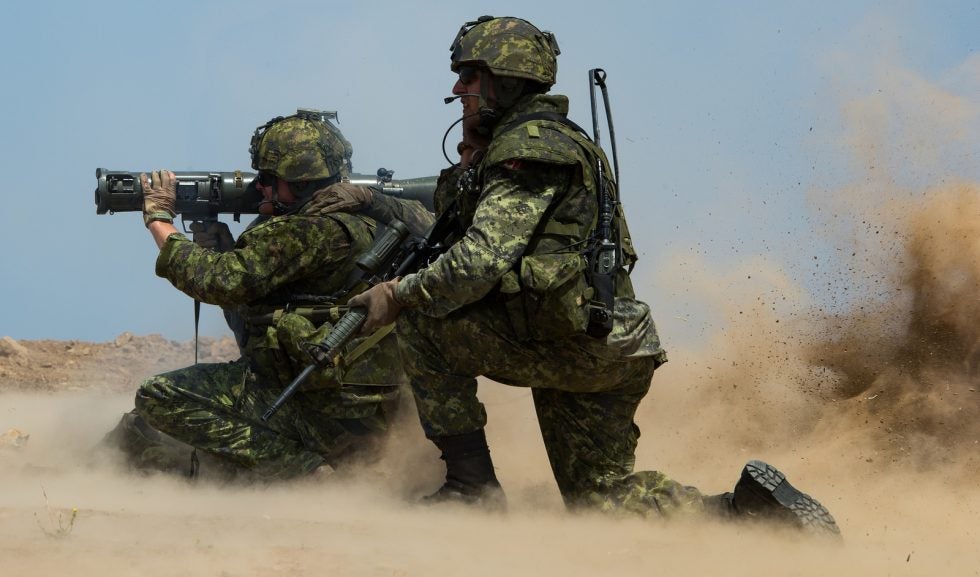 In an unexpected move Spanish Minister of Defense, Margarita Robles, announced on 2 March that two shipments of lethal aid would be delivered to Ukraine on 4 March. The shipments will include 1,370 'grenade launchers', an unspecified number of light machine guns and 700,000 rounds of small arms ammunition. The 'launchers' are believed to be infantry anti-tank weapons made by Instalaza, either Spain's C-90 (comparable to the AT4) or Alcotán-100 (comparable to the NLAW). Both weapons are single-use, shoulder-fired systems which can be discarded after firing. At least one C90-CR-AM (M3.5) dual-purpose rocket has been visually confirmed to have reached troops on the frontline.
As recently as 2 March, the US Department of Defense announced a contract with the Raytheon – Lockheed Martin joint venture which manufactures the Javelin anti-tank guided missile for $19,541,045 to provide life cycle contractor support services for the US military and foreign military sales Javelin recipients including Estonia, Georgia, Latvia, Lithuania, Poland and Ukraine. On the same day the Estonian Ministry of Defense stated that a second batch of Javelin systems donated by Estonia had reached Ukraine.
On 3 March, Ukraine's Operational Command "North" have shared photos of troops being briefed on the use of NLAW and Javelin anti-tank weapons. Other such imagery has been shared since from the Azov National Guard battalion. The same day Canada's Ministry of National Defence announced an additional package for Ukraine including "up to 4,500 M72 rocket launchers and up to 7,500 hand grenades" as well as funds towards high-resolution satellite imagery. Canada currently fields the M72A5-C1 variant of the M72.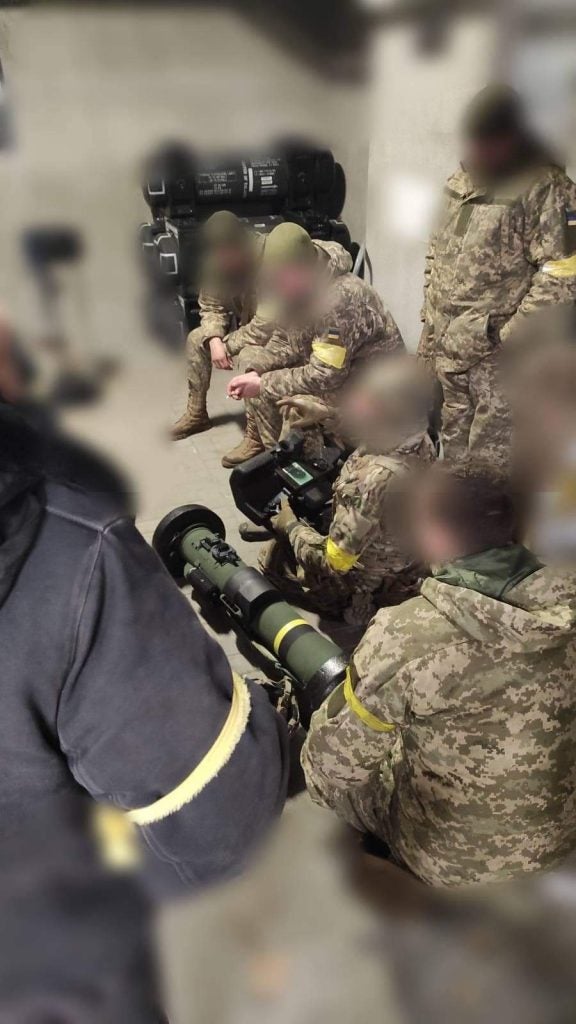 Monitoring of flight trackers suggests that numerous flights of Western aid have begun to arrive in Poland with half a dozen flights landing at Rzeszow-Jasionka airport in southeastern Poland. It is believed that Rzeszow-Jasionka will become the staging point for aid heading into Ukraine over the coming days. On Sunday 27 February, President Biden authorized a $350 million package which included large, but unspecified, numbers of Javelin and in an unprecedentedly rapid turn around shipments began to arrive on 1 March according to a Department of Defense official. The typical turnaround time for this sort of transfer of weapons usually takes months, in this case it took less than a week. 70% of the $350 million package is reported to already be in Ukraine. Much of the ordnance is coming from forward pre-positioned stocks located in Germany. The logistical efforts are being led by US European Command, with a team co-ordinating aid from over a dozen countries.
Once the weapons reach Ukraine they are being shipped out across the country by truck and there is some evidence to suggest that they are being delivered to individual unit around cities like Kyiv in commercial vans.
Luckily the majority of the systems set are simple, disposable systems with manuals of arms which are relatively easy to learn quickly. Many of the extended-tube launchers like the LAW, C-90, and C-100 work in the same basic way. We have already seen imagery of the more complex systems like the NLAW and Javelin being explained in ad-hoc briefings to troops at depots.
How Effective Are These Weapons?
All of the weapons transferred are capable of knocking out Russian armoured personnel carriers, infantry fighting vehicles and armored fighting vehicles. They are all rated to penetrate at least 300mm of rolled homogeneous armour – more than enough to engage the majority of Russian armoured vehicles seen in Ukraine. The larger calibre, more capable weapons including Javelin, NLAW, APILAS, Panzerfaust 3 and the C-100 are capable of knocking out main battle tanks. Some of the smaller systems may also be able to knock out or at least damage Russian heavy armour – it depends on the area of hit, engagement range and the warhead type used by the weapon.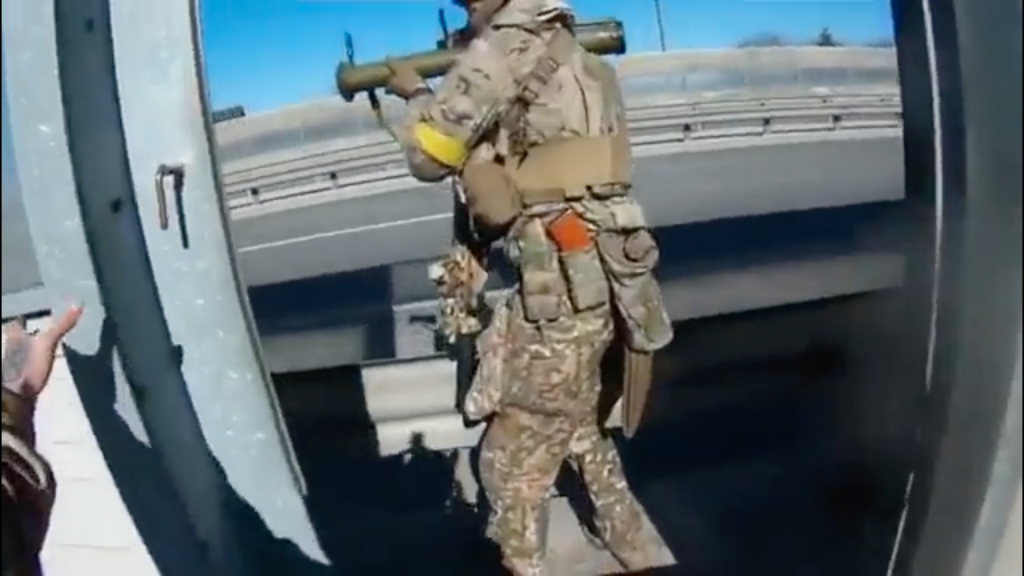 Javelin and NLAW have already entered the wider popular consciousness and become deeply associated with the conflict. And while we have seen evidence of their presence, and in some cases use, on the ground we can't yet be sure just how widespread their use is or what impact they're having. It is also important to remember that as these Western supplied anti-armour weapons proliferate into Ukraine that the Ukrainian Armed Forces have large stocks of Russian-designed and indigenous anti-armour weapons including the venerable RPG-7, the RPG-22, RPG-26 and RPV-16. These have been seen in action in numerous videos. They also have a range of medium anti-armour guided missiles including the Corsar (105mm) and Stugna-P (130mm). What is clear is that the Ukraine now has the most varied stock of infantry anti-armor weapons of any nation in Europe.
---
Header Image: Western weaponry including a Lithuanian Stinger, US SMAW-D and Javelin and British NLAW displayed for President Zelensky before the war began (Ukrainian Ministry of Defense)