French Army Reports It Neutralized 60 Terrorists in Burkina Faso
On Sunday, The French Ministry of Armed Forces announced that around 60 terrorists were "neutralized" in Burkina Faso between 15-23 January by French troops operating as part of Operation Barkhane. A number of vehicles including pickup trucks and motorcycles were also destroyed.
According to the Ministry, French forces engaged terrorists on four occasions. On 16 January, a patrol of Tiger helicopters engaged terrorists in the Gorom-Gorom region which lies in the northernmost part of Burkina Faso. 16 and 17 January saw French forces carry out airstrikes against convoys on the Burkina Faso-Mali border with support from Burkinabe forward air observers. Finally, on 23 January, Drones and Mirage 2000 jets intercepted another group of terrorists East of the town of Djibo (also in the north of the country).
These successes came shortly before the 23 January military coup in Burkina Faso which followed a string of similar developments in Chad, Mali and Guniea over the past year. Protests against the government motivated by its inability to curb extremist attacks began on 22 January and the military made its move the following day. President Roch Marc Christian Kaboré was detained by the armed forces as a new junta government suspended the constitution, parliament and government. Following international condemnation and the decisions by the African Union and ECOWAS to suspend Burkina Faso's membership in their organizations, the constitution was restored and coup leader Lieutenant Colonel Paul-Henri Sandaogo Damiba was appointed as interim president.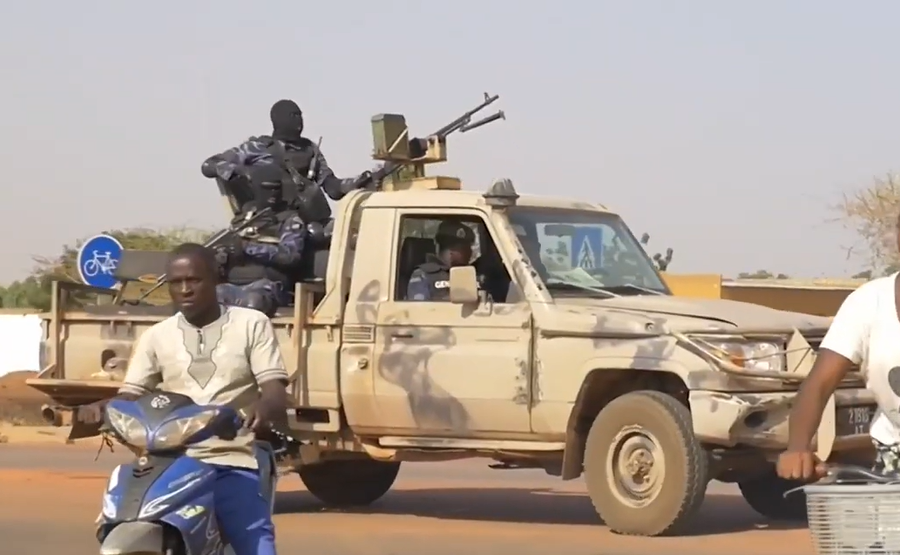 France had been involved in counterterrorism operations in the Sahel region since 2013, where French forces have maintained a strength of around 5,000 over the past decade. Last year, French President Emmanuel Macron announced plans to end Barkhane and replace it with an international operation which would see other countries take on more of the French burden. On 23 January, a French soldier was killed in Mali, putting the total of French servicemembers killed during Operation Barkhane at 53.
Header Image: French soldiers stand guard in Mali as part of Operation Barkhane. (French Ministry of Defense)