Updates: War In Ukraine (Day 20)
Overnight Kharkiv and Kyiv suffered renewed bombardment with numerous videos shared on social media showing the shelling. The Bombardment of Mariupol in the south also continued. Russian forces made small advances in the Donetsk and Luhansk Oblasts but elsewhere have continued to consolidate their positions with no fresh moves to encircle Kyiv.
According to the latest figures from the UN Refugee Agency the number of people who have fled Ukraine has increased to 2.8 million.
Last night in a video address President Zelensky addressed both Ukrainians and Russians soldiers. He called on conscripts not to believe their countries propaganda and saluted the bravery of Marina Ovsyannikova, an editor working for Russia's state-run Channel One, who ran onto set live on air and held up poster a poster saying "no war". He also announced the simplification of Ukraine's tax system, another step to putting the Ukrainian economy on a war footing.
There have been reports that Russia has requested materiel aid from China in the form of equipment and military food rations. Russia has denied the claims.
If you missed our coverage of the ongoing conflict yesterday, you can find it here.
This feed timestamps using local Eastern European Time (EET).
---
Updates:
2:05AM (EET) – Satellite imagery of Kherson Airport appears to support the Ukrainian Ministry of Defense's earlier claims of an attack on Russian helicopters at the base. OSINT analysts Oryx have confirmed at least 10 helicopters destroyed – raising the total number of confirmed Russian helicopter losses to 30.
---
12:10AM (EET) – OSINT weapons researcher War Noir has shared a video reportedly made by Azov Battalion outlining several new anti-tank weapons which have been transferred by Ukraine's allies, including the Czech RPG-75-M, Spanish C90-CR-AM M3.5 and Swedish m/86 AT4.
Check out our in-depth article on the anti-armor weapons being transferred to Ukraine here.
---
11PM (EET) – France 24 has shared a video report on Ukrainian mechanics taking captured vehicle-mounted PKT machine guns and adapting them for ground use.
---
7:40PM (EET) – Some quite spectacular footage (with a terrible soundtrack) of a seemingly unsupported Russian T-72 tank completely destroyed by what may be an anti-tank mine detonating on the right side of the tank as it crosses a ditch or trench. The large secondary explosion is the tank's ammunition detonating.
---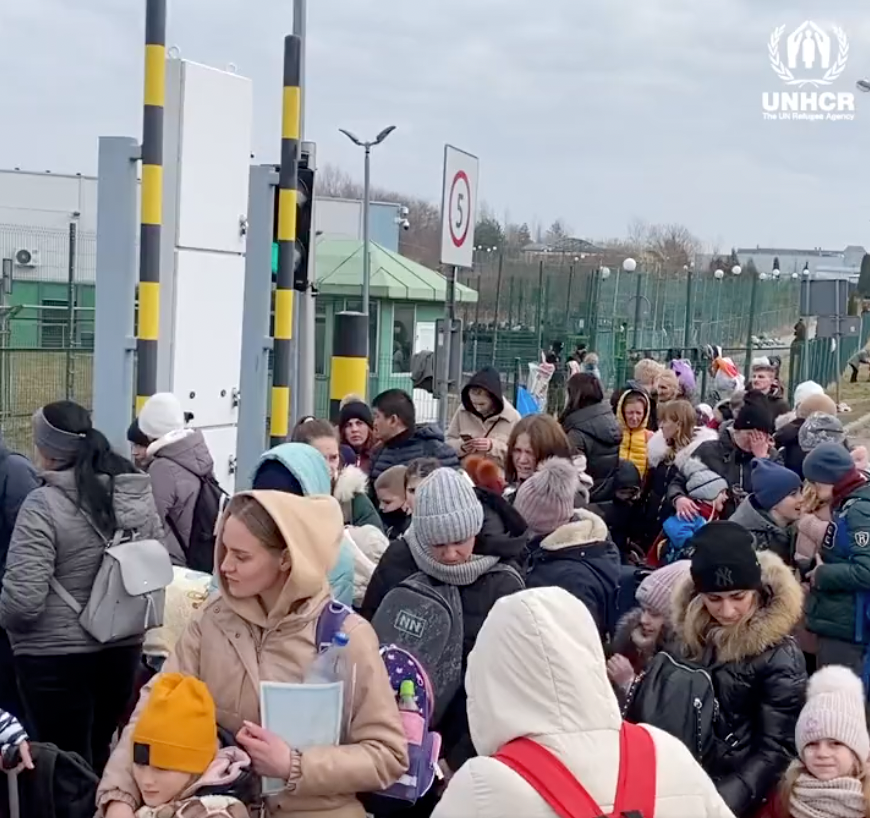 7:28PM (EET) – UN Refugees Agency have confirmed that 3,000,381 have fled Ukraine as of 12PM CET.
---
7:20PM (EET) – The Russian Ministry of Defense has announced its desire for Ukrainian refugees to evacuate only to Russia. Colonel-General Mikhail Mizintsev, head of the National Defense Control Center of the Russian Federation, claimed that "in the context of a growing humanitarian crisis, a significant part of the population, forcibly held by radicals in Ukrainian cities and used by them as a "human shield", is looking for the possibility of evacuation only to Russia."
This claim plays on the Russian government's claim of radicalised nationalist Ukrainians using civilians as human shields. United Nation's figures show that, as of today, 2,969,600 have fled Ukraine due to the war with just 142,994 of those entering Russia.
---
7:05PM (EET) – The Russian government have announced sanctions against US President Biden and numerous other US government figures including Secretary of State Anthony Blinken, Defense Secretary Lloyd Austin, Mark Milley the Chairman of the Joint Chiefs of Staff, director of the CIA William Burns, Jennifer Psaki the White House Press Secretary, President Biden's son Hunter and former Secretary of State Hillary Clinton.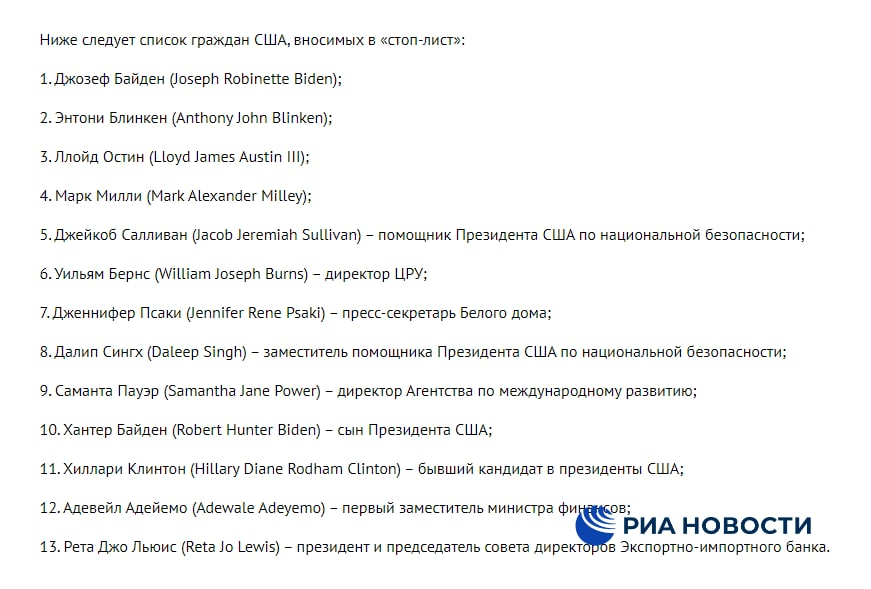 The Russian Foreign Ministry said: "In the near future, new announcements will follow to expand the sanctions list by including top US officials, military, legislators, businessmen, experts and media people who are Russophobic or who contribute to inciting hatred towards Russia and the introduction of restrictive measures." The move comes in response to the US government's move earlier today to widen sanctions on Russian individuals linked to the Russian government.
Additionally, this afternoon Russia announced its intention to withdraw from the Council of Europe, Europe's leading human rights organisation.
---
6:50PM (EET) – In a video message to a meeting of the Joint Expeditionary Force (JEF), a UK-led Baltic-facing alliance launched in 2014, President Zelensky told representatives that Ukraine must accept that there is "not an open door" for Ukraine to join NATO and that "words are not enough" from the international community. Zelensky said: "We need new formats of cooperation, new determination. And if we cannot enter the open door, we must cooperate with communities that will help us and protect us, such as yours. And have reliable guarantees."
---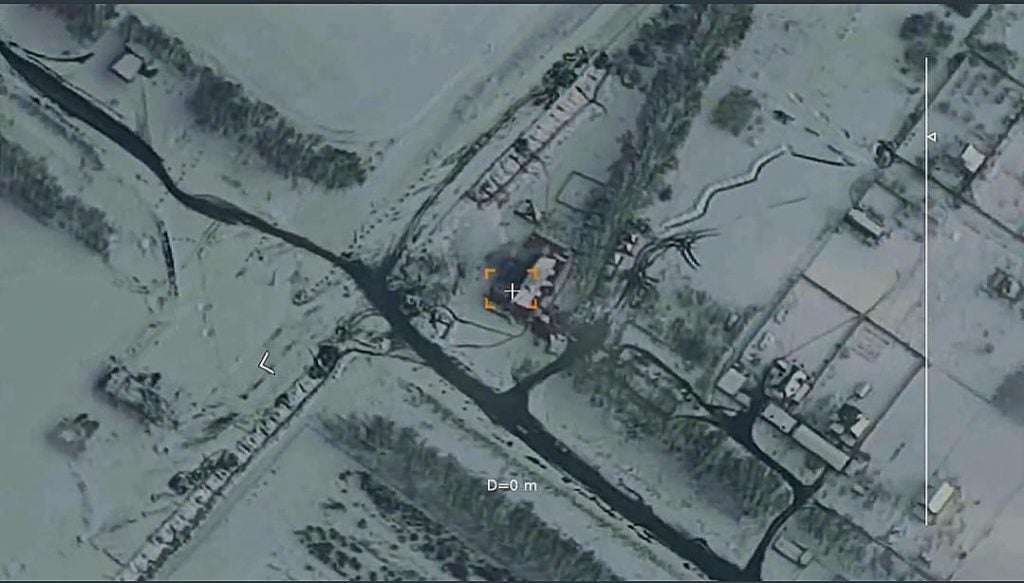 6:10PM (EET) – In recent days Russia has taken a page from Ukraine's book and begun to share videos of drone operations over Ukraine. Read our full story, by Yusuf Cetiner, on Russia's drone use here.
---
5:40PM (EET) – OSINT analysts Oryx have updated their verified list of Ukrainian losses. It includes the 8 Javelin anti-tank guided missiles (though not the 5 Panzerfaust 3-ITs) shown in a Russia Ministry of Defense video.
---
5:05PM (EET) – From video released by the Russian Ministry of Defense it appears that at least 8 Javelin missiles and 5 Panzerfaust 3-ITs have been captured by Russian forces. According to Amael Kotlarski, Janes Infantry Weapons Editor, the Javelins are Block 1 FGM-148Es, more recent, upgraded versions to the Block 0 missiles previously confirmed to be in Ukraine. It is unclear if a Command Launch Unit (CLU), which attaches to the tube and aims the missile, was captured along with them.
---
4:30PM (EET) – Naval analyst H.I. Sutton has shared a satellite image showing Russian amphibious forces on the move towards Odessa.
---
4:15PM (EET) – Lithuania's foreign minister has visited Kyiv. Another diplomatic, alongside those of the European Council, visit which suggests while Kyiv is threatened it is far from being encircled.
---
3:06PM (EET) – Earlier today Prime Minister of the Czech Republic Petr Fiala announced that, as part of a European Commission visit, he and the Prime Ministers of Poland and Slovenia would be visiting President Zelensky in Kyiv. This marks the first visit of foreign leaders to Kyiv since the start of the war.
"Today, we are going together with PM of Poland Mateusz Morawiecki, deputy PM Jarosław Kaczyński and PM of Slovenia Janez Janša to Kiev as representatives of the European Council to meet with president Zelensky and PM Shmyhal.
The visit is organized in consultation with the President of the European Council Charles Michel and the President of the European Commission Ursula von der Leyen. The purpose of the visit is to confirm the unequivocal support of the entire European Union for the sovereignty and independence of Ukraine. The aim of this visit is also to present a broad package of support for the Ukraine and Ukrainians.
International community has been informed about the visit by international organizations, i.a. UN."

---
2:25PM (EET) – Ukraine's Strategic Communications center reports that 600 homes have been destroyed in Kharkiv, along with 60 schools.
---
1:48PM (EET) – The UK Ministry of Defence has released an update of thier situation map for Ukraine.
---
1:20PM (EET) – OSINT analysts Oryx have updated their verified list of Russian losses, noting the recent loss of a Tor air defense system.
---
11:15AM (EET) – Ukraine's Strategic Communications Center has shared the Ministry of Defense's latest claims on Russian losses as an infographic. Ukraine claims Russia has suffered 13,500 casualties and lost over 400 tanks, more than 80 aircraft and over 640 assorted vehicles. These claims have not been independently verified.
---
10:45AM (EET) – Major General Igor Konashenkov, Russian Ministry of Defense spokesman, has shared a video update as of 7PM Moscow time yesterday. In it he claims that Russia has shot down another Ukrainian TB2 drone and destroyed 3 Air defense assets. He also claims that Kyiv "continues to use terror tactics" stating that Ukraine fired a Tochka missile with cluster munitions at a residential area in Donetsk.
Konashenkov went on to say Russia would target Ukrainian military-industrial sites. He also addressed foreign nationals volunteer to fight in Ukraine that "there will be no mercy for foreign mercenaries.
---
8:30AM (EET) – The UK Ministry of Defence has released an update outlining the situation in Ukraine's occupied cities. It notes protests in Kherson and Melitopol with signs Russia may attempt to hold a referendum on Kherson breaking away from Ukraine. Another Ukrainian mayor is reported to have been kidnapped.
---
7:40AM (EET) – Aram Shabanian, an intern researcher at the New Lines Institute for Strategy and Policy, shared some Sentinel 2 imagery of Mariupol with multiple burning fires visible.
---
7:15AM (EET) – John Spencer, a US Army combat veteran of Iraq and Chair of Urban Warfare Studies with the Madison Policy Forum, has shared his standing orders for urban fighting in both English and Ukrainian:
---
6:00AM (EET) – The Institute for the Study of War has shared their daily report on the situation in Ukraine. They note a Russian and Separatist forces have made some progress in the Donbas but continue to consolidate their positions and supply lines in the north.
---
5:06AM (EET) – The Ukrainian Ministry of Defense has shared a situation report. They do not anticipate any Russian amphibious landings but note that ongoing localised fighting is occurring on all fronts. Russian forces continuing to try to consolidate on the edges of Kyiv.