UPDATES: War In Ukraine (Day 19)
According to the latest figures from the UN Refugee Agency the number of people who have fled Ukraine has increased to 2.7 million. 1.6 million of these have fled to Poland and 250,000 to Hungary while 200,000 have fled to Slovakia.
In the past 48 hours it appears that Russia has minimised offensive actions in the north, instead focusing on reinforcing its lines of communication and supply. More serious fighting took place in the south around the beleaguered city of Mariupol, where the Ukrainian government reports 2,187 civilians have been killed so far, with Chechen units renewing their offensive in the area.
Overnight there was bombing in a number of Ukrainian cities by Russian strategic bombers. Yesterday, 35 Ukrainians were killed and over 100 wounded at the Yavoriv military training center, near the border with Poland, by a missile strike.
According to overnight reports by the FT Russia has asked China for military assistance in Ukraine. Russia is believed to have requested materiel support in the form of military equipment which Russia is running out of.
Today, NATO is set to begin its Exercise Cold Response 2022 in Norway. The Exercise will involve over 30,000 troops, 50 vessels and 200 aircraft from 25 different NATO countries.
If you missed our coverage of the ongoing conflict over the weekend, you can find it here.
This feed timestamps using local Eastern European Time (EET).
---
Updates:
3:40AM (EET) – War_Mapper has updated their open source intelligence based map of the war on the ground showing the progression of the Russian offensive over the past seven days.
---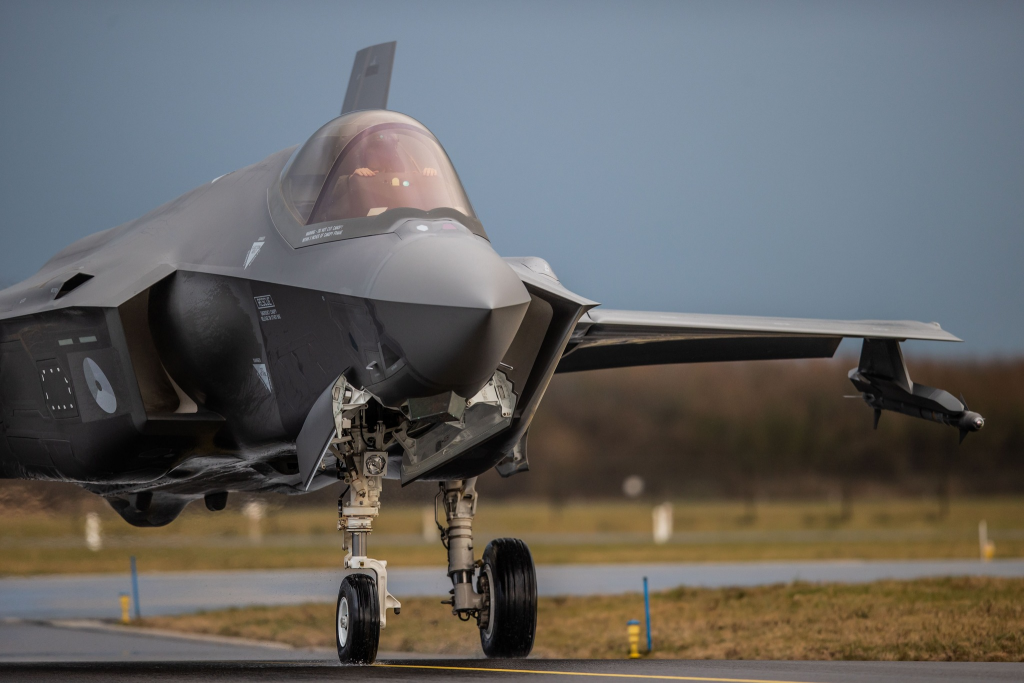 12:30AM (EET) – Earlier it was announced that Germany would be selecting the F-35 to replace its ageing Tornados, read our full story on the decision here.
---
10:30PM (EET) – The latest numbers from the United Nations High Commissioner for Refugees' latest operational data shows that 2,808,792 refugees have fled Ukraine. Poland having taken the vast majority at 1,720,227 people. Hungary – 255,291 | Slovakia – 204,862 | Russia – 131,365 | Moldova – 106,994 | 84,000 – Romania and 304,156 to various other EU countries. These figures represent figures for those crossing the border into neighbouring countries and doesn't represent the final destinations of all of the refugees. The figures for those still in transit to other countries are less clear.
---
10:15PM (EET) – Ukraine's State Special Communications Service has updated on the state of the country's telecoms and internet access. Generally, they state, Ukraine's access to both remains stable though in some localised areas, including Mariupol, Russia has employed electronic warfare. Unsurprisingly they also report that "damage to fiber-optic communication lines, there is a problem with mobile communications and the Internet in Luhansk region." They also note that speed restrictions on the speed of Internet access "for private subscribers in all oblasts, except Sumy, have been lifted." In Sumy the priority for internet access has been given to the armed forces and securiy forces.
---
9:45PM (EET) – A news report on Russia's Channel One was apparently interrupted by a protestor holding up a 'no war' sign. The woman is said to be Marina Ovsyannikova, who worked at the TV channel.
---
9:30 (EET) – OSINT analysts Oryx have updated their verified list of Russian losses.
---
7:30PM (EET) – Germany has announced its intention to procure 35 F-35 aircraft. Defense Minister Lambrecht said the selection of the F-35 to replace aged Tornadoes would enable future interoperability with NATO allies and continued to deploy US-owned B61 tactical nuclear weapons.
---
6:20PM (EET) – FP reporter Jack Detsch has been sharing updates from discussions with US officials. He says that Ukraine is still fielding a substantial number of armed drones, Russia has deployed 100% of its combat power in Ukraine, and that almost all Russian offensive operations appear operationally stalled.
---
5:40PM (EET) – Meanwhile, far from the fighting in Ukraine, there is another illegal occupation going on, albeit a more moral one. Activists from Resist London have broken into the London mansion of oligarch Oleg Deripaska in Belgrave Square.
Here's a statement they released this morning:
Police are on the scene and negotiating with the protestors.
---
5:04PM (EET) – Russia's Deputy Foreign Minister Oleg Syromolotov spoke to Russian news agency TASS and claimed that Kyiv is actively recruiting "terrorists from Syria" including "ISIS, Nusrovites and others" who are "thirsting for Russian blood". He even makes an oblique reference to Abu Tow.
---
4:50PM (EET) – OSINT analysts Oryx have updated their verified list of Ukrainian losses, including several captured T-72AVs.
---
3:55PM (EET) – Presidential advisor Mikhail Podoylak has updated on the ongoing negotiations. Working groups are said to be focusing on details of proposals in preparation for the next meeting.
Earlier today Podoylak shared a photo from one of the working groups and briefing rooms were the video negotiations are being held. He noted the differences in political systems as a hurdle.
---
2:20PM (EET) – The UK Ministry of Defence has has released its updated map of the situation on the ground.
---
1:30PM (EET) – Russian news agency TASS reports that Russia's government have enabled the Russian banks to sell gold reserves to individuals for foreign currency.
---
12:48PM (EET) – The Ukrainian Ministry of Defense has shared a video of Ukrainian air craft and air defense systems in a social media post announcing they have shot down 77 Russian aircraft. This claim and the date the footage was filmed has not been verified yet.
---
7:32AM (EET) – The Russian Ministry of Defense claims that thier strike on the training based in Western Ukraine yesterday killed "up to 180" people, considerably more than Ukraine estimates. They also claim to have shot down 2 TB2 drones and an Su-24.
---
7:09AM (EET) – Slovakia's Prime Minister Eduard Heger expects to discuss the transfer of his countries S-300 air defense systsems to Ukraine during US Secretary of Defense Lloyd Austin visits today. During a TV appearance he reportedly said "one needs to realise clearly that the security of territory is paramount, you cannot hand over any equipment if you don't have your own defence secured."
---
5:10AM (EET) – The Institute for the Study of War has shared their daily report on the situation in Ukraine. They note a renewed push in the south around Mariupol and a securing of supply lines by Russian forces in the north.