UPDATES: War In Ukraine (Day 6)
Overnight and in the early hours of the morning the Ukrainian cities of Kharkiv and Chernihiv suffered significant bombardment, with civilian area struck. The Ukrainian Ministry of Defense states that the country's major cities remain in Ukrainian hands, though Sumy, Lebediny, Okhtyrka are said to be surrounded.
Yesterday, saw more Western commitments to supply equipment and aid to Ukraine. Turkey closed the straits into the Black Sea to Russian warships. Speculation and reports discussed the transfer of fighter jets from Poland with further developments today. It has been confirmed by various sources that Ukraine's Bayraktar TB2 drones are active, we have covered this here.
A large column of Russian military vehicles continues to approach Kyiv, satellite imagery shows the column is made up of logistics vehicles, armored vehicles and some engineering assets. It has also been reported that Belarusian units may have deployed into Ukraine, this has not yet been independently verified, with other reports stating they are staged on the border.
If you missed our coverage of the ongoing conflict from yesterday, you can find it here
This feed timestamps using local Eastern European Time (EET).
---
Updates:
11:30AM (EET) – Ukraine's Parliament has said, via twitter, that Belarusian troops entered the Chernihiv region north of Kyiv.
---
1:05PM (EET) – The Ukrainian General Staff have released a situation update:
× The enemy is regrouping and is going to continue offensive on Kyiv.

× Sumy, Lebediny, Okhtyrka are surrounded by the enemy.

× The enemy carried out missile strikes on Kharkiv and Chernihiv residential areas.

× Offensive on Mykolaiv continues.

× The enemy has reached the territory of: Skhadovsk, Hola Prystan, Kherson, Nova Khakovka.

× Mariupol is holding the line.

× The next aim of Russians is surrounding of Kyiv
---
1:10PM (EET) – OSINT analysts at Oryx have released an update on verified Ukrainian TB2 kills.
---
1:28PM (EET) – Rob Lee, a Fellow with the Foreign Policy Research Institute, has shared imagery and footage of the bombardments of Kharkiv.
As well as some footage of Russian armored fighting vehicles in Kherson on the Black Sea coast.
---
1:47PM (EET) – OSINT analysts at Oryx have released an update on verified Ukrainian losses.
---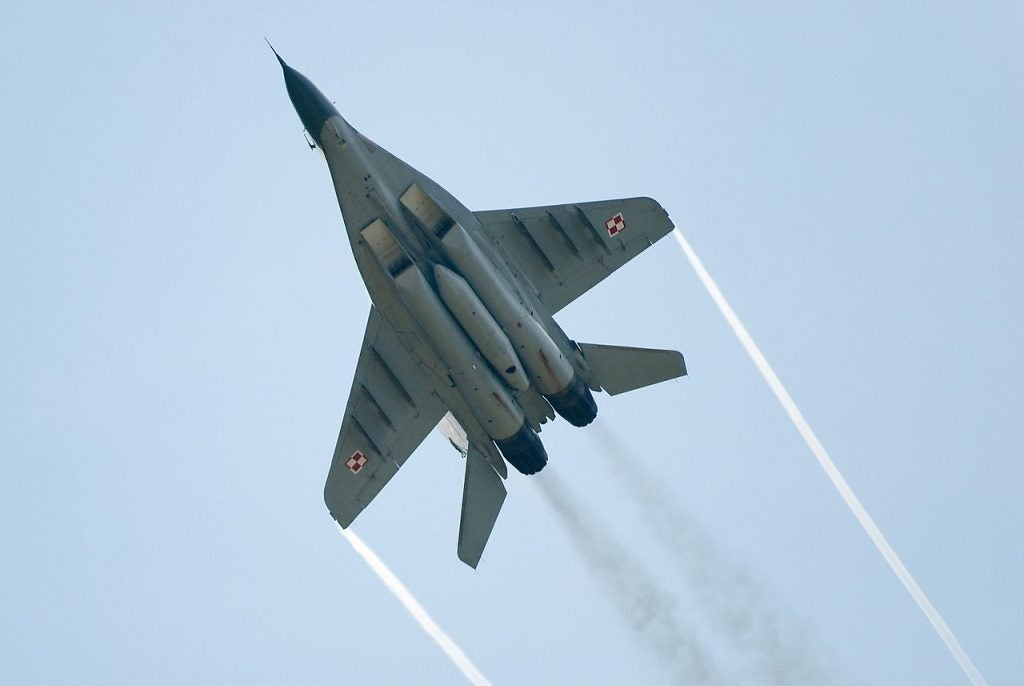 2:20PM (EET) – At a joint press conference with NATO Secretary General Jens Stoltenberg and the President of Poland, Andrzej Duda at Łask Military Airbase in Poland a reporter from TVN 24 asked if Poland had transferred fighter aircraft to Ukraine yet. President Duda denied Poland would be sending fighters, saying:
"President of Poland Andrzej Duda: Gentlemen, as Secretary General has now said, we are not sending any jets to Ukraine because that would open a military interference in the Ukrainian conflict. We are not joining that conflict. NATO is not a party to that conflict. However as I said, we are supporting Ukrainians with humanity aid. However, we are not going to send any jets to the Ukrainian airspace."
It is unclear, but it could be that President Duda is referring to Polish flagged aircraft, flown by the Polish air force rather than surplus MiG-29s being transferred.
---
2:25PM (EET) – Reports suggest that Ukraine has made a Tochka-U ballistic missile strike on an airbase inside Russia. This is at least the second reported instance of Ukraine making a long range missile strike on Russian assets within Russia.
---
2:50PM (EET) – Over night OVD contributor and OSINT analyst Orion_int has been examining satellite imagery. In this first tweet we can see some Russian air assets including Su-25s at Luninets airbase in Belarus.
In this comparison image we can see that a an S-400 air defense battery at the airbase has moved to another location.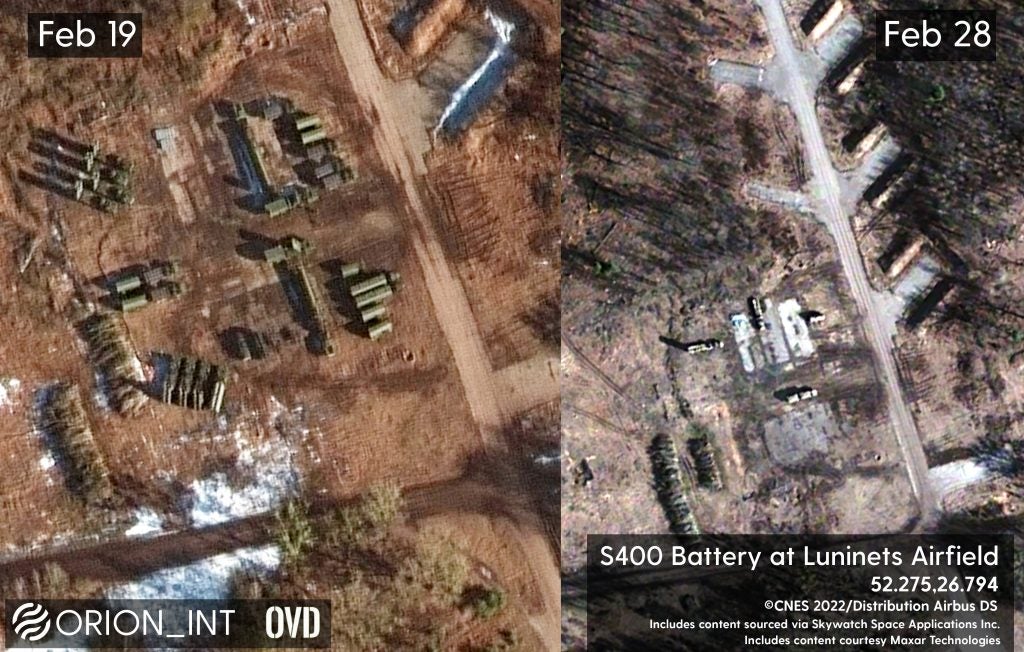 ---
3:45PM (EET) – The Ukrainian General Staff have shared a an interesting announcement about what Ukrainian's can do if they have 'seized' a Russian vehicle. The post explains "it is not necessary to declare seized Russian tanks and other equipment, as the cost of this shit does not exceed UAH 248,100 (248,100 Ukrainian hryvnia)" – this equates to $8,259. While this is no doubt a humorous reference to the numerous videos of civilians towing away Russian vehicles, but it also raises a serious question about the fate of the array of abandoned Russian kit.
Here's a machine translation of the statement on the General Staff's Facebook page:
"Captured a Russian tank or armored personnel carrier and worried about how to declare it? Keep calm and continue to defend the Motherland !!!! It is not necessary to declare seized Russian tanks and other equipment, as the cost of this shit does not exceed 100 subsistence minimums (UAH 248,100). . In the letter of the law, military trophies are not to be reflected in the Declaration for the following reasons: they were not acquired as a result of any transaction in connection with the full-scale aggression of 24.02.2022 2014, the insidious attack of the Russian Federation on Ukraine in order to destroy the latter; Due to the courage and victory of the defenders of the Ukrainian state, enemy military equipment usually gets to you already destroyed and disabled, which makes it impossible to assess it in accordance with the Law of Ukraine "On Property Valuation and Professional Valuation in Ukraine". Consequently, it is impossible to find out how much such property costs. So the Russian tank is going to fuck up the declaration. if there is a desire of the subjects of the declaration to take such actions. Detailed explanation https://bit.ly/3K35Jj0 National Agency for the Prevention of Corruption – NAPC"
---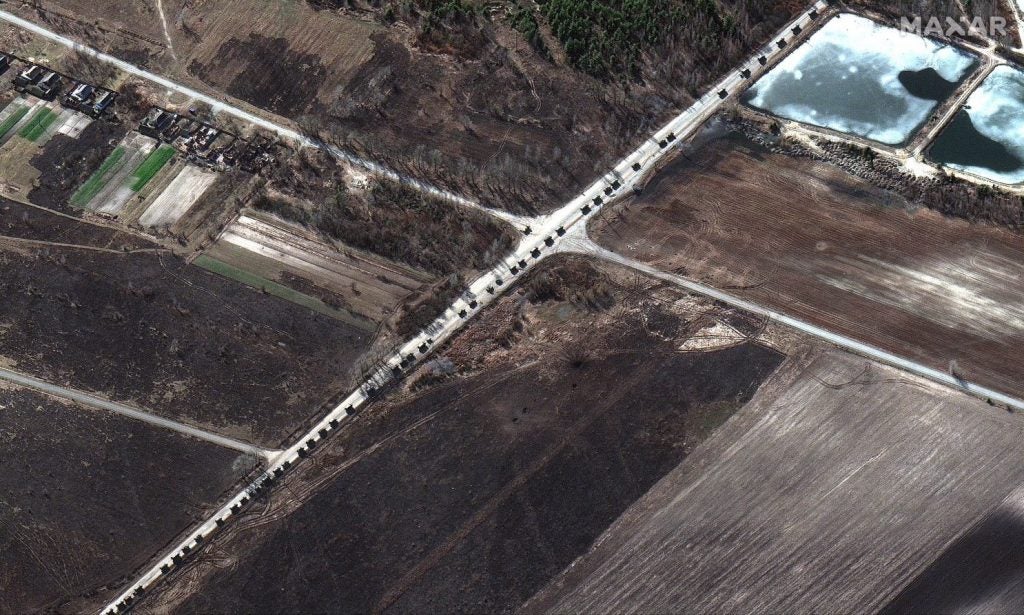 4:15PM (EET) – It has been estimated that the long Russian column approaching Kyiv may contain as many as 1,500 vehicles and 15,000 personnel.
---
4:30PM (EET) – While the TB2 footage of strikes against Russian units has garnered considerable attention Ukrainian units have been busy ambushing Russian columns with numerous videos showing destroyed and abandoned Russian vehicles. Open source intelligence analysts OSINTtechnical has shared a number of these (most are yet to be verified).
---
4:40PM (EET) – The Ministry of Defense of Russia has shared some short clips on their YouTube channel. This one shows heliborne troops of the Russian Aerospace Forces "during the special operation". The time and location of the filming of this footage is unverified and could have been filmed during previous exercises.
---
4:50PM (EET) – Increasing chatter that the MiG-29s (and other jets) promised to Ukraine by the EU will not be transferred by their owner nations. Following on from Polish President Duda's comments earlier today (see 2:20PM) Paul Leary, of Politico, has reported that Slovakia is also reluctant. No doubt this is an issue that is subject to continuing negotiations behind the scenes.
---
4:55PM (EET) – The UK Ministry of Defence has released an updated (but basic) map of the state of operations in Ukraine.
---
5:27PM (EET) – The Kyiv Independent reports that the city's TV tower has been struck and TV channels have ceased broadcasting.
Some (unverified) footage of strikes around the TV tower:
---
5:55Pm (EET) – Ukraine's Operational Command North have shared photos of troops being briefed on the use of NLAW and Javelin anti-tank weapons. The photos have been redacted, echoing the Ukrainian military's careful operational security. The photos show several dozen NLAW and 6 Javelin ATGM. The post accompanying the photos said:
"Dozens of NLAW and Javelin are waiting for their turn. We thank our foreign partners for their support and position. We are preparing gifts for the invaders.
---
6:05PM (EET) – The UK Ministry of Defence has shared a intelligence update on the situation in Ukraine, noting that the southern port of Mariupol is surrounded.
---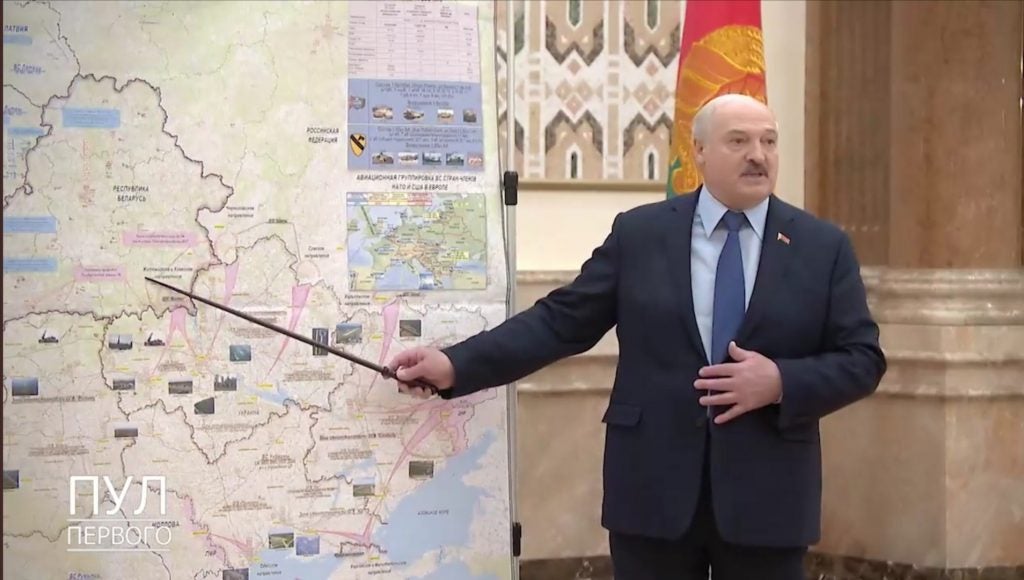 5:45PM (EET) – Earlier today Belarus' President Lukashenko provided a briefing to a Meeting with members of Security Council and leadership of Council of Ministers. During that meeting, in a stark contrast to tight Ukrainian OPSEC, Lukashenko stood next to a large operational map showing the axis of advance of a number of Russia elements. One of the lines of advance appears to show an offensive towards the Russian-aligned breakaway Republic of Transnistria on the border with Moldova.
---
6:15PM (EET) – The Ukrainian Ministry of Defense has shared a visceral video of civilian casualties from the Russian targeting of the Kyiv TV Tower.
---
7:25PM (EET) – Amnesty International has shared a map of some of the locations that their Crisis Evidence Lab has verified from photos analysed.
---
8:20PM (EET) – Videos share from Kharkiv show that the city is under heavy bombardment.
---
9:00PM (EET) – The Ukrainian General Staff has posted an update, including a short video briefing, but it includes little new information.
---
11:05PM (EET) – OSINT analysts Oryx have updated their verified list of Russian equipment losses. The loses include 5 T-90As, 22 T-80 variants, 12 T-72B3Ms and dozens of other vehicles and aircraft losses.
---
11:15PM (EET) – Antiwar protests have continued across Russia and according to OVD-info, an independent human rights media project, Russian security forces have reportedly detained at least 6,800 people have been across the country since the 24 February.
12:00AM (EET) – Over the weekend North Korea renewed its missile tests. Yesterday a DPRK spokesperson voice their support for Russia's actions in Ukraine saying: "the root cause of the Ukraine crisis totally lies in the hegemonic policy of the U.S. and the West which indulge themselves in high-handedness and arbitrariness towards other countries."
We have more on this story here.
---
12:10AM (EET) – OSINT suggests that there has been a Russian strike against the Ukrainian 95th Air Assault Brigade's depot/HQ in Zhytomyr in northern Ukraine. Footage reportedly from the scene shows fires and significant damage. The base is on the edge of a civilian area.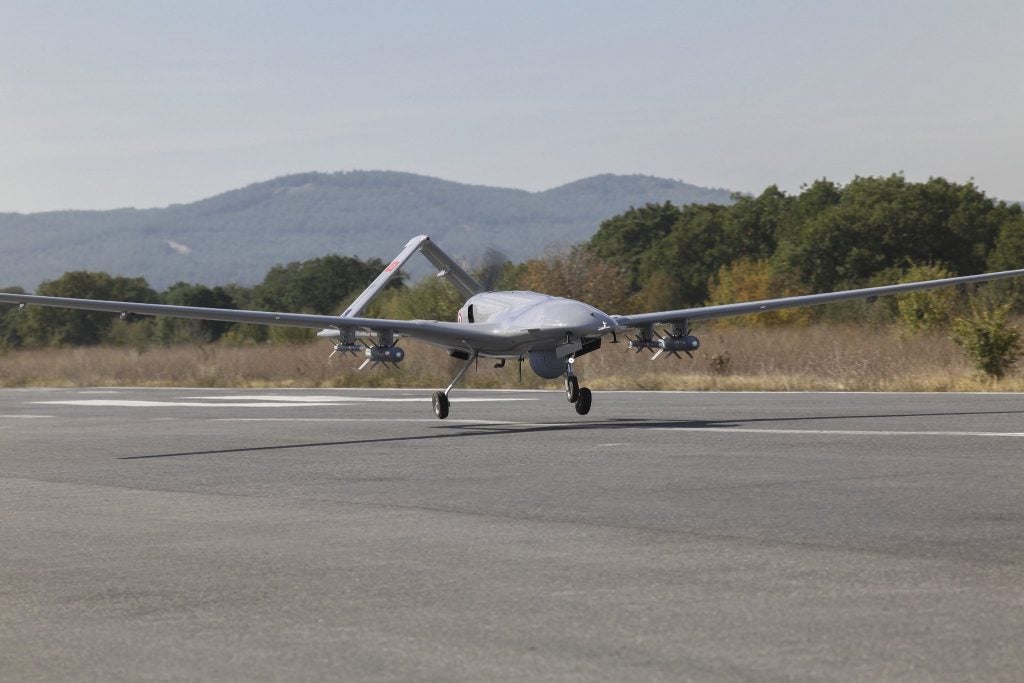 12:50AM (EET) – Earlier today Vadym Prystaiko, the Ukrainian ambassador to the UK, said Ukraine is in talks with Turkey to purchase of more of the Bayraktar TB2 UCAVs. "We don't have our own combat drones, we're trying to produce a type we call the 'Kamikaze drone.' In the meantime, we use reconnaissance drones from different countries," Prystaiko reportedly told BBC News. "We are in contact with Turkey regarding [the purchase of] more attack drones. Although Turkey supplies them to us, we're still far from using them effectively. …We have enough drone operators and they're still being trained in Turkey right now."
For more on Ukraine's TB2 check out our latest article here.
---
1:15PM (EET) – The Ukrainian Ministry of Defense has reshared its earlier warnings that Belarusian troops are poised to assist Russia's forces in Ukraine. See our earlier post (2:50PM) analysing some satellite imagery of asset movements in Belarus.
---
2:42AM (EET) – Yesterday evening Ukraine's Center for Strategic Communications and Information Security released a statement reporting that assassination plots against President Zelensky had been uncovered. It is claimed that Chechen special forces units were to attempt to kill the Ukrainian President, however, a disgruntled source at the Russian FSB "who does not support the war" passed warning of this.
---
3:35AM (EET) – OSINT analysts Oryx have updated their running tally of Ukrainian materiel losses.
---
4:20AM (EET) – US President Biden has used the State of the Union address to condemn Russia's invasion of Ukraine and President Putin. Biden gave an overview of measures, including a dedicated task force to go after Russian oligarchs, and it was also confirmed that US airspace will be closed to Russian aircraft.
---
According to a US official, quoted by the New York Times, the Russians have suffered an estimated 2,000 casualties (as of Monday, 1 Mar.). Ukrainian claims are unsurprisingly somewhat higher at over 5,000 and the Russians have not yet publicly shared any figures.
---
5:05AM (EET) – The Security Service of Ukraine (SBU) have reported, via the Verkhovna Rada of Ukraine:
"A Russian landing party landed in Kharkiv. The occupiers attacked the hospital – the Military Medical Clinical Center of the Northern Region. A battle broke out between the invaders and the Ukrainian defenders."
---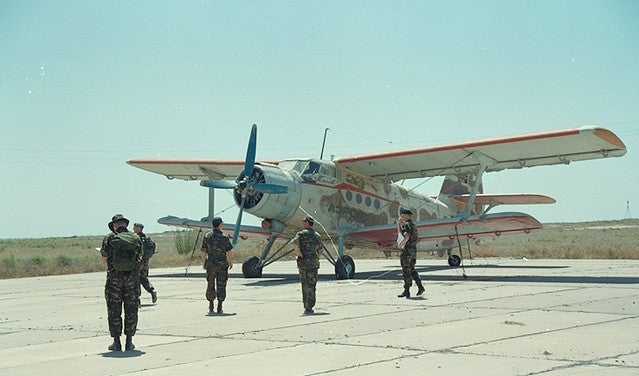 5:30AM (EET) – US Senator Marco Rubio, current Vice Chair of the Senate Intelligence Committee, has shared information to suggest that Russia has "deployed 42 An-2 "Colt" biplanes" which he says "may have been converted to drones for use as decoys to trigger an air defense response from #Ukraine that would identify their location." If this is the case then it is a play taken straight from the Azerbaijani playbook, which was used to good effect against Armenia's air defences during the Nagorno-Karabakh conflict in 2020.
---
We will continue to update as events evolve.