North Korea Renews its Missile Tests
After a quiet month for North Korean missile testing, the so-called Hermit Kingdom is back at it again, firing a missile in the direction of the Sea of Japan on Sunday, 27 February. According to the South Korean Joint Chiefs of Staff and Japan's Ministry of Defense, the rocket reached an altitude of around 600 kilometers and travelled a distance of around 300 kilometers. North Korea has reported this latest test is part of its program to develop a satellite surveillance system.
The test concludes an uneventful month for North Korean missile launches. While the DPRK conducted seven tests in January, the Sunday test was the first this month. It is likely that the lull in testing can be attributed to the Olympic games in Beijing. The Chinese Communist Party would not be thrilled if North Korean launches detracted from the focus on the games. However, it seems that launches during the Paralympics are fair game.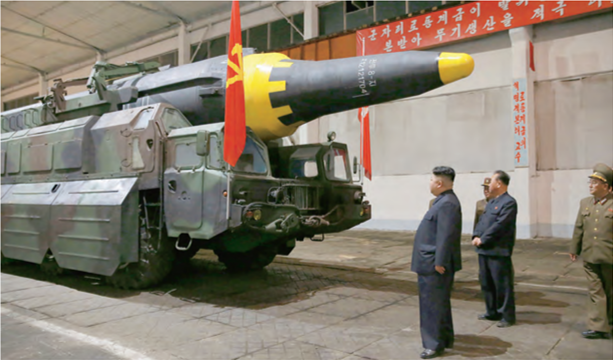 As usual, the test drew widespread condemnation from the international community. A joint statement from 11 nations in the UN (read by US deputy ambassador Jeffrey DeLaurentis) called for diplomacy on the peninsula. Particularly, the decision to create more instability at a time when the world is shaken by Russia's invasion of Ukraine was found to be especially problematic. According to Japanese Defense Minister Nobuo Kishi:
"If North Korea deliberately carried out the missile launch while the international community is distracted by the Russian invasion of Ukraine, such an act is absolutely unforgivable."
Meanwhile, the South Korea Blue House stated that:
"Launching a ballistic missile at a time when the world is striving to resolve the Ukraine war is never desirable for peace and stability in the world, region and on the Korean Peninsula."
The DPRK has decided to strongly back Russia in the Ukraine crisis. A spokesperson for North Korea's foreign ministry said that:
"The root cause of the Ukraine crisis totally lies in the hegemonic policy of the US and the West which indulge themselves in high-handedness and arbitrariness towards other countries. The US and the West, in defiance of Russia's reasonable and just demand to provide it with legal guarantee for security, have systematically undermined the security environment of Europe by becoming more blatant in their attempts to deploy attack weapon system while defiantly pursuing NATO's eastward expansion."
It is notable that the launch comes ahead of South Korea's March 9th presidential elections which are likely to have a significant effect on South Korea's future policy and strategy towards China, North Korea, Russia and the West.