Hanwha Defense Launches AS21 Redback Infantry Fighting Vehicle
Hanwha Defense Australia has officially launched its AS21 Redback infantry fighting vehicle, ahead of the delivery of three Redback prototypes for evaluation in Australia's LAND 400 Phase 3 program.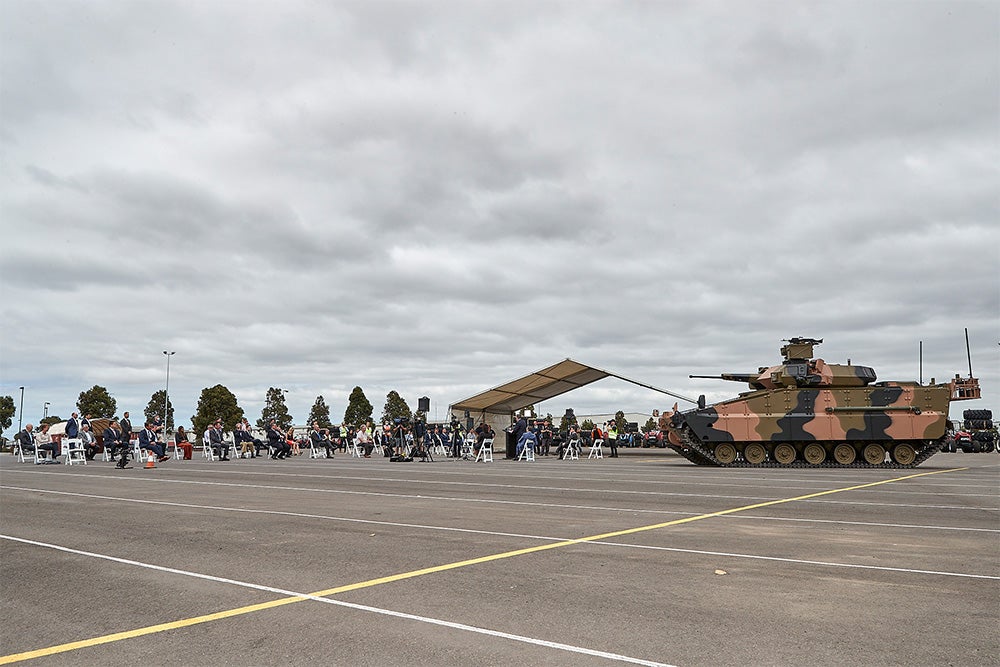 As previously reported, Redback is competing against the Rheinmetall KF41 Lynx, with the winner of the A$18 to $27 billion project replacing the Australian Army's M113AS4s with 450 tracked IFVs. Three prototypes of both vehicles are being delivered as part of the program's Risk Mitigation Activity, where they will undergo an extensive battery of tests in Australia that will evaluate the two's lethality, reliability, and survivability.

Team Redback, as the Hanwha Defense Australia-led industry group calls itself, says that its increasing membership (that already includes Electro Optic Systems, Elbit, ECLIPS, Milspec, Bisalloy, Soucy, Marand and CBG Systems among others) will allow it to deliver "best of breed technologies from around the world". Among the technologies employed on the Redback is Elbit's IronVision system that allows crew members to see through the vehicle using augmented reality. Elbit also supplies the Iron Fist hard-kill active protection system employed on the Redback, in addition to supplying the basis of the Redback's T2000 turret, its MT30 Mk2 turret mated to Electro Optics Systems' optical sensors and fire control systems.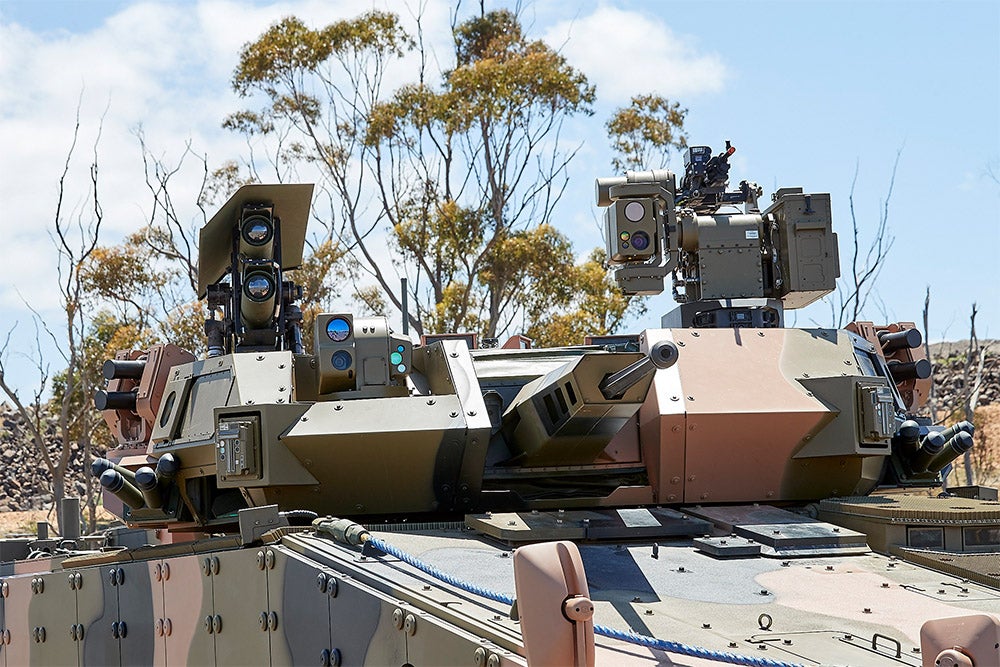 The T2000 turret is equipped with a Mk44S Bushmaster II 30mm autocannon that comes standard with a fuse setter for programmable munitions, for maximum compatibility with all 30×173mm shells currently in service with users around the world. A 7.62×51mm coaxial machine gun is standard as well, as well as an EOS-supplied remote weapon station capable of accepting 7.62×51mm general purpose machine guns, 12.7×99mm heavy machine guns or automatic grenade launchers.
The Australian camo-schemed Redback on display at the launch also has a retractable launcher holding two Spike-ER2 anti-tank guided missiles. For future growth capabilities, the Bushmaster II is easily upgraded to fire Super Forty 40mm ammunition with the exchange of just three parts.

Asides from the Iron Fist APS, Plasan modular armor provides STANAG 4569 Level 6 protection, with frontal resistance to 30mm autocannon AP and APFSDS shells at a range of 500 meters. "Innovative blast mitigation systems" allow for new interior arrangements that no longer require suspended footrests and other previously used arrangements, owing to the use of in-arm hydropneumatic suspension that frees up space that would otherwise be occupied by torsion bars, in addition to providing better occupant comfort. Further improving ride quality and reducing noise are Soucy rubber band tracks.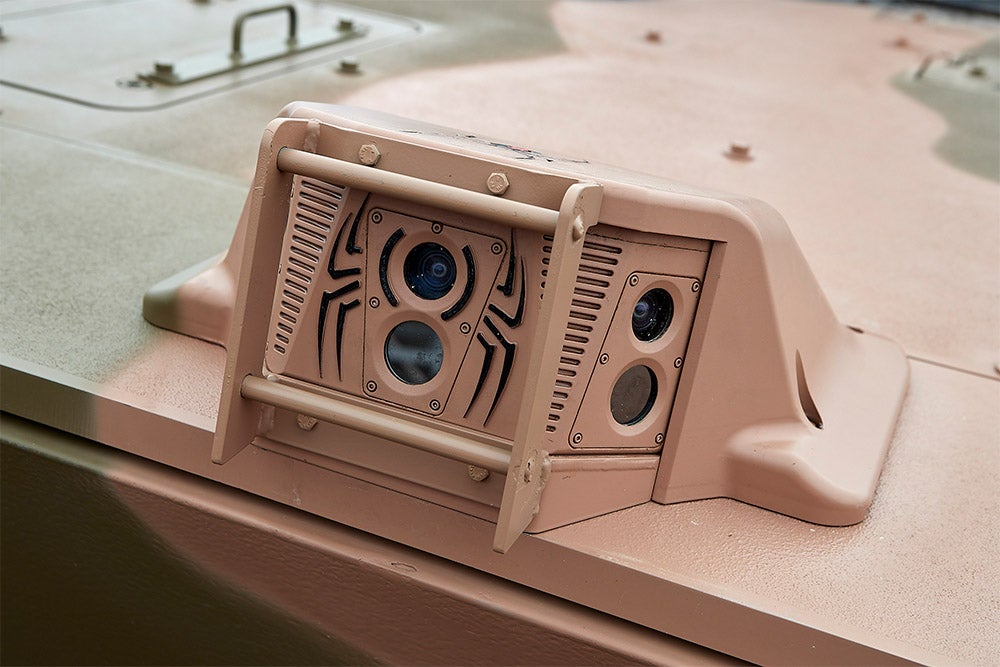 "The Redback is a highly advanced infantry fighting vehicle and I believe it to be the safest and most lethal on offer to the Commonwealth," said Richard Cho, Managing Director of Hanwha Defense Australia. "The Risk Mitigation Activity is a great opportunity for the Commonwealth to become familiar with the highly advanced technology seamlessly integrated in Redback."

While the KF41 Lynx is widely favored by pundits owing to the Australian Defense Forces' selection of Rheinmetall's Boxer for local assembly to replace the ASLAV, the selection of Hanwha's locally assembled AS9 Huntsman self-propelled howitzers and AS10 ammunition resupply vehicles evens out both sides in terms of existing industry participation.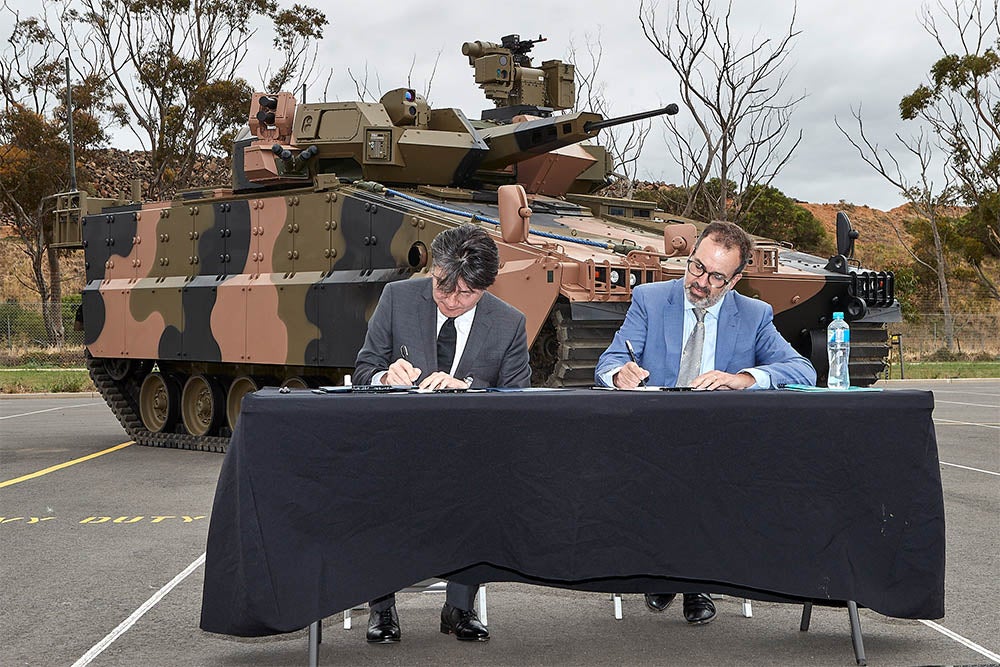 With both options evenly matched in vehicle capabilities, Team Redback is eager to emphasize the economic benefits of its proposal, noting that the three Redback prototypes were built with Australian-made Bisalloy steel made in Unanderra, New South Wales. Additionally, a Hanwha-commissioned PriceWaterhouseCooper report claims that its Land 400 Phase 3 Australian Industry Capability package can generate A$9 billion in total economic impacts across Australia, with A$5.7 billion generated in Victoria, where the production Redback will be built in a purpose-built facility in Geelong.