Royal Navy to Get Three Unmanned Minesweepers Under £25 Million Contract
The British Ministry of Defence (MoD) has announced that they have ordered three new autonomous minesweepers, the first such vessels ordered purposely for service with the Royal Navy (RN). These will detect and destroy sea mines on naval operations while protecting sailors from the dangerous duty.
In a contract valued at £25 million, the RN will take delivery of three Combined Influence Minesweeping (SWEEP) systems designed by Atlas Elektronik UK. These can detect the latest and smartest digital sea mines, which target ships and submarines passing overhead.
Each SWEEP system comprises an Autonomous Surface Vessel that tows a sensor unit behind it. The unit uses magnetic, acoustic and electric technology to identify and neutralise different types of sea mines. The system is controlled by a Portable Command Centre which can be based at sea or on land.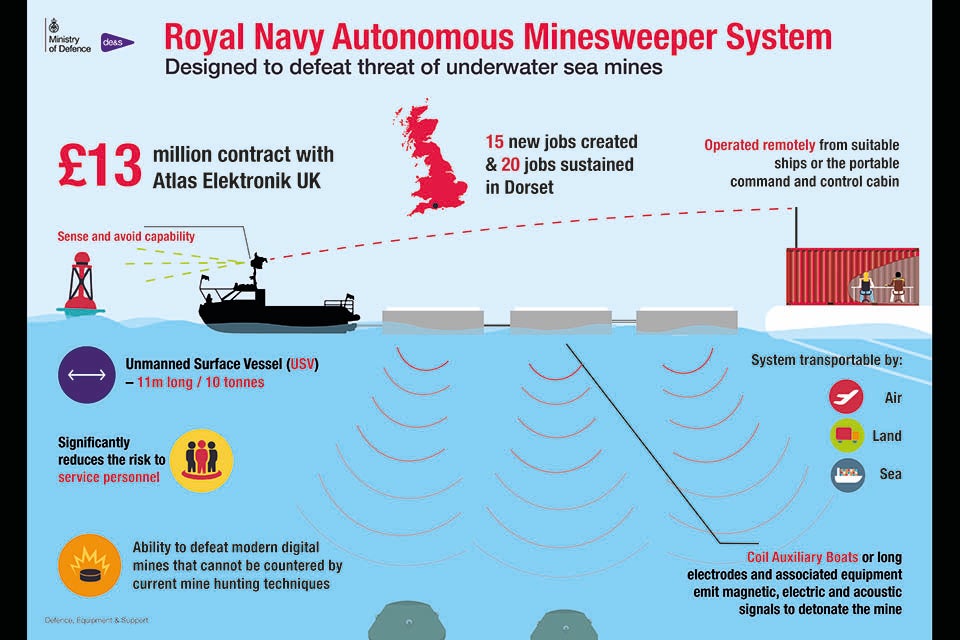 Because the entire system is air portable it can be rapidly deployed worldwide to support the RN's global missions. Speaking of the contract the UKs Defence Minister, Jeremy Quin, said that:
"This next-generation autonomous technology will be instrumental to our goal of protecting the safety and security of our personnel, while also reaffirming the UK's unwavering commitment to improve the safety of international waters."
The RN began experimental trials of the SWEEP system in 2018. For four months the prototype was put through its paces by Atlas Elektronik and Defence Equipment and Support team members and the Royal Navy's Maritime Autonomous Systems Trials Team (MASTT). It was then handed over to the RN for detailed experimentation and testing. The successful conclusion of these trials has led to the MoD's decision to order the SWEEP.
The order also marks a return to mine sweeping by the Royal Navy. As mines have become increasingly sophisticated – including the ability to target mine sweepers – the RN has moved into utilising specialist mine hunter vessels. Though these are extremely competent ships and have proven their worth in multiple combat zones, their usage is by nature slow and methodical.
The use of the unmanned and basically disposable mine sweepers means the RN will have the ability to clear mines at greater speeds should that be necessary – a critical consideration should a Nation State or non-national actor mine a critical maritime trade route.
The first SWEEP system will be delivered in late 2022 and will then enter operational evaluation before going into full service at a later date.