Britain Orders Cargo Mission Master Unmanned Ground Vehicles
Rheinmetall has announced that the British Armed Forces has ordered four Mission Master unmanned ground vehicles. The four Mission Masters are of the Mission Master – Cargo variant, and are being purchased as part of the British Remote Platoon Vehicle Program.

The announcement states that the order was placed at the end of 2019. In addition to the vehicles, the order includes training and service support, spare parts and two stretcher systems for the vehicles. Rheinmetall Canada, the division making the Mission Master, will supply the vehicles. Rheinmetall BAE Land Systems will provide on-location support services as a cooperation partner. The vehicles are to be delivered throughout the spring of 2020.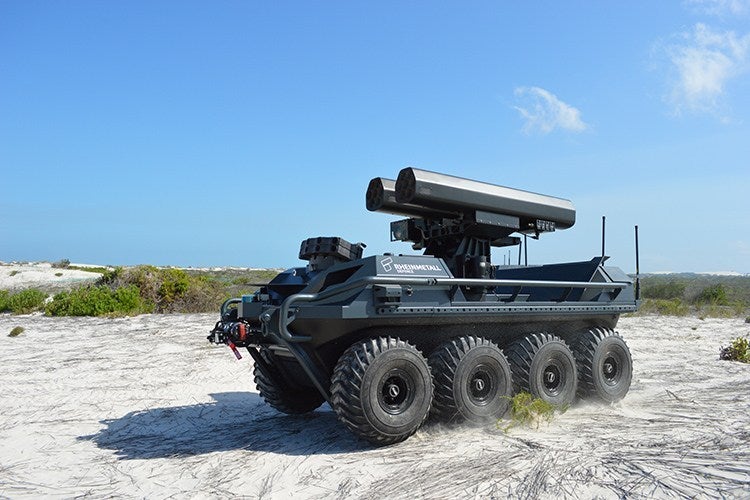 The Remote Vehicle Platoon program aims to explore the extent to which unmanned vehicles can enhance the combat effectiveness and capabilities of dismounted infantry at the platoon level. Towards that, the Mission Master – Cargo is capable of carrying up to half a ton in payload, be it supplies, tactical kit or medical equipment. It can operate in both semi-autonomous and fully autonomous modes, with Rheinmetall claiming that the artificial intelligence of the Mission Master allows for troops to delegate a "multitude" of dull, dirty and dangerous tasks to the Mission Master.

The Mission Master is designed for easy installation of various payloads for specialized missions. Another variant of the Mission Master is the Mission Master – Rescue, a Mission Master set up with two basket stretchers and medical equipment for treating casualties in addition to the ability to autonomously evacuate casualties over long distances. The Mission Master – Protection is an armed variant of the Mission Master, equipped with a remote weapons station compatible with a variety of machine guns, autocannons and even 70mm rocket launchers.

Rheinmetall claims that even more capabilities are possible for the Mission Master, including surveillance, firefighting, CBRN reconnaissance and detection, serving as a mobile radio relay station and other "build to order" capabilities needed by prospective customers.

The British military has extensively tested unmanned technologies in exercises such as the Autonomous Warrior series of exercises, alongside major investments by the Ministry of Defence in unmanned technology research and development. User feedback from the Remote Platoon Vehicle program would certainly be of great value in further developing the Mission Master family, owing to ever-growing British experience with the current crop of unmanned ground vehicles.