Serial Production of T-14 Armata Tanks to Begin in 2021
The Armata platform was battle-tested in Syria recently and serial production of the finalized vehicles is set to begin in 2021. The statement comes from Russian Minister of Industry and Trade Denis Manturov in an 19 April, interview on Russian state TV channel Rossiya-1.
Manturov also stated that soon after serial production and deliveries to the Russian army start, the vehicle will be cleared for export and work with potential foreign clients will begin. Several countries have already expressed interest in the tank.
The most recently seen Armatas are not the final versions of the platform. They were first shown to the general public on the 9 May 2015, during the Victory Day celebrations in Moscow's Red Square. Ever since then, several of the vehicles were kept in the Moscow area to be brought out every year for the Victory Day parade, while others were sent to army units for training around the country. Exactly how many pre-production versions were built, or what the finished version of the tank will look like is unknown for now.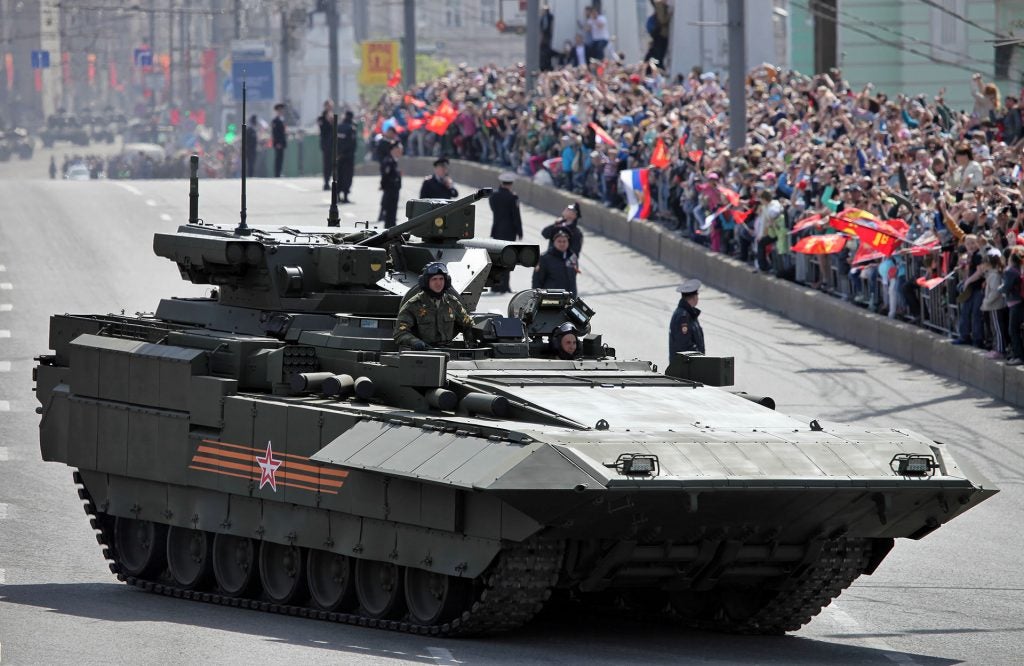 The Armata Universal Combat Platform is designed to be the basis for upcoming tracked vehicles in the Russian army. Its purpose is to maximize parts commonality between these vehicles, therefore enabling easier production and maintenance. The most well-known part of the Armata family is, of course, the T-14, but the family includes the T-15 heavy infantry fighting vehicle and everything from armored recovery vehicles to bridge layers.
The Soviet Union suffered under the extreme cost of producing three different types of main battle tank, of the same generation at the same time; the T-64, T-72 and T-80. The modern Russian military seems determined to not commit the same mistake and strives for a high amount of parts commonality in its new vehicles. Whether the Armata platform will achieve this goal or fail due to high development costs remains to be seen.