A Remote Controlled Ambulance?
Rheinmetall Canada has unveiled a new package for its family of Mission Master Robot vehicles. Mission Master is an eight wheeled modular platform that can be equipped for a range of battlefield roles providing a; "… multimission Unmanned Ground Vehicle (UGV)… to perform various mission profiles, from mule to force protection and surveillance, using a variety of modular payloads".
The latest modular package on display this month at the CANSAC 2019 exhibition in Ottawa, Canada was the Mission Master Rescue (MMR) which can carry two stretcher cases and medical equipment including a defibrillator and oxygen supplies. It can enter still contested areas to evacuate wounded personnel without risking a manned vehicle. Controlled by a tablet-style handset, it can also be programmed in 'follow-me" mode to move alongside the medics or supporting infantry. It gives medics much greater access to equipment that is normally only available on medical evacuation aircraft or dedicated armoured vehicles like the Stryker MEV.
Whilst the base version is configured to act as a 'mule' to carry mission essential equipment, water and ammunition for infantry or special operations forces and the MMR is designed from the ground up for casualty evacuation, both armed and reconnaissance versions also exist. The Mission Master Surveillance (MSS) deploys a range of cameras and sensors to allow remote unmanned surveillance. The feeds from the MSS can be acted upon by the armed variant, the Mission Master Protection (MMP)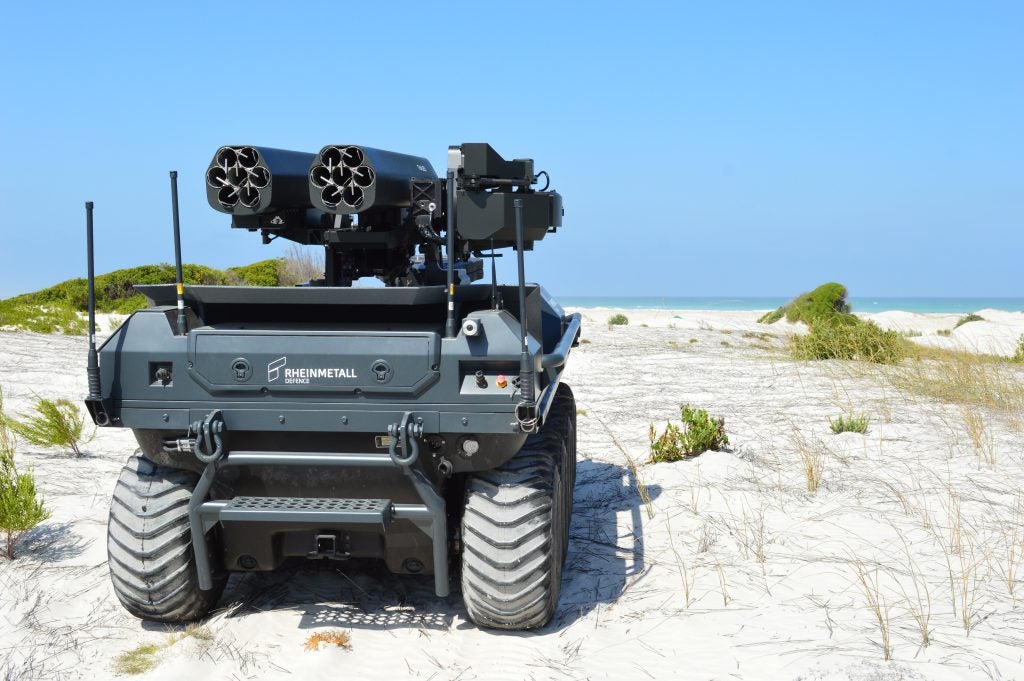 The MMP can be equipped with a range of weapon platforms including 7.62x51mm or 12.7mm machine guns up to 30mm cannon. It is also offered with a multiple launch rocket system (MLRS) package of two 70mm (2.75 inch) rocket pods each carrying seven rockets. Earlier this year, the Thales developed 70mm MLRS package for the MMP was trialled in South Africa, meeting "NATO Standardization Agreement (STANAG) 4568 on unmanned vehicle interoperability" according to Jane's 360. Thales and Rheinmetall Canada are now working to integrate Thales guided 70mm rockets. Other platforms such as Javelin and Rafael Spike are on the integration list.
Sure to raise fears of autonomous killer robots, the MMP can operate in any of three discrete modes – one allows a programmed target to be engaged autonomously, another tasks the UGV to scan a set arc and request authority to fire when it recognises a valid target, and the third is the typical master/slave interface with the UGV under the complete control of its human operator.