U.S. Approves $1 Billion FMS Of FS-LIDS Counter-UAS Systems To Qatar
The U.S. State Department approved a possible Foreign Military Sale (FMS) of the Fixed Site-Low, Slow, Small Unmanned Aircraft System Integrated Defeat System (FS-LIDS) to Qatar on November 29. The FS-LIDS systems with related equipment are estimated to cost $1 billion.
Qatar had requested to buy ten FS-LIDS System of Systems. This includes two hundred Coyote Block 2 interceptors, from Raytheon, Counter Unmanned Electronic Warfare System (CUAEWS), Coyote launchers, Ku Band Multi-function Radio Frequency System (KuMRFS) radars, Forward Area Air Defense Command and Control (FAAD C2) and EO/IR cameras.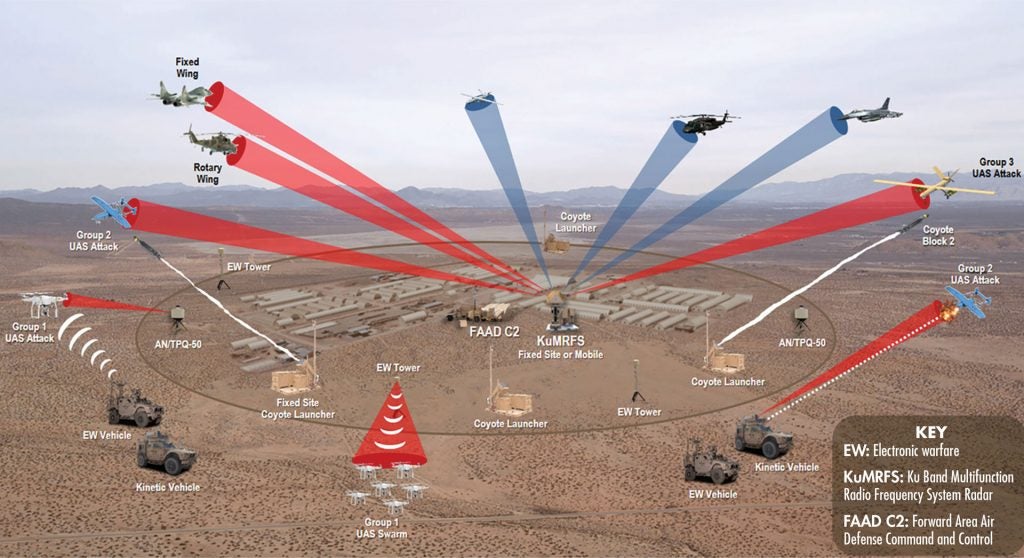 The contract also involves integration, test support, spares, training and other related equipment and services. The principal contractors will be Raytheon, SRC and Northrop Grumman. A Defense Security Cooperation Agency press release stated:
"This proposed sale will support the foreign policy and national security objectives of the United States by helping to improve the security of a friendly country that continues to be an important force for political stability and economic progress in the Middle East. The proposed sale will improve Qatar's capability to meet current and future threats by providing electronic and kinetic defeat capabilities against Unmanned Aircraft Systems. Qatar will have no difficulty absorbing these articles and/or services into its armed forces."
The FS-LIDS system had been chosen as an interim C-UAS solution for the US military. It is meant to detect and intercept slow flying small aerial objects. The system also places emphasis on electronic kill of such targets. This is the first potential FMS of FS-LIDS.
Qatar has been improving its air force and air defence capabilities over the past few years with Qatar Emiri Air Force (QEAF) ordering 24 Eurofighter Typhoons, 36 Boeing F-15QA and 36 Dassault Rafales. Qatar is also improving its early warning capabilities and has also procured Patriot PAC-3 systems.
These upgrades would allow Qatar to protect its airspace from the full spectrum of air threats proliferating in the region. Including the drones and ballistic missiles launched by Yemen's Houti rebels which have struck neighboring Saudi Arabia and UAE.