DefExpo 2022: DACA War Trucks Showcases Dawon ATV, New Combat Vehicles
Indian firm DACA War Trucks showcased its new Dawon All Terrain Vehicle (ATV) and revealed the development of two new combat vehicles during DefExpo 2022, held in October. The firm specializes in the design and development of combat vehicles, logistics equipment and upgrades of existing vehicles. Overt Defense had an opportunity to speak with Yash Srivastava, co-founder of DACA War Trucks.
DACA offers an upgrade to the Recce Gypsy 4×4 vehicle used by various armoured regiments. Yash noted that the stock Gypsy vehicle had limitations operating in cross country conditions. To enhance this, DACA initiated a pilot project offering a new suspension system which can be retrofitted on existing stock Gypsy vehicles. This vastly improves off-road mobility and enhances stability of the vehicle at high cross country speeds.
Yash revealed that the Upgraded Recce Gypsy has been tested and used by two armoured regiments, understood to be the 48th and 70th Armoured Regiments. It is set to be adopted at the command level soon, he said. The upgrade also involves large fuel and water tanks, outer roll cage and a snorkel among others.
In collaboration with AVision Systems, DACA's Upgraded Recce Gypsy has been tested with an PALM-30 loitering munition. Yash said that the tests, which used a lone PALM-30, were to determine the compatibility of the systems. The Gypsy is capable of carrying multiple PALM-30 munitions and is set to undergo firing trials soon.
Yash also provided details about the Eklavya MRAP armoured tactical vehicle developed by DACA. It was developed primarily to demonstrate technological capability. The vehicle can seat six and has cargo space for up to 2.5 tons of cargo. Eklavya will be used as a template for the Light Armoured Multipurpose Vehicle (LAMV) offered by DACA. In response to a follow-up query, co-founder of DACA War Trucks Gopal Krishna stated:
"Eklavya is the platform on which our LAMV Version 2 will be based. We have already responded to RFI from MOD for LAMV. Eklavya apart from having very high mobility due to 26 inches of wheel travel has a three layer occupant protection system which reduces blast wave impact by up to 40%."
DACA's Dawon is described as a general purpose utility ATV, designed from the ground up to have better cross country mobility than existing platforms. It is designed to cruise at high speeds on uneven terrain with payload. The vehicle would use a Caterpillar engine, Allison transmission, differentials by DANA and use four bar link coil spring suspension. Yash revealed that a prototype of Dawon has been tested by the Northern Command of the Indian Army.
On November 7, the Indian Army released an RfP seeking 250 ATVs. These should have a kerb weight under two tons and be capable of carrying at least four personnel. Other requirements include a range of over 400km, speed of over 40kmph, payload of over 600kg, engine with over 150 hp, 'heliportability' and ability to operate at 17,000 feet. The ATVs would be primarily used by Eastern, Northern and Central Commands of the Army.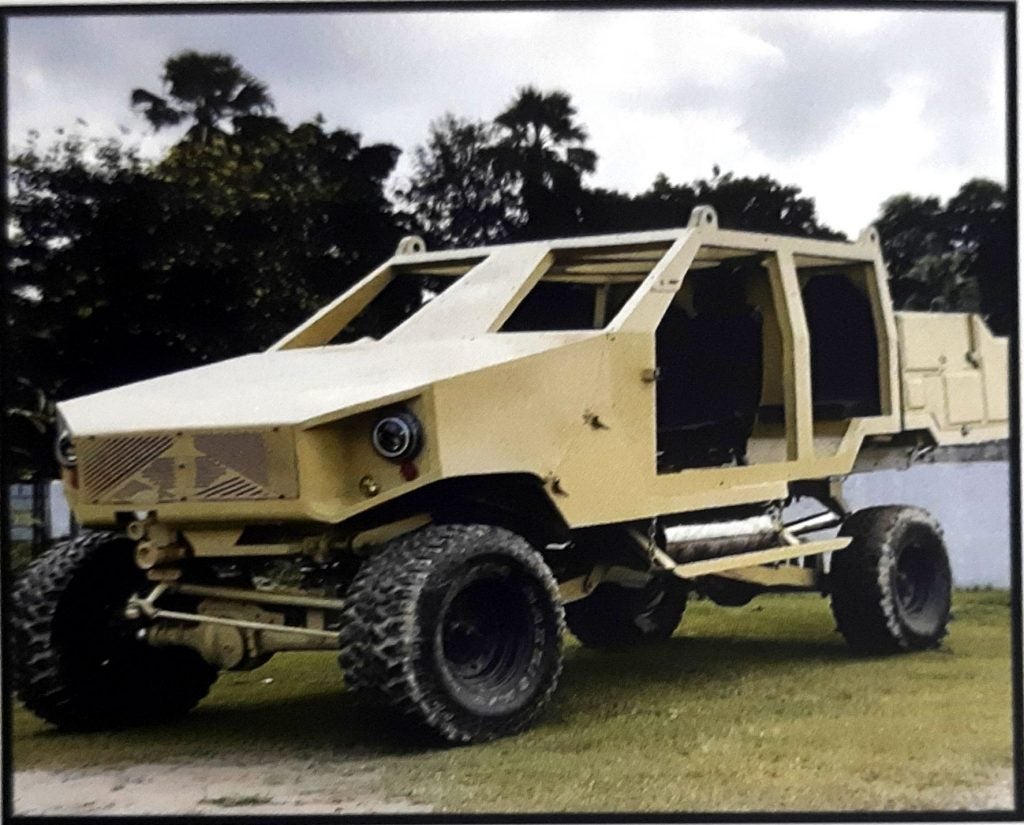 Dawon is being offered for the Army's general service 4×4 vehicle and ATV requirements. Gopal confirmed that Dawon requires some minor tweaks to meet the ATV requirements which will be done. Dawon would have an indigenous content of 85%.
DACA War Trucks is developing two new 4×4 products, named Aerawat and Sanjeevani. Aerawat is described as a 'next generation cargo vehicle platform.' It would feature 20,000 liters of cargo space on a 4.5m wheelbase. Responding to a question about the relationship between Aerawat and Eklavya, Gopal explained:
"Eklavya is a different platform. Aerawat is different. It is a combat logistics platform which offers capability to mount higher calibre weapons like 40mm cannon for convoy protection and the design specially protects the vehicle from ambushes that a logistics convoy generally faces like you may have seen in Russia-Ukraine war.
The vehicle will be designed to be highly mobile and stable. It will be available in two types of suspension: four bar link coil spring suspension and double wishbone independent suspension, both featuring high articulation even under full load. It features differentials from Meritor, engine from Caterpillar and Allison transmission.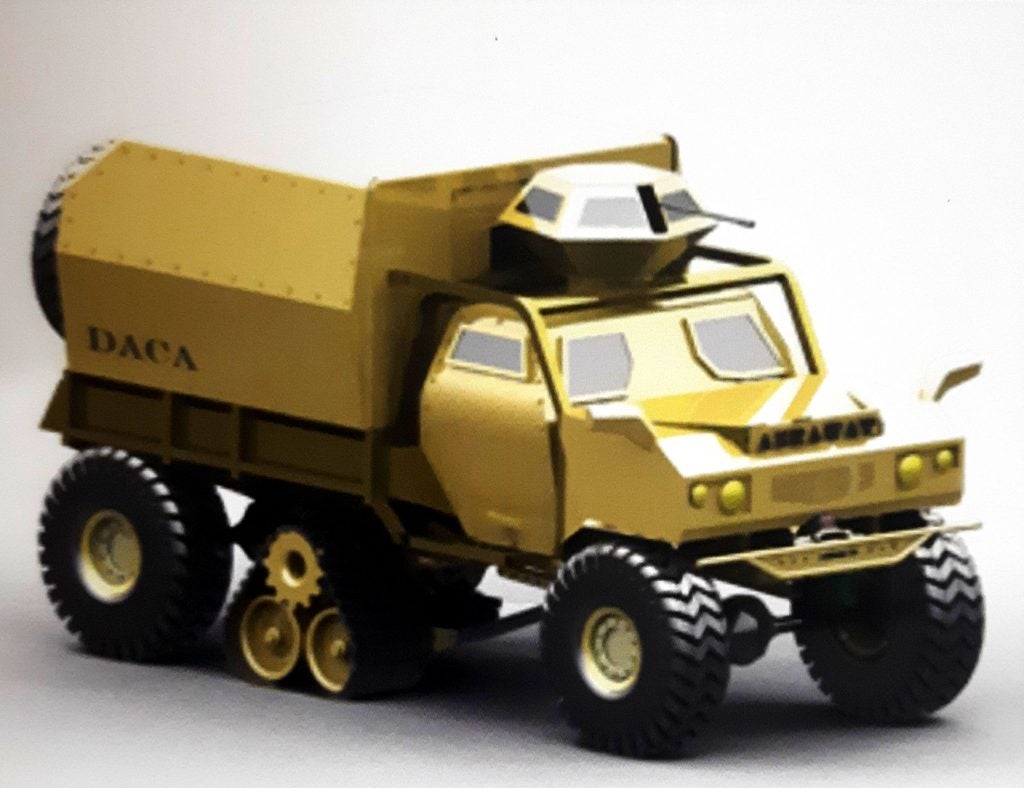 The vehicle would feature self-recovery aids in the form of triangular tracks, making it self-reliant for intense combat replenishment operations. Gopal told Overt Defense that:
"These triangular tracks are a part of the vehicle. These can be lowered whenever [the] vehicle is stuck. These tracks are powered by hydraulic motors and can be operated independent of the main drivetrain."
Sanjeevani is designed to be a medical evacuation platform, capable of providing trauma care and first aid. Featuring high cross country mobility, it would feature gyro-stabilized active suspension to provide stability for treatment. Sanjeevani is an extended version of Aerawat having similar subsystems and off-road capability.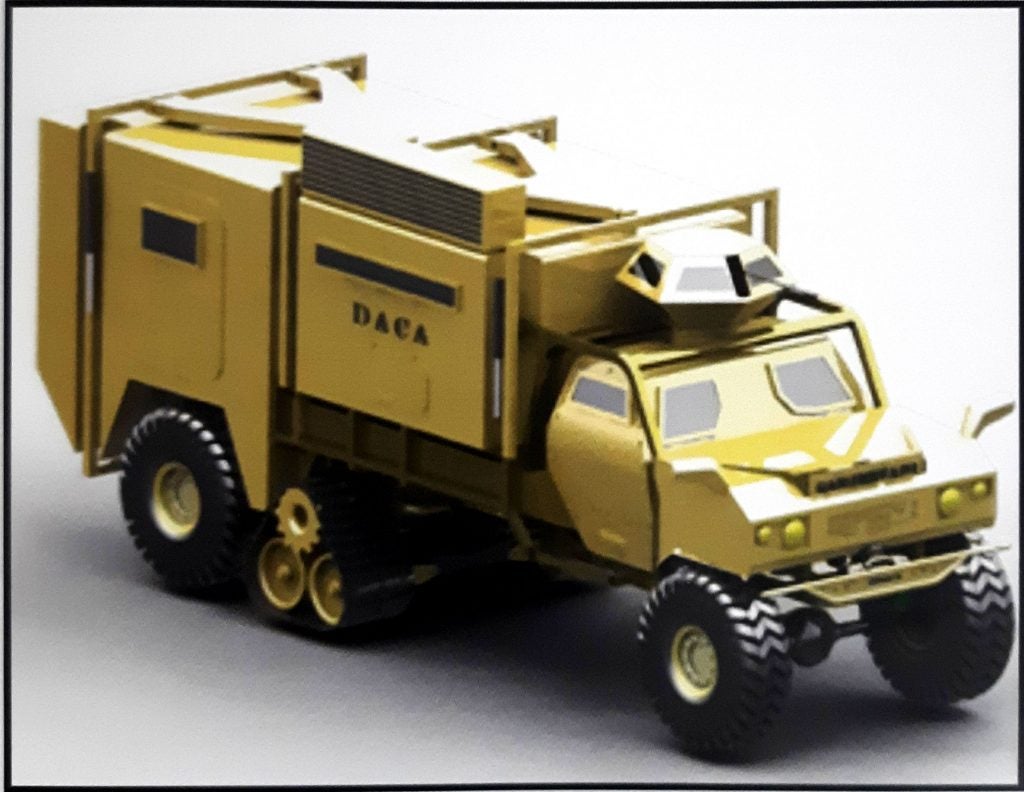 Regarding development timelines, Gopal stated: "Aerawat is under development and we should start testing the first proto[type] by April/May next year."
In the combat logistics space, DACA offers multiple products which have been tested as well as ordered by the Army. These are Portable Ramp Set to load and unload tanks from trailers, Metallic Portable Ramp to load and unload tanks from trains and a Railway Line Crossing Bridge.
Cover Image: DACA Dawon ATV (Adithya)