Bayraktars Arriving in Somalia, Nigeria and Albania – Japan May be Next
The war in Ukraine has proven to be an incredibly successful advertisement for the Turkish TB2 Bayraktar drone. With tons of recorded footage of Bayraktars in action destroying Russian vehicles, multiple crowdfunding campaigns to buy TB2s for Ukraine, and even a Ukrainian song about the Bayraktar, it is no surprise that militaries around the the world are keenly interested in the UAV. These include a mix of both highly modern militaries like those of Japan as well as the more modest forces of states like Nigeria.
Last week, the Somali Interior Minister Ahmed Moalim Fiqi confirmed that Bayraktar drones are now being used in operations against the Islamic terrorist group Al Shabab. It was known previously that Turkish drones are being used for reconnaissance missions over Somalia but the new statements indicated that they are also being used to provide air support in the country. According to the minister:
"The US government is leading, and we really appreciate that they are providing air support and carrying [out] air strikes against the terror group… but the Turkish government has also joined the offensive and is providing air support. Many other countries are also providing intelligence-gathering support."
On 29 September, Albania's Prime Minster Edi Rama attended the signing of a satellite service contract between Satellogic USA and the Albanian National Civil Defense Agency. "These satellites will be followed very soon by drones," Rama said referring to Turkish Bayraktars. Reportedly, the country is paying 8 million Euros ($8 million USD) to acquire six units.
It has been known for many months that the Nigeria has decided to purchase Turkish drones and that Turkey was training Nigerian drone operators, but there remained uncertainty about the specific drone model chosen with some speculating that it may be the newer Bayraktar Akinci. However, recently released images from Baykar (the manufacturer of both the TB2 and Akinci) show TB2s with Nigerian flags as well as Nigerian personnel training on the TB2.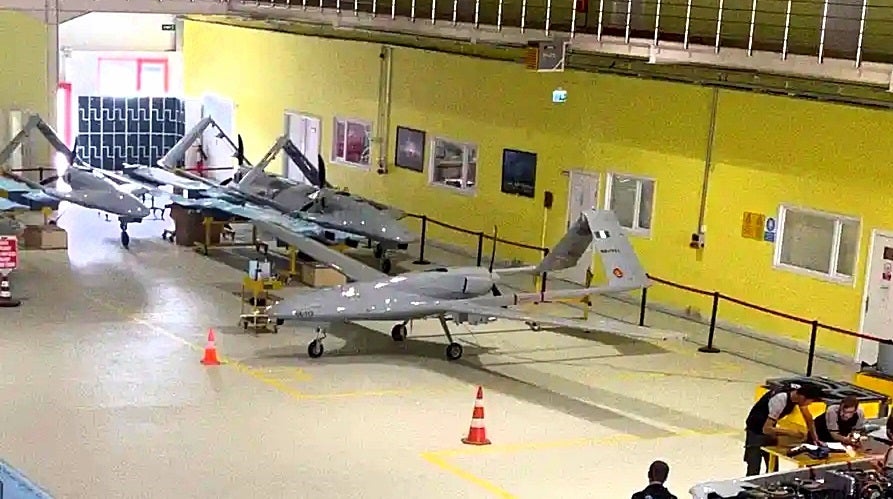 Last week, Turkish foreign minister Mevlut Cavusoglu also declared that Turkey would be willing to sell drones to Japan. Japanese media had recently reported that the Ministry of Defense will likely move to acquire UAVs in fiscal year 2023, with the TB2 thought to be under consideration. Reportedly, loitering munitions will also be tested with the Israeli Harop and American Switchblade being examined.
Many other countries have expressed interest in acquiring, or are in the process of acquiring, various types of Turkish manufactured drones. Select examples include the UAE, Morocco, Poland, Indonesia and Malaysia.