Sweden Lifts Export Restrictions On Military Equipment To Turkey On The Way To Becoming a NATO Member
Sweden has lifted the export restrictions on military equipment to Turkey that had been in place since October 2019. The Swedish Inspectorate of Strategic Products (ISP), which is in charge of approving arms exports, announced the development. Arms exports to Turkey were permitted as of the third quarter of 2022, according to the ISP statement, but it did not specify which Swedish defense industry companies were involved or which specific products were in question due to confidentiality standards. The exports in question, according to the Inspectorate, only included military equipment in the ML11 (electronic equipment), ML21 (software), and ML22 (technical assistance) categories.
Sweden, like many other EU member states, halted arms sales following Turkey's military operation in northeast Syria, Operation Peace Spring, in 2019. Swedish Foreign Minister Ann Linde stated at the time that the cancellation of licenses for arms sales to Turkey was due to the operation in question being a violation of international law. According to Swedish state radio SR, following this development, the request of three Swedish-based private arms manufacturer companies to sell weapons to Turkey was denied.
According to the Swedish Inspectorate of Strategic Products (ISP), the changing attitude toward Turkey is due to Sweden's NATO membership process. As a result of Russia's war against Ukraine in mid-May, the Swedish government decided to apply for NATO membership with Finland on May 16, 2022, with broad support in the Riksdag (Sweden's legislative body). However, Turkey initially obstructed the process, claiming that Sweden and Finland were supporting "terrorist organizations" such as the PKK, YPG/PYD, and the Gülenist movement. The three countries then signed a 10-point memorandum addressing Ankara's reservations at the end-of-June summit in Madrid. Turkey, Finland, and Sweden confirm in Article 7 of the Memorandum that there are no national arms embargoes between them. Around a week after Turkey received assurances from Sweden and Finland that its demands in the fight against terrorism would be met, Sweden and Finland's ambassadors to NATO signed the accession protocol allowing Sweden and Finland to join NATO and officially began the ratification process to make their countries full members of the alliance.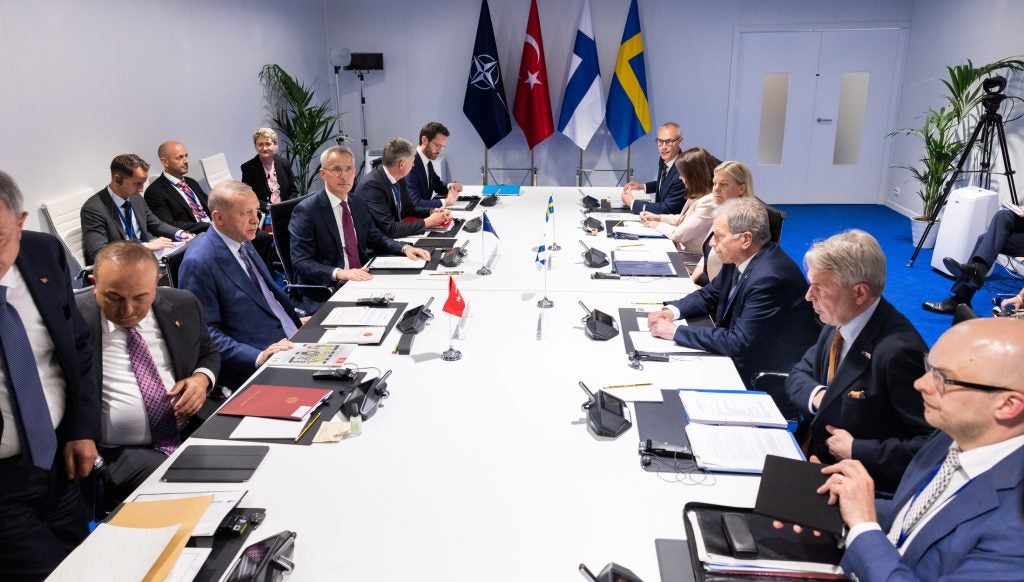 All 30 NATO countries must approve Sweden's and Finland's membership requests for them to join. Currently only Turkey and Hungary remain after 28 other countries have previously approved it. A delegation from Sweden's interior ministry will go to Turkey for NATO talks next week, according to Linde. The negotiations with Turkey are going smoothly, according to a statement Linde made to her nation's official news agency, TT. "But I don't know when Turkey will approve it," said Linde. "Last week, I met with my Turkish colleague Çavuşoğlu at the UN meeting in New York. We reviewed the negotiations; everything is going well. We are adhering to the agreement," she stated. In a speech on 1 October President Recep Erdogan, referred to the ongoing NATO membership negotiations with Sweden and Finland saying: "until the promises made to our country are kept, we will remain determined and principled on this issue. We will maintain our position."