Indian Army to Receive F-INSAS, Mines, Landing Craft, APCs and Other Kit
India's Defence Minister Shri Rajnath Singh handed over indigenously-developed equipment and systems to the Indian Army on 16 August. These included the Future Infantry Soldier as a System (F-INSAS), the 'Nipun' anti-personnel mine, communication systems, upgraded sights system for tanks and advanced thermal imagers. Armored vehicles, drones and assault boats were virtually handed over to units in Ladakh.
F-INSAS soldiers will be equipped with Indian-manufactured variants of the AK-203 rifle, which will be mounted with holographic and reflex sights. They will also be equipped with a helmet-mounted night vision optic. Multi-mode hand grenades which have been procured indigenously along with a new multi-purpose knife. Protection is provided by a helmet and a body armor. F-INSAS also includes communication and surveillance systems.
This new system is capable of upgrades in the future but it is unclear how the army aims to implement F-INSAS. A plan to manufacture AK-203 rifles has been long delayed, during which several indigenous arms manufacturers have developed and demonstrated similar rifles.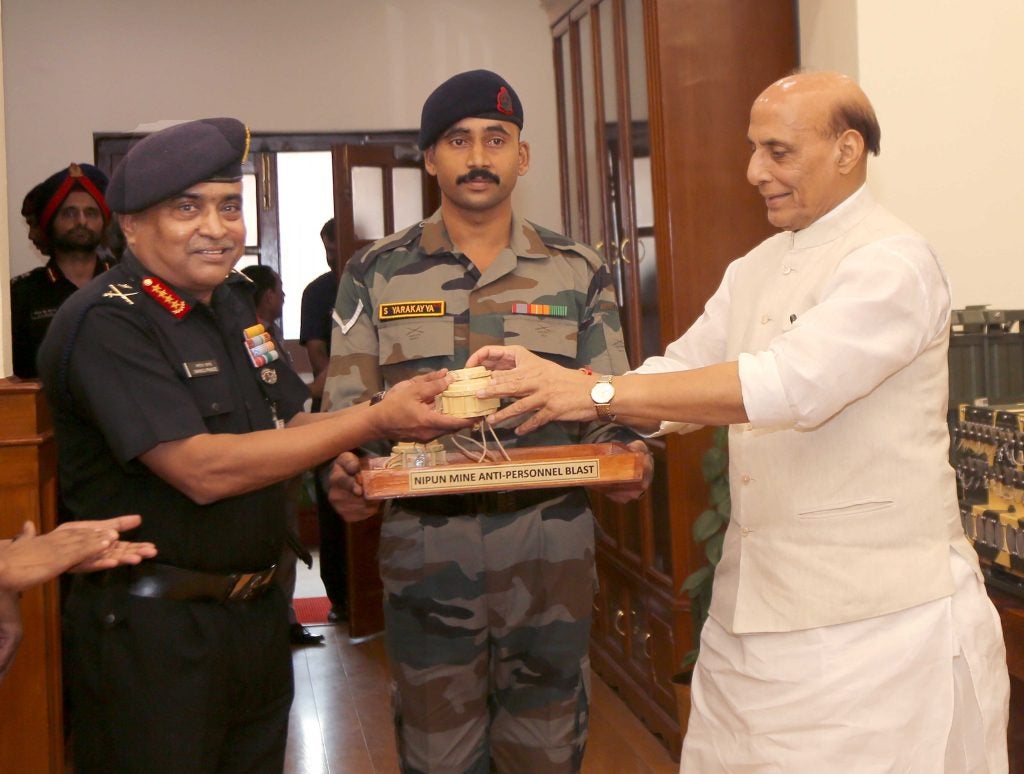 Nipun is a new anti-personnel mine which would replace the vintage M-14 mines currently in service. It has been developed by Armament Research and Development Establishment along with five other mines. It will enhance the protection provided to the troops on the borders. Over 700,000 Nipun mines are expected to be produced. An uncooled Hand Held Thermal Imager for surveillance and detection was handed over too. The system appears to be the Geolocator UC by Tonbo Imaging. It also includes a laser range finder, GPS and magnetic compass. The system can be used as a standalone system or along with medium calibre weapons.
Moving away from infantry systems the Commander Thermal Imaging Sight for T-90 tanks by India Optel Limited gives enhanced visibility and range to the commanders of T-90 tanks which had limited image intensification systems. Such sights are also being produced for Arjun tanks and BMP-2s. Downlink Equipment with Recording Facility produced by Exicom helps ALH Dhruv helicopters in carrying out constant reconnaissance and surveillance of the borders and operational areas. Semi Ruggedised Automatic Exchange System Mk-II developed by Bharat Electronics Limited (BEL) would overcome subscriber, protocol and data limitations of existing systems. BEL's Upgraded Radio Relay (Frequency Hopping) would help forward troops to operate their communication equipment and radio sets at much longer ranges.
In Ladakh, the epicentre of the standoff with China, multiple newly inducted systems were virtually handed over. Landing Craft Assault (LCA) built by Aquarius Shipyard will operate in Pangong Lake. It overcomes the limitations of launch, speed and capacity in the existing fleet. Ideaforge Switch drones were handed over as well. However, these had been handed over earlier by Prime Minister Modi in November 2021. The recent ceremony may have been for additional orders of the drone.
Two armoured vehicles by Tata Advanced Systems Limited, the Infantry Protected Mobility Vehicle (IPMV) and Quick Reaction Fighting Vehicle Medium (QRFV) were handed over. These vehicles were inducted in April to enhance mobility of Indian troops in Eastern Ladakh. A 1 MW solar power project at the Partapur Army base near Siachen glacier in Ladakh, installed to improve the overall energy requirements and also obviate dependence on fossil fuels, was also inaugurated by the Defence Minister.