Indian Navy Conducts Global Deployment To Celebrate 75 Years Of Independence
The Indian Navy has deployed eight warships to visit ports across six continents. On 15 August, India's Independence day, these ships hosted various activities and events by Indian missions, including flag raising while berthed at various ports. These commemorative visits are a part of Azadi Ka Amrit Mahostav, to celebrate 75 years of India's independence.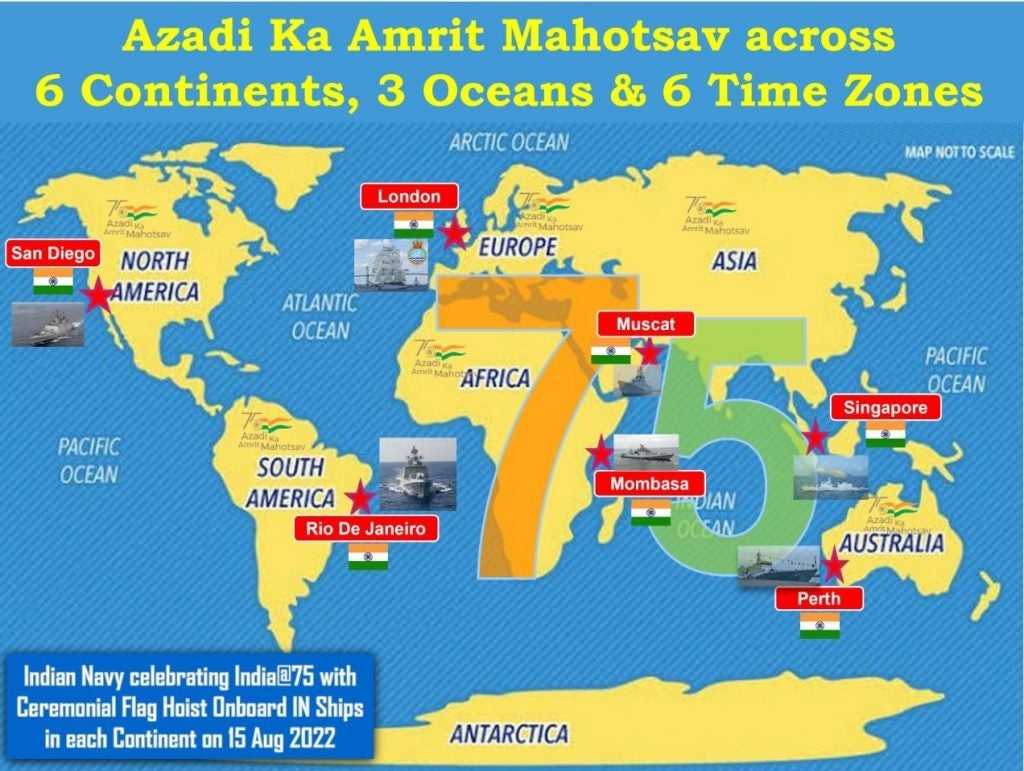 Shivalik class frigate INS Satpura arrived at San Diego on 14 August, marking the first time an Indian warship has visited the west coast of the US. The ship had earlier participated in RIMPAC. Meanwhile in South America, Talwar class frigate INS Tarkash visited Rio de Janeiro in Brazil from 13 to 16 August. INS Tarkash is on a deployment to Europe, South America and Africa. The ship had conducted exercises with navies of Greece, Algeria, Spain and France before arriving at Port of Natal in Brazil on 7 August. On 15 August President of Brazil Jair Bolsonaro visited the ship and welcomed it to Brazil.
In Europe, Indian Navy's sailing ship INS Tarangini berthed at Canary Wharf in London on 14 August. The training ship will be in London till 18 August. The ship, deployed since April, had earlier visited Denmark, Belgium and Portugal among others. The crew of INS Tarangini paid homage to the Indian soldiers who sacrificed their lives during the two World Wars, at the Commonwealth Memorial gates.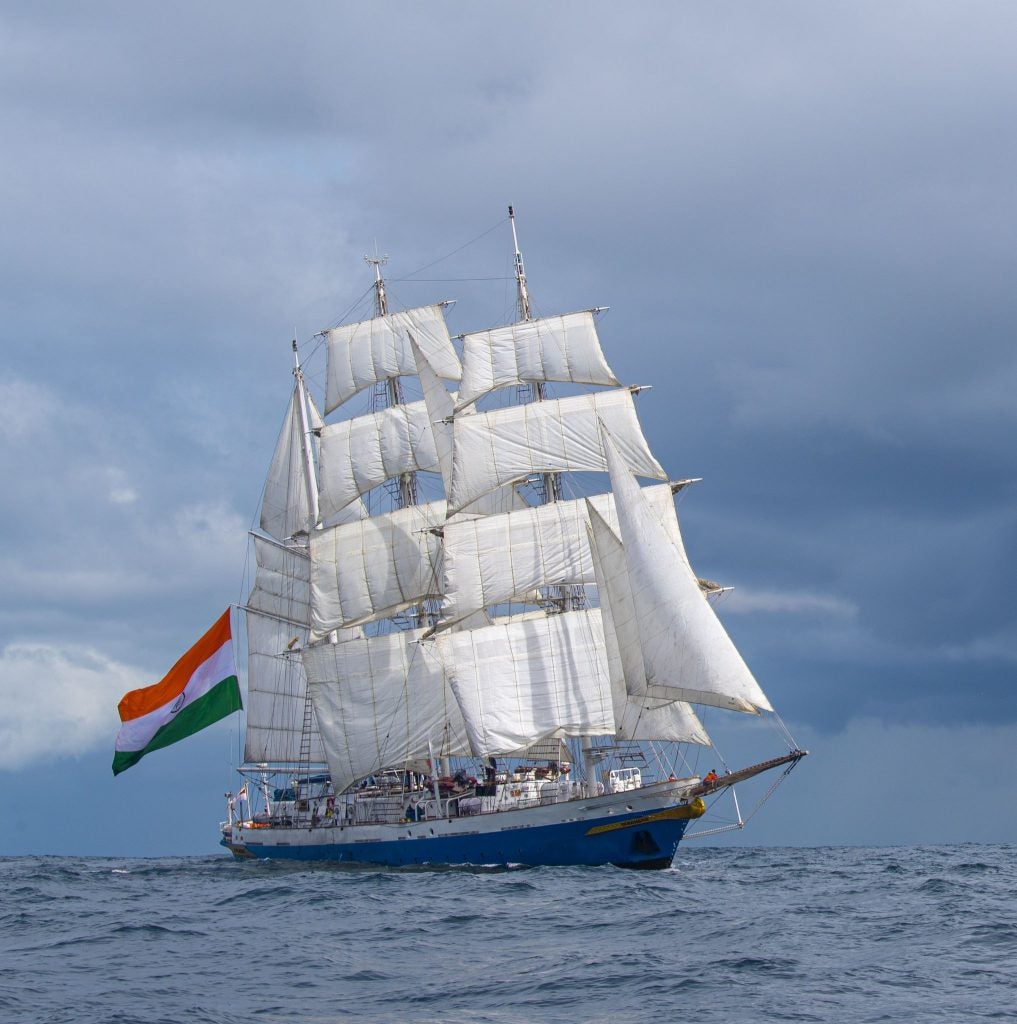 In Africa, Talwar class frigate INS Tabar visited Mombasa, Kenya. Flag hoisting was conducted and a medical camp was held. The crew will participate in the inauguration of a commemorative pillar in the Taita Taveta region where Indian soldiers fought and sacrificed their lives during the East Africa campaign of World War – I. It was initially announced on August 6 that sister ship INS Trikand would be visiting Mombasa.
Saryu class offshore patrol vessel INS Sumedha arrived at Fremantle Port, Perth, Australia on August 14 for a three day visit. The ship was open to visitors and numerous events were held during the visit. Following the port visit, INS Sumedha will undertake interoperability training with HMAS Anzac before heading back to India. Sumedha had conducted an exercise with the Indonesian Navy on 2 August.
In Asia, Indian ships visited Muscat in Oman and Singapore. Kolkata class destroyers INS Chennai and Kochi visited Muscat. The four day visit is led by Rear Admiral Sameer Saxena, Flag Officer Commanding Western Fleet. The flag raising ceremony was held on 15 August. It was initially announced that Brahmaputra class frigate INS Betwa would be accompanying Chennai. In Singapore, INS Saryu visited Changi naval base where the ship held a flag hosting event. A ceremonial wreath laying by the crew is scheduled at Kranji War Memorial.
Warships berthed at various Indian ports also hoisted the Indian flag on 15 August. A large number of activities have been undertaken by the Indian Navy over the last one year as part of Azadi Ka Amrit Mahostav, including a President's Fleet Review. These initiatives and celebrations have culminated with this first of a kind global deployment by the Navy.