India Conducts Presidential Fleet Review With Over 60 Ships, 55 Aircraft
The President of India and supreme commander of the armed forces, Ram Nath Kovind, reviewed the Indian Naval Fleet off the eastern city of Visakhapatnam on 21 February, 2022. This is the 12th edition of the Presidential Fleet Review (PFR), which was also conducted as part of the 75th anniversary of India's independence. Over 60 ships and 55 aircraft took part in the review.
An offshore patrol vessel INS Sumitra was designated as the Presidential yacht. Defence Minister Rajnath Singh and Chief of Naval Staff Admiral R Hari Kumar accompanied the President. Ships and submarines from all three Naval Commands and the Andaman and Nicobar Command participated in the PFR. These included newly inducted vessels such as the destroyer INS Visakhapatnam and INS Vela, a Kalvari class Scorpene submarine. Frontline warships such as Chennai, Delhi, Teg, all three Shivalik class frigates and three Kamorta class corvettes were part of the review. Ships from the Indian Coast Guard (ICG), Shipping Corporation of India (SCI) and the Ministry of Earth Sciences also took part. INS Visakhapatnam acted as the flagship of the fleet.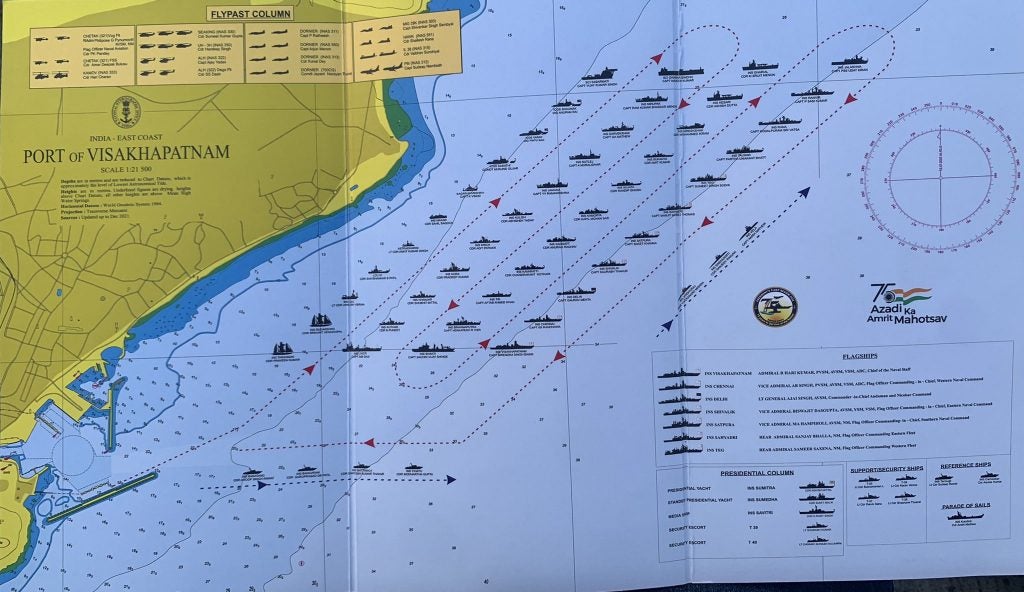 Several activities such as a parade of six sailing vessels of the Navy, search and rescue demonstration at sea, aerobatics by Hawk aircraft and water para jumps by Marine Commandos (MARCOS) were demonstrated. A composite flypast of 55 aircraft was also a part of the PFR and included Chetak, Dhruv, Sea Kings, Kamov helicopters, Do-228, IL-38SD, P8I, Hawks and MiG 29K aircraft of the Navy and ICG. After the static formation of 44 ships was reviewed, a mobile column of warships and submarines carried out high-speed manoeuvres alongside the Presidential yacht.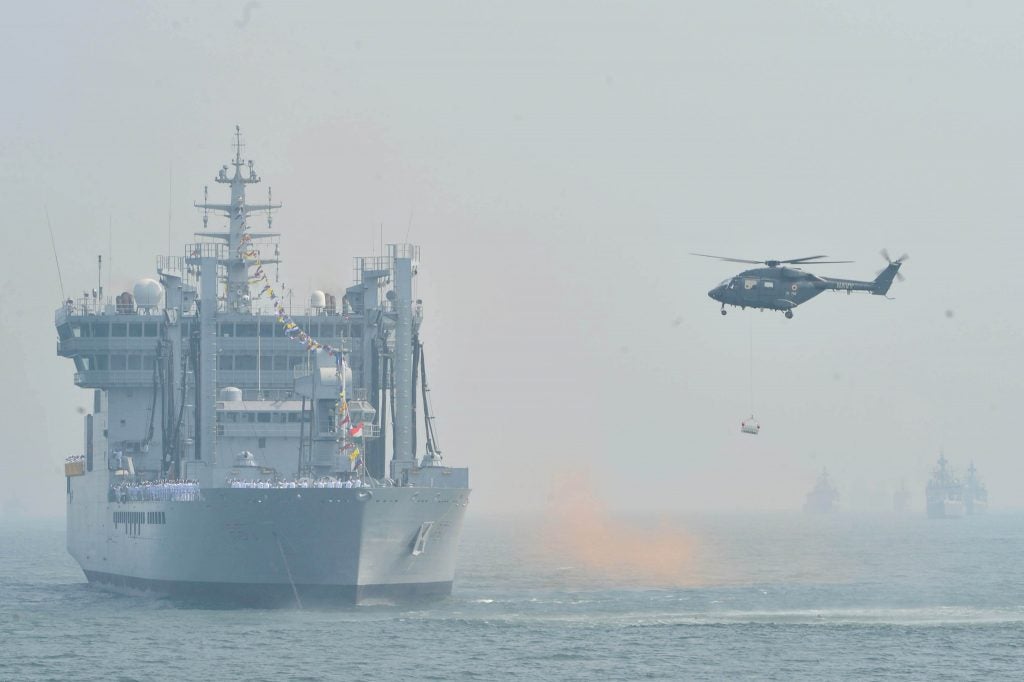 A PFR is usually conducted once during the tenure of a President. Two of the 11 previous reviews, in 2001 and 2016, were also international fleet reviews. Addressing the fleet, the President noted that about 70 percent of the contents of several warships and submarines under construction in various public and private shipyards across the country are indigenous. He said that it is a matter of great pride that India has built nuclear submarines and would soon have the indigenously built aircraft carrier Vikrant joining the Indian Navy. Vikrant is expected to enter service by August 2022. The Navy is also hosting the multinational exercise MILAN from 25 February at Visakhapatnam.