US Special Operations Command Selects L3Harris Sky Warden For Armed Overwatch
United States Special Operations Command announced 1 August, that it had selected L3Harris Technologies and Air Tractor Inc.'s AT-802U Sky Warden for its Armed Overwatch program, which seeks to procure a low-cost aircraft to perform surveillance, forward air control, and strike missions in austere and permissive environments.

The initial program contract award is worth $170 billion, with the Indefinite Quantity, Indefinite Delivery contract having a cost ceiling of $3 billion. Up to 75 Sky Wardens and their training systems, mission planning systems, support equipment, spares, and logistics support will be delivered as part of the program. Initial operating capability is expected to be reached in fiscal 2026, with full operating capability in 2029.

"Armed Overwatch answers a critical need for U.S. Special Operations Command to conduct a wide range of operations globally in support of the National Defense Strategy," SOCOM Commander Gen. Richard D. Clarke said in a statement. "This rugged, sustainable platform will operate in permissive environments and austere conditions around the world to safeguard our Special Operations Forces on the ground."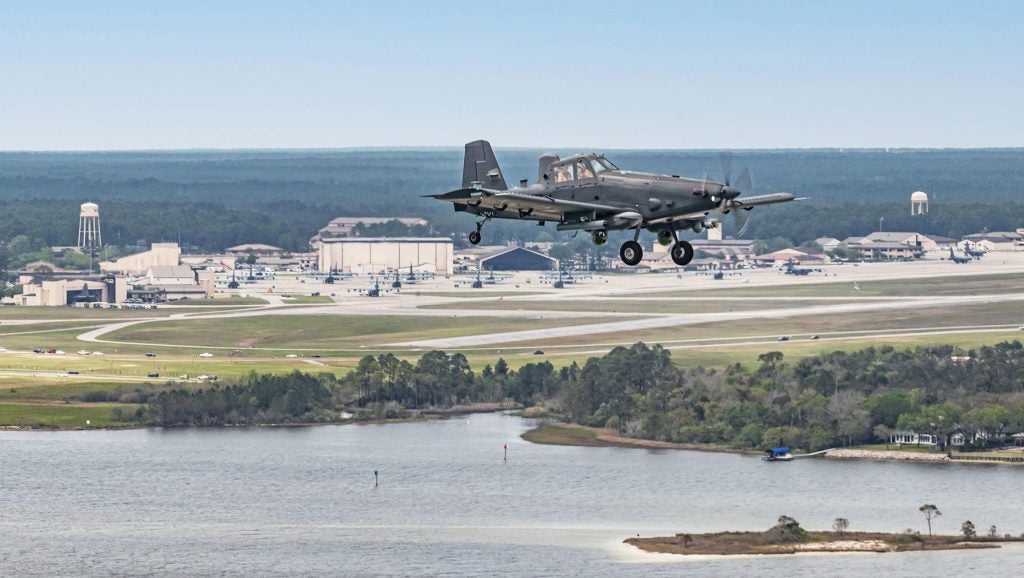 In a press release, L3Harris stated that it expected to complete conversion of its Sky Warden prototype demonstrated last year into the production configuration in approximately six months, allowing for the start of weapon system testing. The company adds that the production of "mission configured" Sky Wardens will start next year, with the Sky Wardens being modified at L3Harris' Tulsa, Oklahoma modification center, following initial production at Air Tractor's Olney, Texas aircraft manufacturing facility. A first batch of low-rate initial production aircraft will comprise six new Sky Wardens.

"An important part of our Trusted Disruptor strategy is listening closely to combatant commanders' needs, and responding faster than the evolving threats," said Christopher E. Kubasik, Chair and Chief Executive Officer, L3Harris. "We want to deliver game-changing, modular solutions to U.S. special operators for their hardest missions, and Sky Warden does just that."

While Air Force Special Operations Command Lt. Gen. Jim Slife previously said that Armed Overwatch would replace the U-28 Draco in the intelligence, surveillance and reconnaissance (ISR) role, SOCOM told the Air Force Times on Monday that the Draco will be retained to provide ISR for operations like search and rescue and humanitarian relief.

The original armed overwatch requirement was outlined in 2020. The Sky Warden beat out four other contenders selected as finalists for Armed Overwatch in May last year, those being Leidos' Bronco II, MAG Aerospace's MC-208 Guardian, Textron's AT-6 Wolverine, and Sierra Nevada Corporation's MC-145B Wily Coyote.