India Tests New Short Range Anti-Ship Missile
The Indian Navy conducted the maiden flight test of Naval Anti-Ship Missile-Short Range (NASM-SR) on May 18. It is the first indigenous air launched anti-ship missile system developed for the Navy by the Defence Research and Development Organisation (DRDO). The missile was launched from a Seaking 42B helicopter by the Naval Flight Test Squadron.
The subsonic NASM-SR missile followed the desired sea skimming trajectory and reportedly reached the designated target with high degree of accuracy, validating the control, guidance and mission algorithms. All the sub-systems performed satisfactorily. The mission met all its objectives, an Indian Ministry of Defence press release stated. The test involved multiple new technologies, including an indigenously developed helicopter based launcher which can be seen in released clips of the test.

NASM-SR is the first of a family of anti-ship missiles, which include an under-development medium range missile called NASM-MR to be inducted by 2027, as well as longer ranged missiles. NASM-SR project was sanctioned in 2017 at a cost of ₹434 crore ($55.8 million). The missile, powered by a solid propellant booster and sustainer, has a maximum range of 55km. The 3.6m long missile with a diameter of 0.3m weighs about 375kg. The missile uses a terminal IIR seeker to precisely deliver its 100kg warhead to the target. Official footage suggests the tested missile did not have an IIR seeker installed. Maneuverability is provided by jet vane control during the boost phase and later using aerodynamic control surfaces.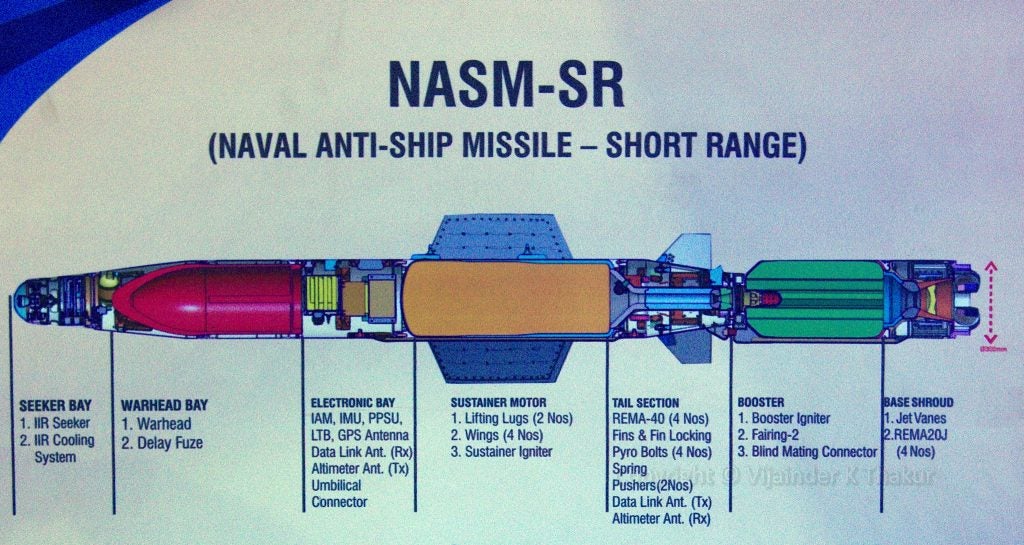 DRDO is gearing up to conduct further tests of the missile, with multiple units being fabricated. Other than the legacy Seakings, the missile is expected to be used by the Navy's Naval Multi-Role Helicopter (NMRH) acquisitions. Helicopters of the NMRH category include the MH-60R, 24 of which have been ordered and the HAL Indian Multi-Role Helicopter (IMRH) which is under development. The successful test of the NASM-SR follows the first launch of Extended Range (ER) version of the BrahMos Air Launched Cruise Missile (ALCM) from a Su-30 MKI fighter last week.