TAI's ANKA Unmanned Aerial Vehicle Will Be Produced in Kazakhstan
At the invitation of President Recep Tayyip Erdoğan, Kazakhstan's President Kassym-Jomart Tokayev paid an official visit to Ankara with a large delegation on Tuesday, May 10. During the visit, 15 agreements in the fields of transportation, defense industry, military intelligence, information technologies, culture, agriculture, transportation, trade, customs, environment, education, youth, communication, and archives were signed between the governments of the Republic of Turkey and the Republic of Kazakhstan.
The 15 cooperation agreements signed by the two nations paved the way for the decisions made at the Kazakhstan-Turkey Business World Representatives Meeting on May 11 in Ankara. The agreement for the manufacturing of the Turkish Anka unmanned aerial vehicle (UAV) in Kazakhstan was the most striking example of cooperation at the Kazakhstan-Turkey Business World Representatives Meeting.
Turkish Aerospace Industries (TAI) announced on May 11 that it had established a new collaboration arrangement with Kazakhstan, with whom it had already signed an Anka UAV export agreement last year. TAI and Kazakhstan Engineering have signed a memorandum of understanding to produce Anka drones jointly in Kazakhstan. Cooperation will also be established in the areas of technology transfer and maintenance and repair processes. With this deal, Kazakhstan is set to become Anka's first production base outside of Turkey. In addition, Kazakhstan has taken an important step toward training human resources in this field and developing the country's UAV production capability as a result.
"We are very excited to establish a new production base for our ANKA," Turkish Aerospace Industries General Manager Prof. Dr. Temel Kotil remarked of the MoU. "We are proud that our ANKA, which we developed with domestic resources, is so is so popular abroad. We will contribute to the strengthening of our commercial and friendship ties with Kazakhstan, a friendly and brotherly country, thanks to this agreement, which will benefit the region's defense and aviation industries. I am hoping that our collaboration will be fruitful."
HaberTurk reported that a contract was signed in October 2021 following a period of negotiations with Kazakhstan for the export of TAI's Anka Unmanned Aerial Vehicle. Later, on November 27, 2021, TAI confirmed on its Twitter account that three Anka UAVs and two Ground Control Stations (GCS) would be supplied to Kazakhstan under the terms of the negotiated deal until 2023. Although the company did not disclose the contract's cost, it is believed that the agreement reached with Kazakhstan is worth around $80 million dollars, based on the cost level reached with Tunisia,
Anka's first export customer. As Kazakhstan has purchased nearly the same number of Anka-S UAVs and ground control stations as Tunisia it is likely the cost of the deal may be similar.
Anka is a Medium Altitude Long Endurance (MALE) UAV system developed by TAI. Anka comes in three different variants: Anka-A, Anka-B, and Anka-S, with Anka-B having the ability to carry a SAR radar in addition to the FLIR. The Anka-S is differentiated by its capacity to be operated via a SATCOM satellite.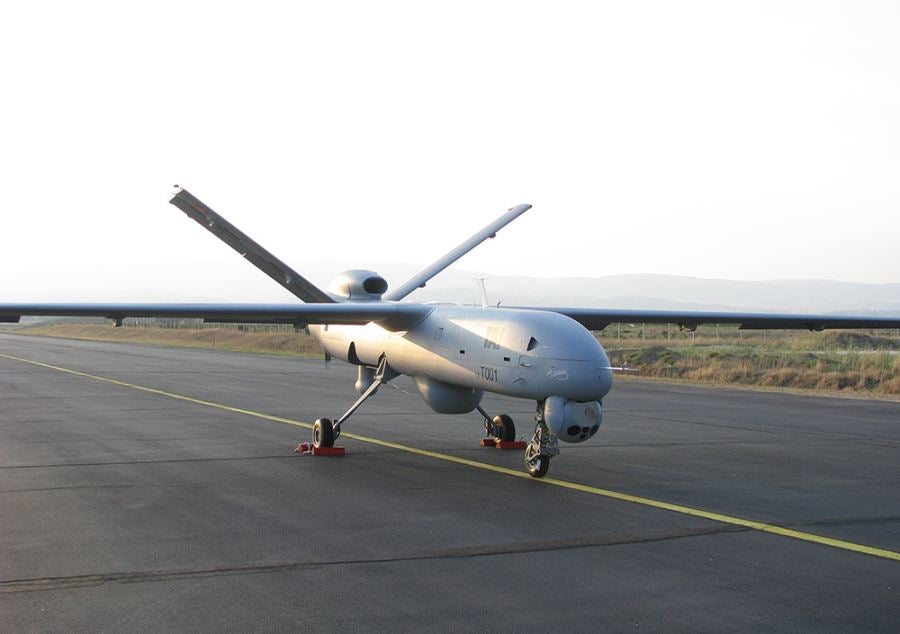 According to the information given by TAI, the Anka-S measures 8.6 meters in length, 17.5 meters in wingspan, has a maximum take-off weight of 1,600 kilograms and has a useful load capacity of 350 kilograms. The Anka-S can reach a top speed of 117 knots (217 km/h) thanks to a TEI production PD-170 170 horsepower piston turbo diesel engine with three-blade propellers, which has an output of 340 horsepower. The ANKA-S UAV system, designed to conduct day and night reconnaissance, surveillance, fixed/moving target detection, identification, tracking and destruction, and real-time image intelligence missions, can reach a maximum height of 30,000 feet and has a maximum flight time of 30 hours. The ANKA-S UAV is equipped with an Aselsan CATS (Common Aperture Targeting System) FLIR System and a domestically produced flight control computer. ANKA drones, which can detect targets and perform laser marking thanks to the CATS electro-optical reconnaissance, surveillance, and targeting system, can carry four Roketsan MAM-L Laser Guided Munitions.