The Last Modernized AF-1B Skyhawk Is Delivered to The Brazilian Navy
Embraer, a South American aerospace company, has delivered the Brazilian Navy's last AF-1B Skyhawk light attack aircraft (the Brazilian Navy's designation for the McDonnell Douglas A-4 Skyhawk) modernized under the AF-1 program. The aircraft was delivered in accordance with contractual obligations, with an official ceremony held in the presence of Brazilian Air Force and Embraer representatives at the company's industrial facility in Gavião Peixoto, in the Brazilian state of São Paulo.
Embraer has updated the AF-1 with new navigation, weapons, power generation, communications, and sensor systems, including a multi-mode radar and a new operating system. Embraer also announced the development of a high-quality flight simulator for the Brazilian navy to conduct pilot training as part of its modernization program. To aid in training and qualification of pilots, the company has also developed briefing and debriefing stations.
The Brazilian Navy's modernized AF-1 fighters are thought to be the most advanced variant of the A-4 Skyhawk ever developed and the last A-4 to go through the modernization process in the world. Embraer stated on April 14, 2009 that it had signed a contract to refurbish 12 Brazilian Navy aircraft, which included nine AF-1s (single-seater) and three AF-1As (two-seaters). The company stated at the time that the upgrade program for the Douglas A-4 Skyhawk light attack aircraft purchased from Kuwait in December 1997 included structural improvements as well as the replacement of old navigation and communications equipment with more advanced features in order to extend the jets' service life by about ten years.
Following budgetary restrictions and the decommissioning of the São Paulo, a Clemenceau-class aircraft carrier, the Brazilian Navy downsized the program to five AF-1B single-seat variants and two AF-1C two-seat variants in 2017. The first of the modernized AF-1Bs was delivered on May 26, 2015, and the second in April 2015, but the second aircraft crashed on July 26, 2016, during a training flight. On April 23, 2018, the Navy delivered the first two-seat AF-1C, the N-1022.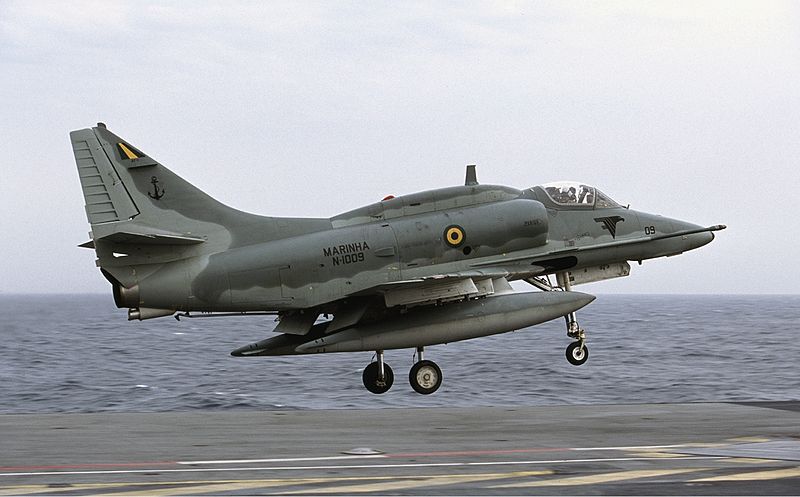 Despite serving for many years in countries such as Israel, the United States Air Force and Navy, Argentina, Brazil, Australia, Indonesia, Malaysia, New Zealand, and Singapore, the majority of these aircraft have been retired. In addition to Brazil's Skyhawks the McDonnell Douglas subsonic jet is still in use in the Argentine Air Force. In 2020, Embraer also completed a comprehensive upgrade program for the Brazilian Air Force's fleet of 49 Northrop F-5 Tiger II aircraft. The primary goal of modernizing legacy light fighter aircraft like the McDonnell Douglas A-4 Skyhawk and Northrop F-5 is to enable them to defend Brazilian airspace until the Saab F-39 Gripen multirole fighters gain full operational capability in 2025.