Saab's Gripen E Begins Serial Delivery Phase To Swedish & Brazilian Air Forces
Saab officially presented the first six serial production Gripen E multirole aircraft to delegations of Brazilian and Swedish military officials on 24 November. The Swedish aviation firm says that the departure of the four Brazilian and two Swedish Gripen Es from its Linkoping factory marks the official start of the aircraft's serial delivery phase.

The presentation was accompanied by a high-level meeting with the delegations, with the delegations given the opportunity to discuss "joint activities that will be beneficial to the Gripen programme". Attendees included General Carlos de Almeida Baptista Junior, Commander of the Brazilian Air Force; Major General Carl-Johan Edström, Commander of the Swedish Air Force; Micael Johansson, President and CEO of Saab; and Jonas Hjelm, Senior Vice President and head of Saab business area Aeronautics.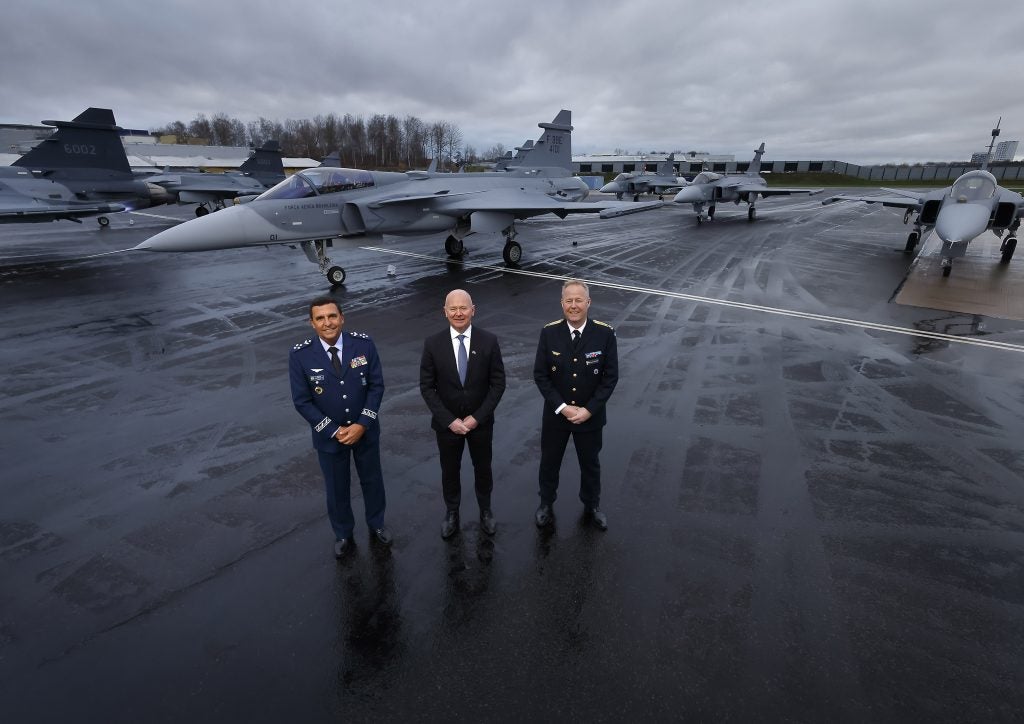 The guests also viewed several test Gripen Es in addition to the serial production aircraft, in addition to trying out the new Gripen mission trainer simulator. Additionally, an air display involving both Brazilian and Swedish Gripen Es was put on for the visiting officials.

General Carlos de Almeida Baptista Junior commented on the delivery, saying that:

"It is a pleasure to follow the fulfilment of yet another step in the delivery process of the F-39 Gripen aircraft, which will lead the evolution of the Brazilian Air Force's combat capability. This project represents a new technological level for Brazil and it is of fundamental importance in the development of our Industrial Defence Base."

Major General Carl-Johan Edström added:

"These deliveries form an important part of strengthening our capabilities and defending Sweden. JAS 39 E Gripen will increase Sweden's defence capability, allowing us to build a stronger and tactically superior Air Force for every situation."

President and CEO of Saab Micael Johansson said that the start of the serial delivery phase was an "extremely important achievement for the Gripen programme" that demonstrated that "we have a mature product and that we fulfill our contractual obligations". He credited the achievement to Saab's "smart ways of working", "innovative production technologies" and close cooperation with customers.

The start of serial deliveries follows the Swedish Air Force's announcement in early October that Skaraborg Air Force Wing (F 7) would become the first Swedish Air Force unit to be equipped with the Gripen E, with maintainer training on the new aircraft to commence in 2022. F 7 was the first unit to officially adopt the original Gripen, doing so in November 1997.