India Completes Development Trials of MRSAM For Army
India's Defence Research and Development Organisation (DRDO) conducted two launches each of the Medium Range Surface to Air Missile (MRSAM) Army version on March 27 and March 30. The tests were conducted from the Integrated Test Range, Chandipur. The system, also known as Barak-8, was jointly developed by DRDO and Israel Aerospace Industries (IAI), Israel, for use by the Indian Army. The flight tests were carried out in the presence of senior officials from DRDO and Indian Army.
The flight tests were carried out as part of the live firing trials against high-speed aerial targets. The first launch on March 27 was to intercept a medium altitude long range target while the second launch was against a low altitude short range target. The two launches on March 30 were carried out to establish the accuracy and reliability of the weapon system against targets with sea skimming and high altitude capability. All four of these missiles intercepted the aerial targets and registered direct hits.
The MRSAM Army system includes an advanced phased array radar, command and control, mobile launchers and interceptors with advanced RF seeker. The flight tests were carried out with the weapon system in deliverable configuration. Performance of all weapon system components have been validated during the trials. The Army version was first tested on 23 December, 2020. The mobile launcher in the maiden test was based on the Ashok Leyland Super Stallion 8×8 while in the March 27 tests, a mobile launcher based on a Tata LPTA 3138 was used. Larsen & Toubro (L&T) and Tata Advanced Systems Limited (TASL) developed the two launchers.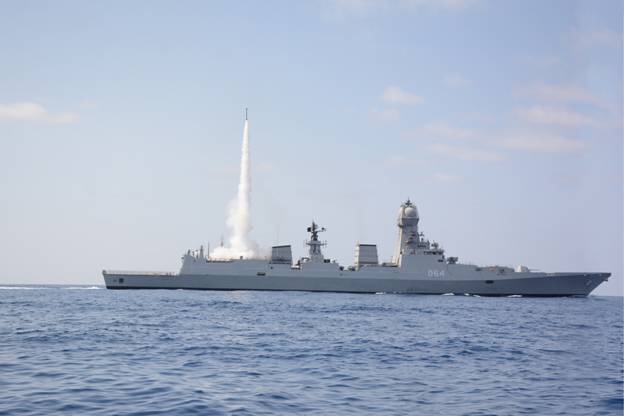 MRSAM is already in service with the Indian Navy, which refers to it as LRSAM as well, and the Indian Air Force (IAF). With the Indian Navy, the system is operational on the Kolkata class and Visakhapatnam class destroyers and has been ordered for the Nilgiri class frigates. India's two aircraft carriers are also expected to be equipped with the system. The IAF had received its first firing unit in September 2021. Bharat Dynamics Limited produces the missiles while Bharat Electronics Limited is the lead integrator. Rafael, through its joint venture Kalyani Rafael Advanced Systems (KRAS), is a major supplier, along with multiple private firms. KRAS had recieved a $100m order for 1000 MRSAM kits in 2019. These kits would be used for IAF and Army orders. With the conclusion of flight trials for different ranges and scenarios, the MRSAM Army system has completed its development trials, MoD stated in a press release.