Poland Ready To Hand Over Fulcrums "Immediately" In Exchange For Used American Aircraft
Poland's government announced on Tuesday that it was willing to hand over the Polish Air Force's fleet of MiG-29 Fulcrum fighters "immediately and free of charge" to the United States, in exchange for used aircraft of similar capabilities.

In a statement released by the Ministry of Foreign Affairs, the Polish government says that if an agreement is reached, the MiG-29s will be delivered to Rammstein Air Base in Germany, "at the disposal of the Government of the United States of America" with no mention of their final destination – Ukraine.

In exchange for them, Warsaw requests used aircraft with "corresponding operational capabilities", with the statement stressing that the Polish government is ready to "immediately" establish terms for the trade. The statement also requests other NATO allies operating the Fulcrums to "act in the same vein".

The official statement follows nearly a week of speculation and leaks on apparent moves by the United States and NATO to acquire Soviet-era tactical aircraft like the MiG-29 and the Su-25 attack aircraft from NATO member states still operating them for delivery to Ukraine's Air Force, following claims by Kyiv that an agreement for their delivery had been made. Advocates for the move hope that the additional aircraft will replenish Ukrainian aviation losses so far due to commonality with Ukraine's existing aircraft, sustaining the Ukrainian Air Force's ability to both fight off Russian combat aircraft and attack Russian ground troops.

Ukrainian President Volodmyr Zelensky has called for the United States and NATO to deliver the ex-Soviet aircraft to Ukraine since the start of the Russian invasion, alongside the establishment of a NATO no-fly zone to "close the skies" over Ukraine. While Washington and NATO have ruled out the enforcement of a no-fly zone out of concern of escalating the conflict, American Secretary of State Antony Blinken said on Sunday that the United States was exploring how to deliver the aircraft to Ukraine, with American-made aircraft to be supplied to replace them in NATO air forces. "I can't speak to the timeline but I can just tell you that we're looking at it very, very actively", said Blinken. According to Reuters Undersecretary of State Victoria Nuland claims that Poland's offer wasn't 'preconsulted.'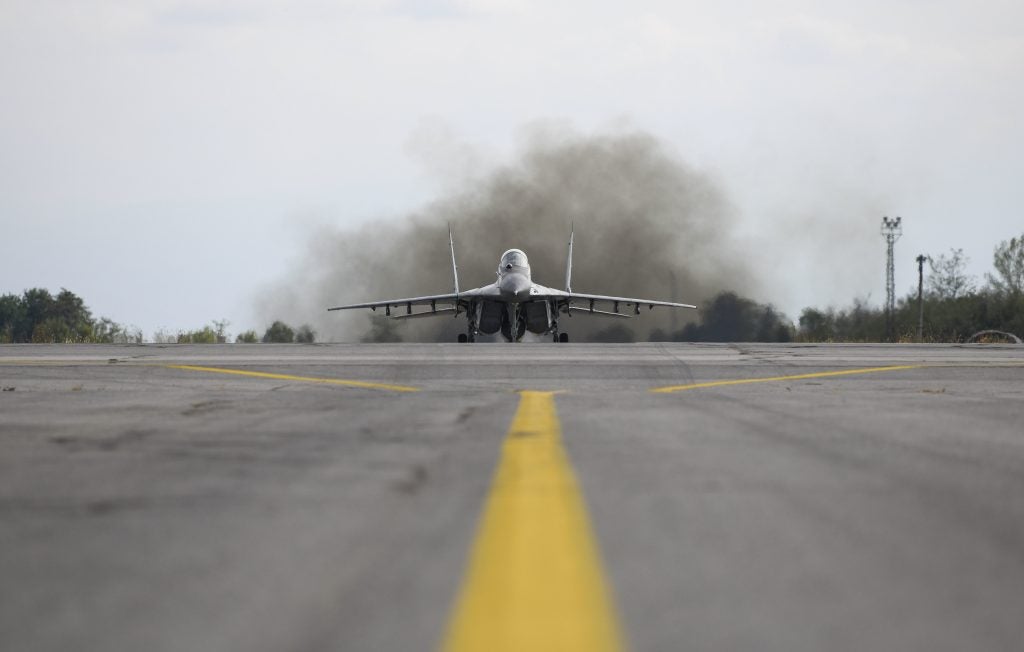 Poland, Bulgaria and Slovakia still operate MiG-29s, with plans to eventually replace them in the coming years. The Polish fleet of roughly 28 active Fulcrums, however, have drawn the most attention, as they were modified to be compatible with NATO standards during their service in the post-reunification German Air Force, similar to Ukraine's active MiG-29s at the start of the invasion. While Slovakian Fulcrums have similar modifications, only about 10 of them are active.

In the meantime, senior American defense officials have been providing briefings on background claims that Ukraine still retains the majority of its combat aircraft in operational state, with Russian aviation still unable to gain air superiority 12 days into the Russian invasion. However, it is said that Russian surface-to-air missiles are now establishing an "umbrella" over larger parts of Ukrainian airspace.
---
Update – 6:30PM (EST) 8 March:
The US Department of Defence has poured cold water on Poland's offer to transfer its MiG-29s, ostensibly for use by Ukraine, releasing a statement stating that the Pentagon "does not believe Poland's proposal is a tenable one."
Update – 5PM (EST) 9 March:
Pentagon Spokesman John Kirby outlined the reasons the US are reluctant to facilitate Poland's offer of transferring MiG-29 aircraft to Ukraine. In summary he explained that the US does not believe they would add additional capability to off-set the risk of potentially escalating the conflict to a wider European war.
Intriguingly, he also noted that the Ukrainian air force is currently operating several squadrons of "fully mission-capable aircraft". He thanked the Poles and said "we are grateful for the superb support and co-operation of our Polish allies… but at this time we believe the provision of additional fighter aircraft provides little increased capability at high risk."