US, UK & Canada Withdraw Military Instructors From Ukraine Over Fear Of Russian Invasion With "No Notice"
The United States, United Kingdom and Canada have announced the withdrawal of military instructors from Ukraine amidst fears that Russian forces amassed along the country's borders with Russia and Belarus are now in the final stages of preparations for an invasion.

British junior defence minister James Heappey told the BBC on Saturday that the total withdrawal of British instructors training Ukrainian forces would take place over the weekend, saying that "All of them will be withdrawn. There will be no British troops in Ukraine if there is to be a conflict there". British instructors have recently been training Ukrainian troops on the use of Next Generation Light Anti-tank Weapons delivered by the United Kingdom, with the first batch of Ukrainian instructors completing their training courses on training other soldiers in the use of the shoulder-fired missiles at the end of January.

John Kirby, the Pentagon's Press Secretary, also announced on Saturday that Secretary of Defense Lloyd Austin had ordered the "temporary repositioning" of Florida National Guard troops in Ukraine out of the country. 160 members of the 53rd Infantry Brigade Combat Team had deployed to Ukraine in November 2021, training with Ukrainian forces. In a statement, Kirby said that the decision had been made "out of an abundance of caution — with the safety and security of our personnel foremost in mind — and informed by the State Department's guidance on U.S. personnel in Ukraine". He stressed that "this repositioning does not signify a change in our determination to support Ukraine's Armed Forces, but will provide flexibility in assuring allies and deterring aggression".
Canada has maintained a several hundred-strong training and advisory team in Ukraine since 2015. On Sunday the Canadian government announced the teams withdrawal citing the "complex operational environment linked to Russia's unwarranted aggression against Ukraine."
Heappey also urged British citizens currently in Ukraine to depart the country while it was still possible to do so, saying on BBC Breakfast that the new advice from the Foreign Office followed new information that left London "confident" that "the artillery systems, the missile systems and the combat air are all in place that would allow Russia to launch – at no notice – an attack on Ukraine".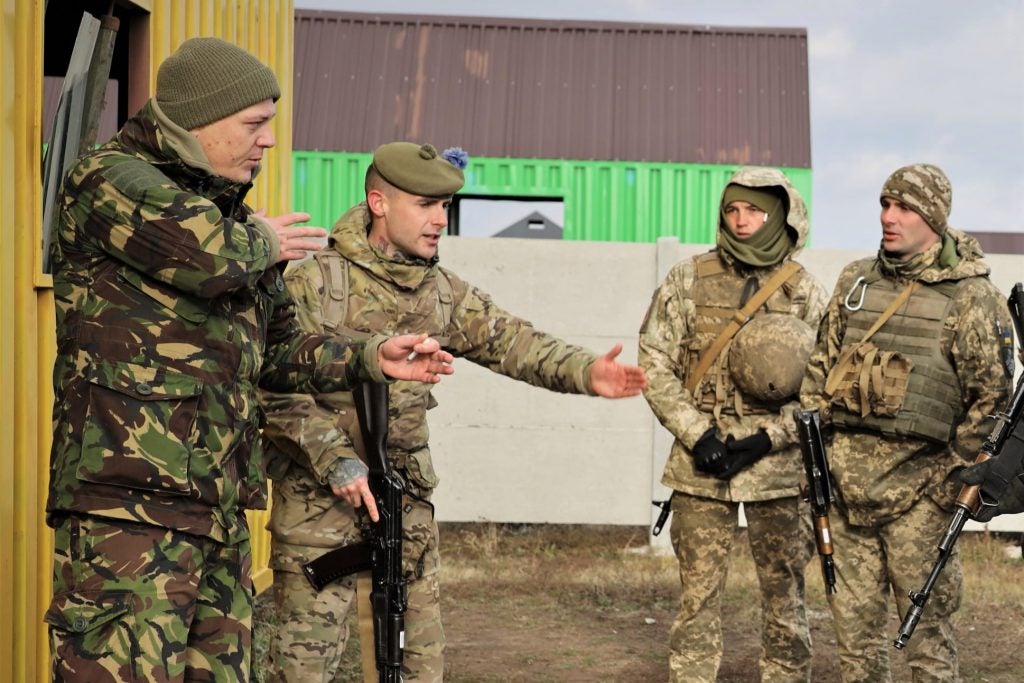 The comments were echoed by the United States' State Department, with a senior official saying that it was "past time" for American citizens to depart Ukraine. Both American and British officials have warned that their respective militaries will not be able to rescue any citizens that remain in Ukraine in the event of a Russian invasion. Consular services at the American embassy in Kyiv were suspended from Sunday alongside the ordered departure of non-essential staff, with a small consular presence in Lviv to be maintained "to handle emergencies". Canada has also has temporarily moved its diplomatic staff from Kyiv to an office in Lviv.

Other nations that have advised their citizens to depart Ukraine include the Netherlands, the Czech Republic, Japan and South Korea.