NATO: Russia Needs To Be Transparent About Military Activities
NATO Secretary General Jens Stoltenberg has called on Russia to be "transparent" about its military activities on the Russia-Ukraine border, saying that it was important to "prevent escalations and reduce tensions".

Stoltenberg made the statement during a joint press conference on 15 November with Ukrainian Foreign Minister Dmytro Kuleba, who had been meeting with the Secretary-General earlier that day regarding the security situation in and around Ukraine, in particular the Russian military buildup. Asides from the meeting at NATO headquarters, Kuleba was in Brussels to meet with EU foreign ministers, in addition to a separate meeting with the French and German foreign ministers on the Normandy Format talks intended to bring a lasting end to the war in Donbass.

The Secretary General said that NATO was monitoring the Russian buildup of military equipment near the Russia-Ukraine border "very closely", adding that NATO was continuing to consult among allies and partners like Ukraine and the European Union on the developing situation. He reiterated that NATO support to Ukraine did not represent a threat to Russia, stressing that NATO and allied exercises in the Black Sea were "defensive and transparent".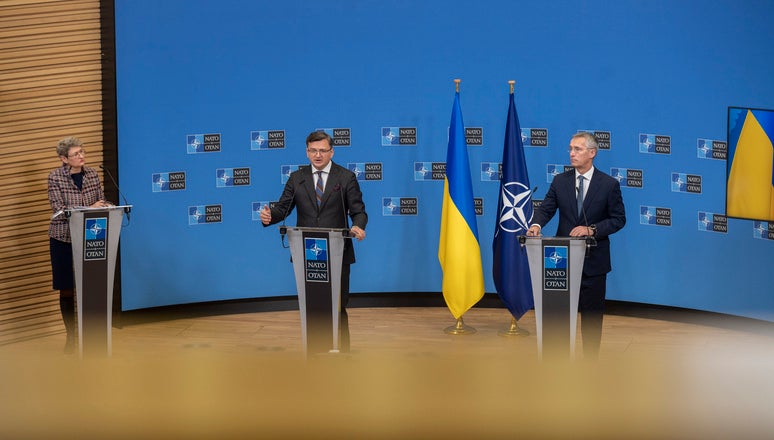 In response to questions from the press, Kuleba said that it was "premature" to determine whether Russian intentions were to use the military buildup as the "main plan" accompanied by efforts to destabilize Ukraine from the inside, or whether it was a "background argument" for ongoing Russian destabilization efforts in Ukraine. While he said that Kyiv had to be ready "for all scenarios", he described close coordination by Ukraine and allies on measures to deter Russia as more important, as stopping a hot conflict would be more costly than even the most expensive deterrence measures.

Stoltenberg stopped short of providing a clear answer to a question on whether he agreed with comments by Kuleba last week that the military buildup near Ukraine and the crisis on Belarus's borders with Poland, Lithuania and Latvia were a single "hybrid front" of attack by Russia, saying that NATO was following all of the crises very closely and that preventing them from escalating "out of control" was NATO's current priority. Similarly, he would not provide any details on NATO intelligence on the Russian military buildup, saying that he did not want to speculate, as he needed to be "clear eyed" about Russian potential capabilities for aggressive actions against Ukraine.

In response to a question on recent reports that the governments of Poland, Lithuania and Latvia were considering calling for consultations under NATO's Article 4, Stoltenberg said that the decision to invoke Article 4 was up to individual allies, noting that NATO members were already conducting close consultations. He said that NATO did not see any imminent threat of any military aggression against any NATO country, but noted "a very difficult situation evolving" on the Poland-Belarus border.