The Iranian Army Successfully Tests The Mersad-16 Air Defense System
The Iranian Army announced on 31 August, that it has successfully tested a new modification of the Mersad-16 missile system at the Dashte-Kavir desert in north-central Semnan province.
The Mersad-16 low-medium air defense system detected and destroyed targets under the direction of the integrated air defense network, according to the Iranian state-affiliated IRIB news agency. General Mohammad Yousefi Khoshqalb, Deputy Commander of the Air Defense Force, made a statement on the matter, stating that the Mersad-16 missile defense system was successful in a test conducted in the central desert on the eve of Air Defense Day.
According to General Khoshqalb, the Mersad-16 missile defense system is entirely domestic, equipped with cutting-edge electronic warfare technology and capable of simultaneously destroying multiple targets. He also highlighted the system's agility and quick response, as well as its capacity to destroy fast-tracking targets at low altitudes, such as cruise missiles. Finally, General Khoshqalb stated that a new version of the Mersad-16 missile defense system, capable of eliminating fast-tracking targets at high altitudes, will be unveiled soon.
Although Iranian officials claim that the Mersad-16 air defense system is entirely produced in Iran, it is known that it was developed using the MIM-23 Hawk air defense system as its foundation, which was purchased from the United States prior to the 1979 revolution. Digital electronics and sophisticated electronic components with solid state technology in radars and missiles, as well as better algorithms in target recognition and tracking, are some of the most significant differences between this system and its American equivalent.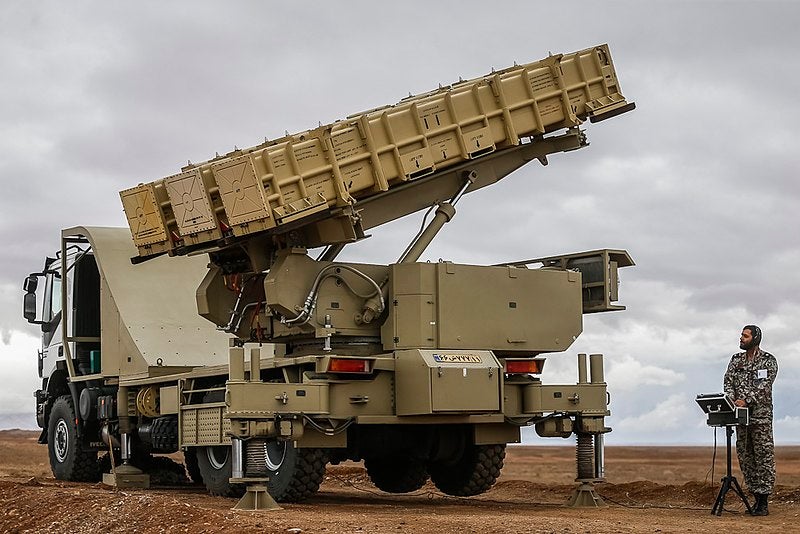 Compared to the previous version of the Mersad-16 system, this version contains significant technological differences, such as the ability to carry all components on a single carrier vehicle, the use of new Iranian radars (Hafez and Najm-804), and the use of the Shalamcheh-2 missile. The Mersad-16 is expected to take the place of older systems in the future.
This year, Iran also tested a new unmanned aerial vehicle named "Gaza" with a range of 2,000 kilometers, the "9-Day" surface-to-air missile system, and the Jerusalem Radar system, all in an effort to update its arsenal with more contemporary systems.
Header image courtesy of www.aja.ir (Copyright : CC BY 4.0)