India Receives It's First MH-60Rs from the United States
India on 16 July, received the first of 24 MH-60R helicopters from the United States. The two aircraft were handed over to the Indian Navy at Naval Air Station North Island in San Diego. Approval for the sale of the helicopters was first provided to India in April 2019, by the Defense Security Cooperation Agency (DSCA), with India formally ordering the type in February 2020 for $2.12 billion. 

The delivery of the first MH-60Rs coincides with the delivery of more P-8I "Neptune" Maritime Patrol Aircraft earlier this month, highlighting the deepening defence relationship between the two countries.

The MH-60R will greatly enhance Indian Naval Aviation's rotary-wing capabilities, which currently consist of a hodgepodge of domestic and international types, many of which are aging. The MH-60R will enhance the Indian Navy's Anti-Ship and Anti-Submarine capabilities through the introduction of new weapons systems.

India is expected to become the first country to integrate the Norwegian Naval Strike Missile (NSM) on a rotary-wing platform, with the DSCA notification also providing for the sale of training materials to India:

"Two (2) Naval Strike Missile Emulators; four (4) Naval Strike Missile Captive Inert Training missiles"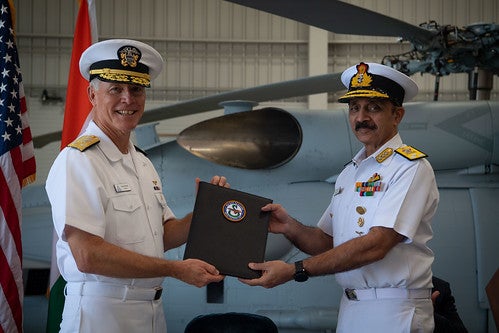 India is also to integrating the Advanced Precision Kill Weapons System, a laser guidance conversion for the Hydra 70 unguided rocket, onto it's MH-60Rs.

Speaking at the handover ceremony Vice Adm. Ravneet Singh, Indian Navy Deputy Chief of Naval Staff, said:

"For the Indian Navy, it's really a proud moment, the induction of the MH-60 helicopter into the Indian Navy is a symbol of the ever-growing global strategic partnership of our two countries and reinforces the common ideologies of our great nations."
In addition to the sale of the aircraft and weapons, the United States is expected to provide support to the Indian Navy as it brings the type into service over the coming years. Members of the Indian Navy arrived in June to begin training on the platform according to the United States Pacific Fleet.