Krauss-Maffei-Wegmann Contracted To Install Trophy APS On German Leopard 2A7A1s
Krauss-Maffei-Wegmann, manufacturer of the Leopard 2 main battle tank, has been awarded a contract to equip the Leopard 2A7A1 main battle tanks of the Bundeswehr with Rafael's Trophy hard-kill active protection system. The contract was signed on February 22 with BAAINBw and the State of Israel.

The signing of the contract follows parliamentary approval of the budget for Trophy installation in late January. A company of 17 Leopard 2A7A1s will be equipped with Trophy under this contract, alongside crew training and other support services, such as interceptors for the system. While KMW has not disclosed the value of the contract, the cost of the Trophy systems and associated hardware is speculated to be around 40 million Euros, with the total program cost potentially exceeding 100 million Euros. KMW, however, does say that it plans for integration work on Trophy to be completed by 2023.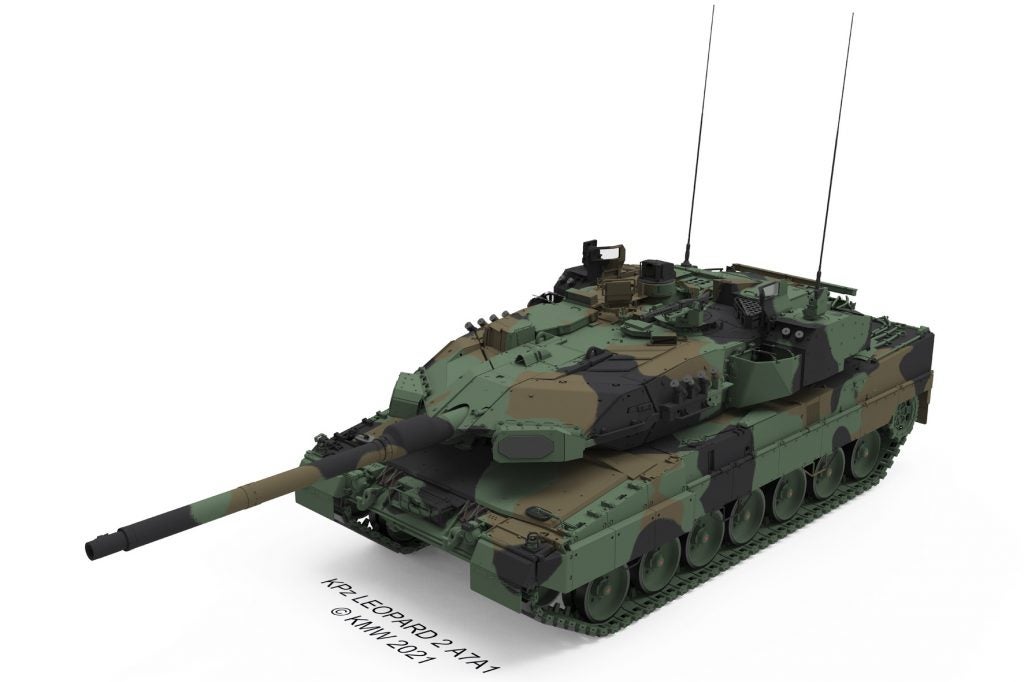 KMW released a photograph of a Leopard 2A7A1 equipped with Trophy, as well as a three-quarter view computer render, showing off more details of the Trophy installation. The front-facing AESA radars are shown mounted on the turret front's armor wedges, while the interceptor launchers are mounted on sponsons on the side of the turret, similar to the Trophy installation on the M1A2 Abrams. The Leopard 2A7A1s Trophy will be installed on are Leopard 2A6A3 turrets mated with new build hulls, as Leopard 2A6 hulls refurbished to 2A7 standard lack the electrical generation capacity needed to power the APS and other required modifications.

Colonel Schmidt, the BAAINBw department head for main battle tanks, said that the BAAINBw project management team was delighted to procure Trophy. He added that the team would like to thank their Israeli counterparts for the excellent cooperation, which would benefit the servicemen and women of the armored forces.

Trophy was initially selected to outfit Bundeswehr Leopard 2s of the German-led NATO Very High Readiness Joint Task Force (VJTF) 2023 mission under a sole source selection, owing to the urgent nature of the procurement. However, delays to the program mean that the Leopard 2A7Vs to be used by the VJTF will have to go without hard-kill active protection systems. With the urgency gone, German observers have questioned why a German hard-kill APS system was not instead selected for integration or development, such as Rheinmetall's Active Defense System or Diehl Defence's AVePS. However, these systems remain under development as of writing, as opposed to the already battle-tested Trophy.