First Trophy Active Protection System Delivered to US Army
Leonardo DRS and Rafael Advanced Defense Systems have delivered the first Trophy Active Protection System (APS) for the US Army's M1A2 Abrams Main Battle Tank (MBT) under an urgent requisition from the Army's Program Executive Office for Ground Combat Systems. The PEO Ground Combat Systems' programme will also see delivery of Trophy to the United States Marine Corps' fleet of Abrams MBTs.
William J. Lynn, CEO of Leonardo DRS noted in a press release; "We are proud to deliver the first advanced defensive protection systems for our front-line tanks to give our warfighters a needed layer of survivability against real and emerging battlefield threats. Our partnership between Leonardo DRS and Rafael has worked tirelessly to bring this battle-proven technology to the U.S. military while improving the system to meet the stringent needs and requirements from the customer."
Leonardo DRS and Rafael are at pains to point out that "Trophy is the only fully integrated, combat-proven APS in the world", a pedigree that is difficult for competitors to challenge. Deployed operationally on Israeli armour in 2011, the system has been credited with numerous saves against RPGs and ATGMs (anti-tank guided missiles), including the Russian 9M133 Kornet causing an Israeli Defense Force (IDF) spokesperson to claim at the time that Trophy "changes [the] equation in Gaza and in northern sector against Hezbollah's anti-tank threat." Today, Trophy is installed on the majority of IDF Merkava Mk3 and Mk4 MBTs and Namer APCs.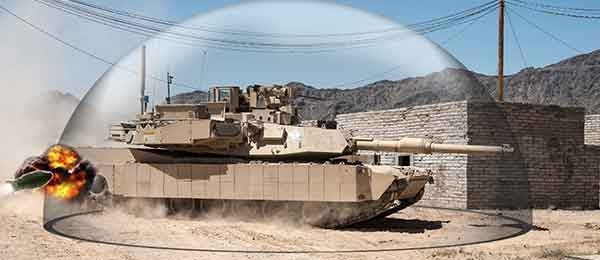 Trophy is a so-called 'hard-kill' APS and operates by detecting the incoming projectile via four phased array radars located around the MBT to provide 360 degree cover. When the projectile is identified, Trophy automatically launches counter-measures to destroy the threat before it strikes the MBT. It also provides the MBT crew with the location of the launch via the tank's battle management system, allowing the enemy anti-tank team to be engaged.
Four US Army armoured brigade combat teams (BCT) will eventually be equipped with Trophy including the Army Prepositioned Stock in the U.S. European Command area of responsibility. The Army Prepositioned Stock of Trophy equipped M1A2s will allow the rapid transit of a reinforcing BCT to counter any future Russian aggression in Europe.