Northrop Grumman Aim to Add Anti-Submarine Capability to their MQ-8C Fire Scout UAV
Northrop Grumman and UK-based Ultra Group have been conducting trials to test the possibility of adding an anti-submarine warfare (ASW) capability to Northrop's MQ-8C Fire Scout unmanned helicopter.
The experiment used a manned Bell 407 which acted as an MQ-8C Fire Scout surrogate. This was equipped with Ultra-built sonobuoys and receiver/processor to conduct the ASW capability demonstration.
Northrop Grumman states that the mission payload and effects were controlled from the ground with the resultant ASW picture disseminated to locations across the globe. Dan Redman, Fire Scout maritime mission expansion lead at Northrop Grumman, said:
"Adding an ASW capability to Fire Scout's existing multi-mission capabilities would further enhance this highly-versatile platform. This ASW capability would offer commanders flexibility to employ not only UAS systems in this particular ASW role, but also utilize the increased availability of crewed aircraft more incisively against an expanded mission set. This would increase the total available effect of the manned/unmanned teamed force mix."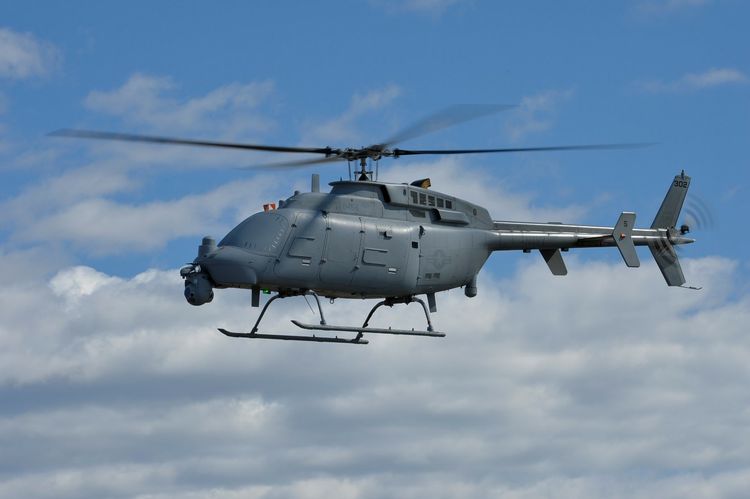 The MQ-8C is currently entering service with the U.S. Navy and is designed to provide reconnaissance, aerial fire support and precision targeting support for ground, air and sea assets. Based on the Bell 407 helicopter, it can fly missions in excess of 12 hours and a provides long-endurance, high capability reconnaissance capability to ships equipped with the system.
Though the U.S. Navy has not identified a clear requirement for a ASW capability on the Fire Scout, it has shown interest in the program. This mirrors Northrop's previous developments with the Fire Scout when the company demonstrated a AN/ZPY-8 AESA radar to the system, despite there being no U.S. Navy requirement. The new radar has since been ordered by the Navy and retrofitted to their MQ-8C fleet. With this latest test it is looking increasingly possible that Northrop Grumman will add ASW to the MQ-8C's repertoire.