US Navy Test Flies MQ-8C Fire Scout With New Radar Upgrade
The U.S. Navy has commenced flight testing of the latest MQ-8C Fire Scout equipped with the Leonardo AN/ZPY-8 radar. The Fire Scout is an unmanned helicopter designed to provide reconnaissance, situational awareness, aerial fire support and precision targeting support for ground, air and sea assets.
Capable of autonomous take-off and landing the MQ-8C airframe is based on the Bell 407, while the avionics and other systems are developed from those used on its predecessor, the MQ-8B Fire Scout.
Although no requirement for radar was initially stipulated by the US Navy, Northrop Grumman has demonstrated several examples since the MQ-8C first flew in 2013, and this has convinced the Navy of the advantages such an upgrade will bring.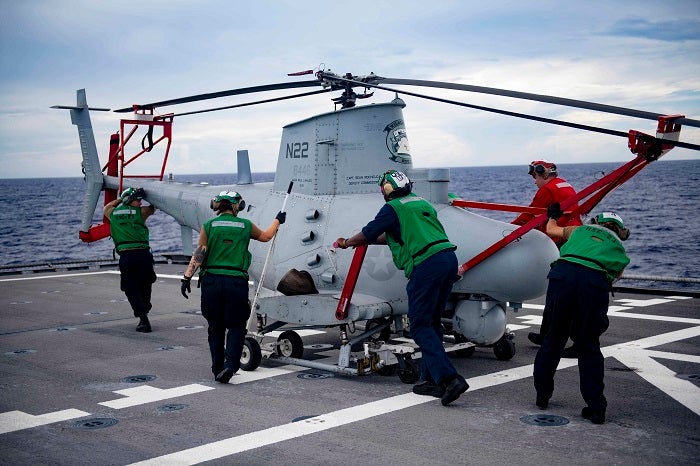 The AN/ZPY-8 is the US Navy's version of the British-built Leonardo Osprey MM. This multi-mode surveillance radar features an active electronically scanned array (AESA) surveillance capability, bringing together wide-azimuth and elevation electronically scanned fixed antennas with a compact radar signal processor and multi-channel receiver.
This radar will provide the Fire Scout with high-performance sea surveillance against difficult targets, as well as high-resolution ground mapping, small and low-speed target indication and air-to-air surveillance.
"[This] radar significantly increases Fire Scout's detection and tracking of targets. The ability to simultaneously employ multiple modes supports U.S. Navy intelligence, surveillance and reconnaissance requirements," said Melissa Packwood, program manager, tactical autonomous systems, Northrop Grumman. "This increased capability enables Fire Scout to extend ranges to meet emerging requirements."
The MQ-8C's first flight with the radar occurred on 27 February, and testing began with several weeks of ground tests prior to the first actual flight. Testing will continue as the Navy and Northrop Grumman consider mission expansion opportunities for the platform.
To date, Northrop Grumman has delivered 32 of 38 MQ-8Cs to the Navy, all of which will be retrofitted with the AN/ZPY-8 radar. The MQ-8C achieved initial operational capability in June 2019, and is scheduled for its first deployment in 2021.