First Brazilian Gripen E Arrives in Brazil
The Brazilian Air Force's first Saab Gripen E landed on Brazilian soil on 20 September. The Gripen E, tail number 4100, was lifted out of the cargo hold of the MV Elke and lowered onto the wharf at the Port of Navegantes, in Santa Catarina state. Its arrival marks the end of its journey across the Atlantic, following the cargo ship's departure from the Port of Norrkoping on 29 August with the Gripen E aboard.

Following its unloading, 4100 was transported by road to Navegantes-Ministro Victor Konder International Airport, from where it will fly to the Embraer plant in Gavião Peixoto, São Paulo State. Being a test instrumented aircraft, 4100 will then conduct flight testing in Brazil, following previous testing in Sweden.

The arrival of the Gripen E on Brazilian soil is the latest milestone for the Brazilian side of the program, following the first Brazilian piloted flight of a Gripen E on 20 August, as well as the start of Gripen E component production at Saab Aeronáutica Montagens in July.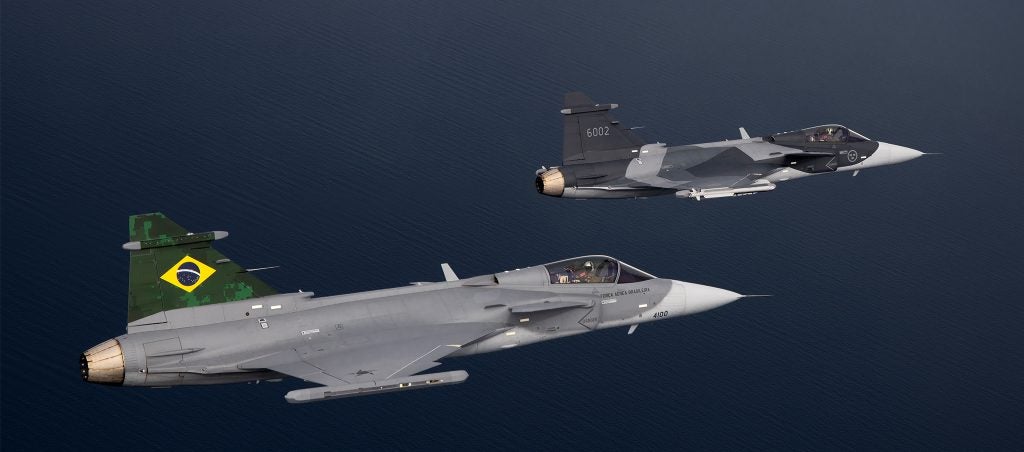 The Brazilian Air Force has 28 Gripen Es and eight Gripen Fs on order. Type classified as the F-39E or -F depending on the model, it is planned for the first operational aircraft to be delivered in 2021, with the final aircraft to be delivered by the end of 2024. At least 15 of the Gripens ordered are to be built in Brazil at Embraer's Gavião Peixoto facility. The Brazilian Air Force intends to purchase 108 Gripen E/Fs in total, although the exact numbers of Gripen Es and Fs is yet to be finalized.

In related news, RUAG International announced on 10 September that it had successfully passed the first Airworthiness Review of its Gripen E/F pylons, allowing serial production of the pylons to begin. RUAG manufactures eight of the Gripen E/F's ten pylons, with Saab manufacturing the remaining two wingtip pylons. RUAG has been contracted to produce over 500 pylons, with the contract valued at over CHF 80 million (~USD 87.44 million).