First Swedish Production Gripen E Takes Flight
On 3 December, Saab revealed that the first production Gripen E, built for Sweden, had taken flight. The company released a photograph of the aircraft, tail number 6002, flying in a tri-tone splinter camouflage scheme reminiscent of the scheme used on Saab 37 Viggens during the Cold War.

This follows the delivery of the first production Gripen E for Brazil in September this year, following that aircraft's first flight in August. There are now five flying Gripen Es, with two production aircraft and three prototypes. All Gripen Es are currently in Sweden for testing. However, it is planned for the Brazilian Gripen E to move to Brazil for flight testing there by the end of 2020.

It is currently planned for Sweden to receive the first of its Gripen Es before the end of this year. Sweden has ordered 60 Gripen Es, with deliveries expected to be completed by 2026. When asked by Jane's, a Saab spokesperson was unable to disclose if 6002 would be handed over to the Swedish Air Force, or be delivered to the Swedish Defence Materiel Administration (FMV) for testing.

According to Jane's, series production of Gripen Es at Saab's Linköping factory began in January. Saab is confident that concurrent testing and production will not present significant problems. Eddy De La Motte, the head of Saab's Gripen E/F business unit, was quoted in June by Jane's that the testing has been "de-risked".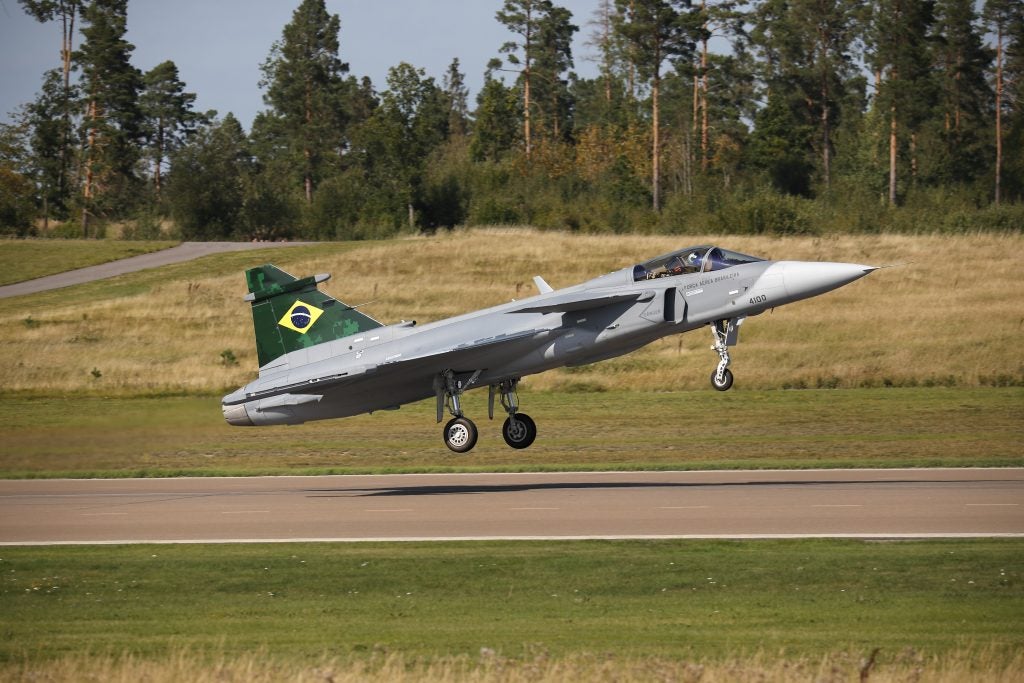 In addition to production in Sweden, Saab and Embraer are preparing for production of Gripen Es to commence in Brazil in 2021. The twin seat Gripen F variant is being developed in Brazil at the Gripen Design and Development Network, located at the Embraer plant in Gavião Peixoto, São Paulo State.

The flight of Sweden's first Gripen E marks a milestone on the aircraft's road to maturity, and will undoubtedly be of interest to potential export customers. Saab has aggressively marketed the Gripen E to various air forces, but has only succeeded with Brazil to date. The Gripen E was disqualified from the Swiss Air 2030 program this year as a result of armasuisse, the Swiss defense procurement agency, requiring that all aircraft offered be operationally ready. While not all potential customers have such stringent requirements, it is nevertheless a high profile setback Saab would like to bounce back from.