South Korea Reveals Plans to Construct its First Aircraft Carrier – the LPX-II
Initially thought to be new class of landing helicopter dock (LHD) amphibious assault ship, the new LPX-II has in fact been revealed to be a light aircraft carrier. The LPX-II will be designed for the deployment of the Joint Strike Fighter F-35B. South Korea's 2021-2025 defense blueprint, published on the 10th August outlined the technical details.
The LPX-II is set to be South Korea's largest warship to date, 50% bigger than the current largest. It will sacrifice amphibious support capabilities as it does away with the well-deck and will instead be able to carry over a dozen F-35B fighter jets, extending the Republic of Korea (ROK) Navy range in the South China and Yellow Seas.
The light aircraft carrier's displacement is set to be 30,000 tons empty and over 40,000 tons when carrying a full load. It will feature a full-length flight deck, a split island for flight operations oversight, and two elevators for the transportation of the fighter jets from the hangar below the deck. The exact design and layout of the vessel has not yet been revealed. Unlike the British Royal Navy's new Queen Elizabeth class of carriers the ROK carrier is unlikely to have a ski-jump, instead it may be more akin to the US Navy's Wasp or newer America class landing helicopter assault (LHA) and landing helicopter dock (LHD) amphibious assault ships.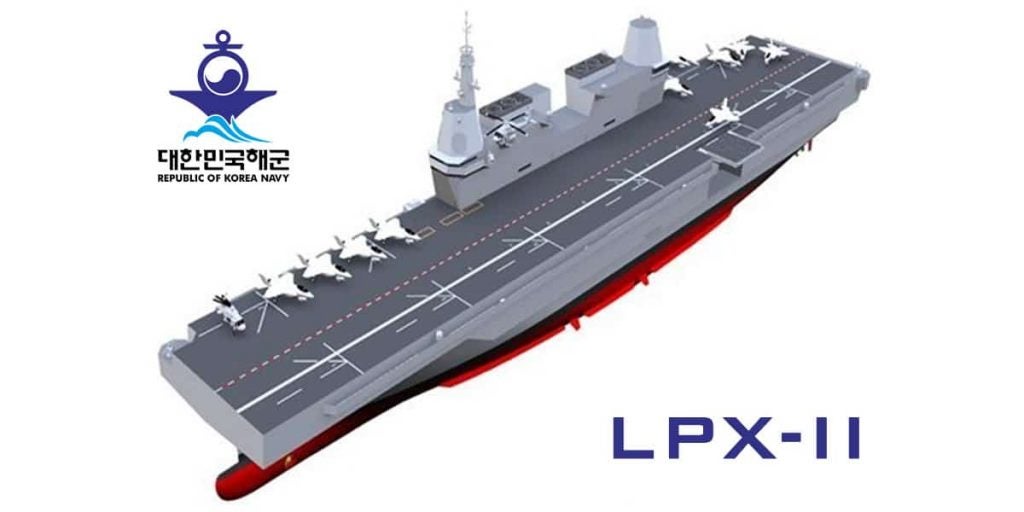 The LPX-II build schedule has been changed as the ROK government has decided to fast-track its construction with a launch planned for sometime in the late 2020s instead of its original planned launch year of 2033. A fast-tracked order of 20 additional F-35B Lightning II fighter jets most, likely destined to be carried aboard the LPX-II, was also revealed in the defense blueprint, bringing the total number of F-35s the ROK aims to procure to 80.
As tensions in the East Asian region and South China Sea rise, other players have raced to increase their naval capabilities. China commissioned its first domestically built aircraft late last year with a series of others in the works. Fellow American ally, Japan, has embarked on converting the Izumo helicopter carrier into a full fixed-wing aircraft carrier, its first in 75 years. In addition. Singapore too appears to be working towards using helicopter carriers to deploy F-35B fighter jets.