Germany Navy Begins Testing V-200 SKELDAR Drone
The Deutsche Marine (German navy) began at-sea testing of the SKELDAR V-200 vertical take-off and landing (VTOL) unmanned aerial vehicle (UAV), designated the Sea Falcon, on the 12th August. The commander of the Marinefliegerkommando (Naval Aviation Command), Thorsten Bobzin, published photographs on social media showing two Sea Falcon drones being placed aboard the K130 class corvette F260 Braunschweig.
"Now testing begins, first statically on the deck, then dynamically. It's coming along." Commander Bobzin said in a post on twitter.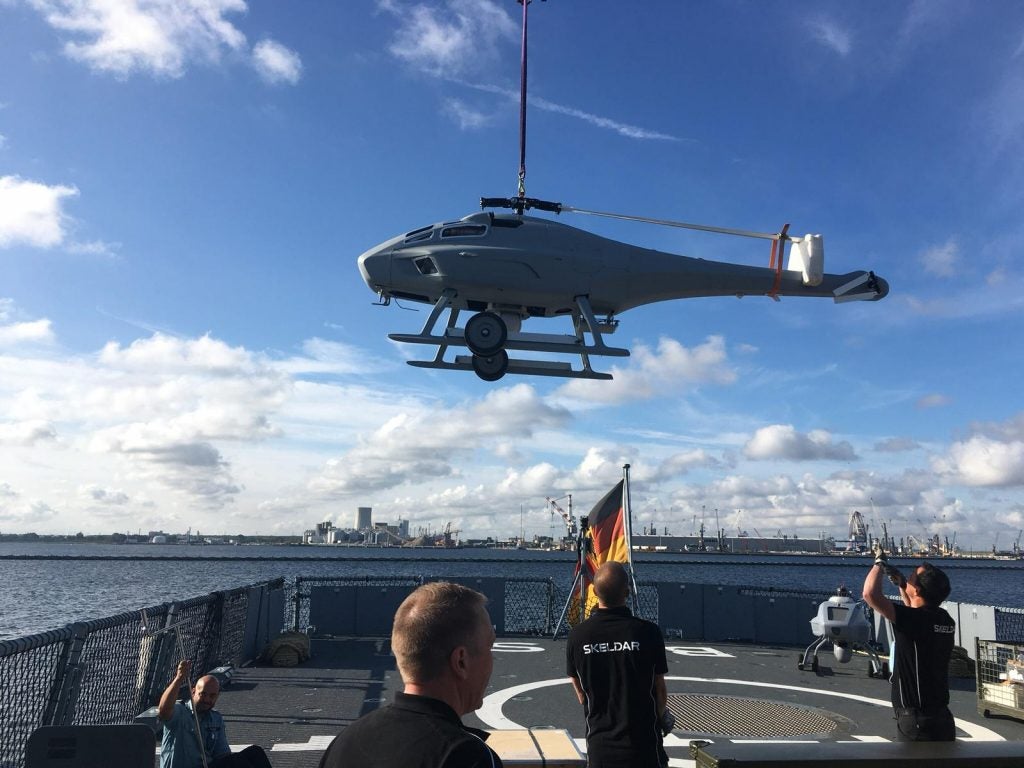 Swiss-based UMS Skeldar, a joint venture between Swiss UAV and SAAB, was contracted in August of 2018 to supply the German navy with a SKELDAR V-200 system. The contract entailed the company would deliver two UAV sensors carriers, system integration for the Braunschweig, training for both operators and maintenance technicians, as well as supplying replacement parts.
The goal of the full procurement contract, which was signed by Elektroniksystem- und Logistik (ESG) as the main contractor and UMS Skeldar and Fr. Lürssen Werft, is to supply the German navy with a modern reconnaissance system that is airborne and unmanned, as outlined by Germany's federal military procurement agency.
The Skeldar V-200 is capable of autonomous take-off and landing on an area of 15 square meters (49.2 square feet), and its modular design allows for payloads to be changed rapidly on a per-mission basis, making it ideal for its role aboard the Braunschweig. Among said payloads are laser pointers, range finders, electro-optical and infrared (EO/IR) 3D mapping sensors, a light cargo hook, and a SIGINT (Signals intelligence) system. It is capable of five hours of continuous flight while carrying a 40-45 payload.
"Provided ready for seaborne missions, with multiple payload options, the world-leading maritime rotary unmanned aerial system is suitable for C4ISR (Command, Control, Communications, Computers, Intelligence, Surveillance and Reconnaissance) and SAR (Search and Rescue) roles. SKELDAR V-200 uses Jet A-1, JP5 and JP8, kerosene-based fuel (NATO code F-34, F-44)." UMD Skeldar said in a press release dating back to the time of signing the contract.