Australian Army Shortlists Drone Finalists
Four companies have been shortlisted for the Australian Army's LAND 129 Phase 3 Tactical Unmanned Aerial System (TUAS) program to replace the RQ-7B Shadow 200 UAS currently in service. The firms will now be invited to submit platforms for "…competitive evaluation of more comprehensive tendered solutions" before final selection next year. The finalists are Boeing's Insitu Pacific, Leidos Australia, Raytheon Australia and Textron Systems Australia.
LAND 129 Phase 3 requirements dictate a UAS that weighs no more than 250 kilograms with a "range commensurate or better than Shadow 200" (over 125 kilometers) to prosecute five key tasks; ISR (intelligence, surveillance, reconnaissance), target detection and tracking, targeting support for other assets including via laser designation, preliminary analysis of ISR product, and organic voice/data relay support. It should support a "modular payload space" to future-proof payload types.
The ISR requirement requires "…systematic observation of specified areas, with multiple sensors, including visual, across the electromagnetic spectrum…" Once targets are identified and surveilled the TUAS should be capable of disseminating accurate targeting data to either other airborne platforms like the Tiger armed reconnaissance helicopter or to the Advanced Field Artillery Designation System to allow targets to be engaged by artillery fire missions.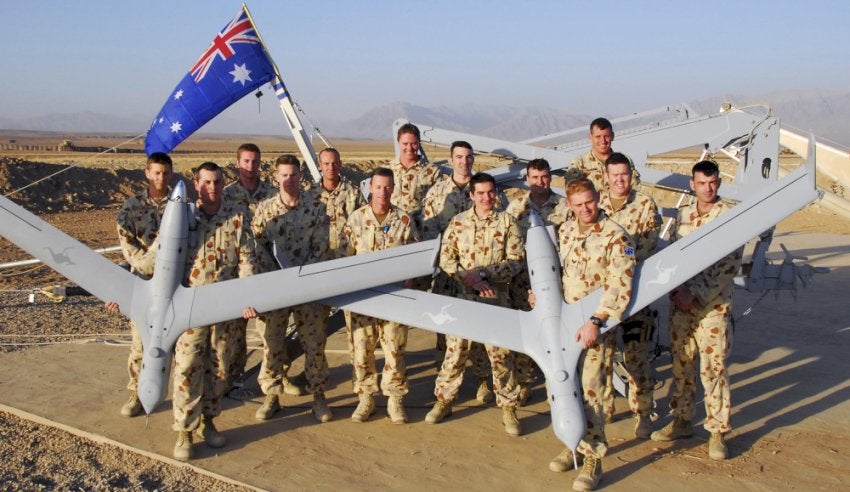 The ground control station will be housed in a specialist Bushmaster Protected Mobility Vehicle known as the Electronic Platform Variant (EPV).Handheld Rover terminals will allow JTACs (Joint Terminal Attack Controllers) access to the live feed from the TUAS. The Army currently fields some 18 AAI RQ-7B Shadow 200 UAS operated by the 20th Surveillance and Target Acquisition Regiment. The acquisition of the new TUAS will also allow the expansion of the unit with the establishment of a third battery.
The RQ-7B Shadow 200 replaced the Insitu designed ScanEagle in Army service, becoming operational in 2012, to support Australian Combined Team Uruzgan and Special Operations Task Group operations in Afghanistan. The Royal Australian Air Force (RAAF) also operated two leased Heron RPAS (Remotely Piloted Aircraft System) platforms over Afghanistan. Out of service since 2017, the capability gap will likely be filled by the MQ-2B Sky Guardian as reported here at Overt Defense.