China Resumes J-15 Jet Production Following Halt Over Coronavirus Outbreak
The Chinese state-owned Shenyang Aircraft Company (SAC), a subsidiary of the Aviation Industry Corporation of China (AVIC), announced on the 21st February that it would be resuming all production following a temporary halt due to the Coronavirus outbreak. Images published along the announcement may indicate China's carrier-borne J-15 multi-role fighter jets specifically are reentering production.
At least one photograph (seen above) accompanying the announcement appears to show an aircraft undergoing construction by technicians at a factory and features a new green primer coating, suggesting they're part of a new batch. The publication of these photos follows the commissioning of China's second aircraft carrier, the Shandong.
SAC's announcement did not provide specifics on which production processes were being resumed, however, the J-15 was identified by its shape and canards in the photo with a caption translating to"Full Resumption of Production".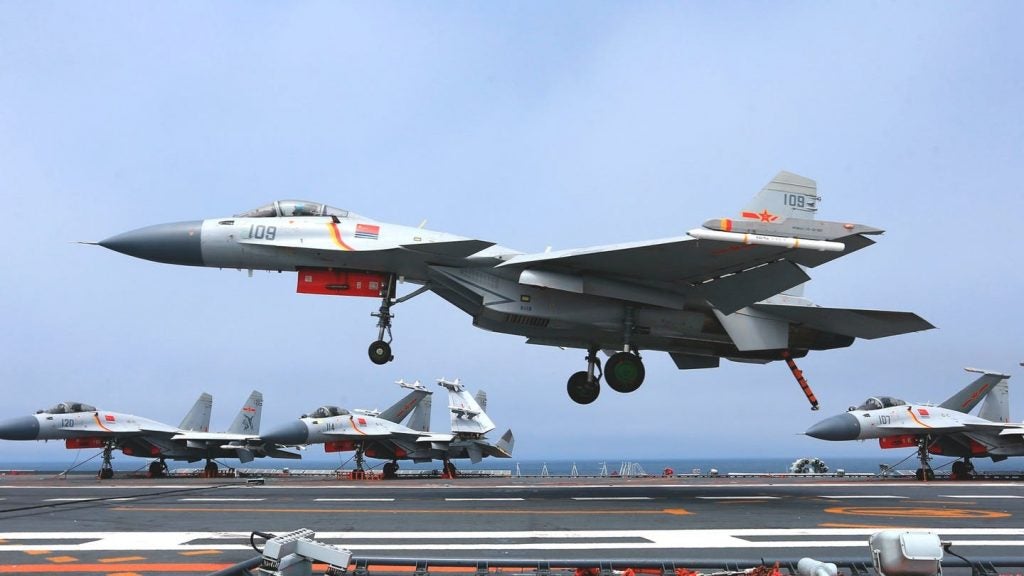 Although the date in which the photos were taken wasn't provided in the announcement, the technicians featured are visibly wearing surgical masks, pointing to the photos being taken after the Covid-19 Coronavirus outbreak.
According to an earlier report by the South China Morning Post, several of AVIC's subsidiaries announced the resumption of the operations on the 10th February as aerospace and naval institutions pledged they wouldn't allow the Coronavirus outbreak to negatively affect their production and scientific research schedules.
The article quotes a military insider saying the Chengdu Aerospace Corporation (CAC), another subsidiary of AVIC responsible for the design and building of the People's Liberation Army's (PLA) J-20, had pledged to produce 300 of the jet in the next decade. "Other state-owned enterprises like steel plants have also resumed production, and it's impossible for the aircraft and naval industry to slow up production once the heat treating furnaces are turned on," the anonymous insider claims.
A news release from AVIC announced that China Aviation Industry representatives had held a sixth special meeting regarding their response to the epidemic on the 25th February. Ruisong Tan, AVIC's chairman, said at the meeting (machine translated):
"We must resolutely implement the spirit of General Secretary Xi Jinping's important speech and important instructions on the prevention and control of the new crown pneumonia epidemic, and the resumption of work and production. We must not relax, grasp and implement the prevention and control work in a comprehensive manner, and coordinate the work of reforming and developing the research and development of the aviation industry."
It appears the resumption of production across programs is being dictated by China's Central Military Commission, headed by Chinese President Xi Jinping. SCMP's source reports that the commission ordered the arms industry to maintain production levels despite the outbreak.