US Army/USMC Integrated Visual Augmentation System Set For Larger Scale Trials
The joint US Army/Marine Corps development of the IVAS or Integrated Visual Augmentation System continues apace with large scale trials scheduled for July this year. A Marine infantry platoon, an Army infantry company, a support platoon and a designated OPFOR (opposing force) platoon will test the goggles for a two-week period at Fort Pickett.
84 soldiers, special operators and Marines previously tested IVAS last year in the second of what the Army terms 'soldier touch points'. The upcoming third 'touch point' will be the largest and most strenuous testing of the IVAS concept to date. If successful, the IVAS will go on to operational testing in March next year with a projected procurement of 40,219 units.
IVAS is a multi-faceted 'augmented reality' platform developed by Microsoft researchers working for the Army's Soldier Lethality Cross Functional Team. It provides navigational and situational awareness data (akin to a more advanced version of Blue Force Tracker) along with a basic language translation service. IVAS can operate in jammed and contested network environments and is not reliant upon network access although synching with a network offers greater capabilities.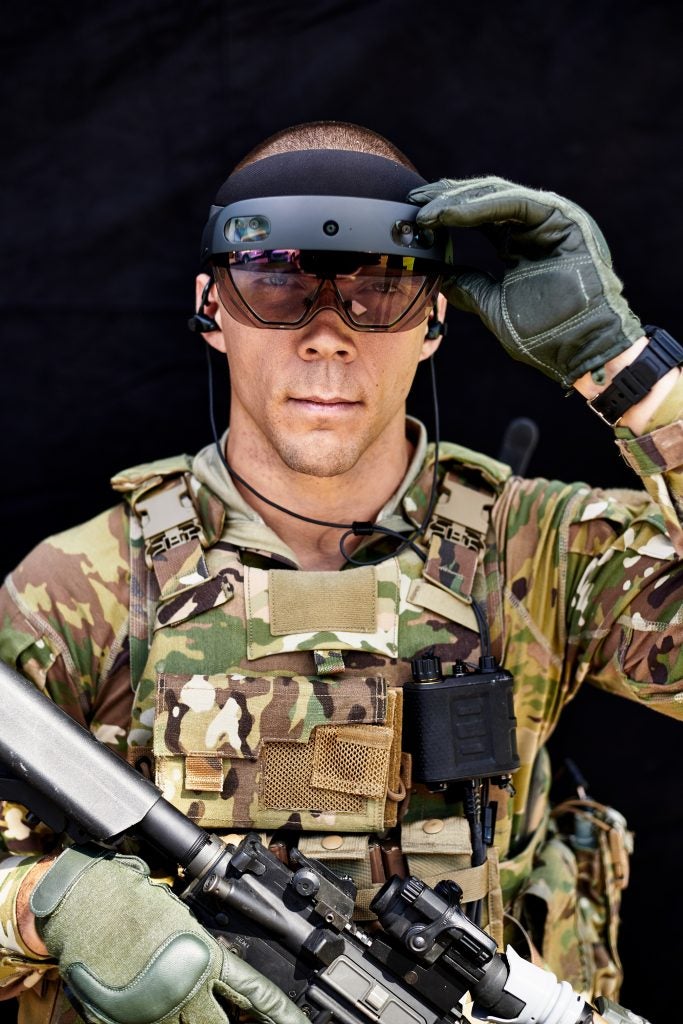 A company-level cloud known as the Bloodhound enables data sharing between users. Inputs from manned and unmanned platforms can be shared instantaneously including from the new LETS/MACS-B Unmanned System Technology designed to allow real-time 2D and 3D mapping, and live streams from platoon and squad level UAVs (unmanned aerial vehicles) such as the Black Hornet.
It also includes the capability of running virtual reality combat scenarios, allowing infantry squads to virtually train together anywhere at any time without recourse to ranges or MOUT (military operations in urban terrain) complexes for example.
Operationally, IVAS will be able to be viewed independently through ruggedized Microsoft HoloLens goggles or via inputs into the Army's new Enhanced Night Vision Goggle-Binocular (ENVG-B). When wearing the ENVG-Bs, the user can decide on his or her view; full goggle view, view from their integrated Family of Weapons Sights-Individual or a split screen including IVAS data. IVAS will also likely reduce the bulk of the ENVG-B and see a more compact night vision/augmented reality goggle adopted in the near-future.