Airbus Delivers First Hungarian H145Ms
The first two Airbus H145M light utility helicopters have been delivered to the Hungarian Air Force. Procured under Zrinyi 2026, the Hungarian military's modernisation program, the Hungarian H145Ms will be able to conduct armed reconnaissance, ISR (intelligence, surveillance and reconnaissance) and counter-terrorism support.
The Hungarian H145Ms are equipped with Airbus' HForce modular weapons system platform although dedicated attack helicopter support will continue to be provided by Mi-24 Hinds which are currently undergoing their own modernisation program in Russia.
HForce is based around a Rockwell Collins mission computer and Thales Scorpion helmet-mounted display and allows a full range of weapons platforms to be controlled. The Hungarian variants are believed to be equipped with Thales 70mm guided rocket pods and either FN 12.7mm machine gun or Nexter 20mm cannon.
For ISR missions, the H145M mounts the L3Harris Wescam MX-15 electro-optical/infrared camera. The Hungarian aircraft are also equipped with ballistic protection against small arms fire and fragmentation. For the SOF (special operations forces) mission, they mount a fast rope system to enable up to nine passengers to rapidly deploy from the aircraft.
12 further airframes are scheduled for delivery in 2020 with the final four due to be delivered in 2021. Hungarian aircrew and support personnel are being trained in Germany by Airbus Helicopters as part of the procurement package. 16 heavy lift H225Ms have also been ordered to replace ageing Mi-8s.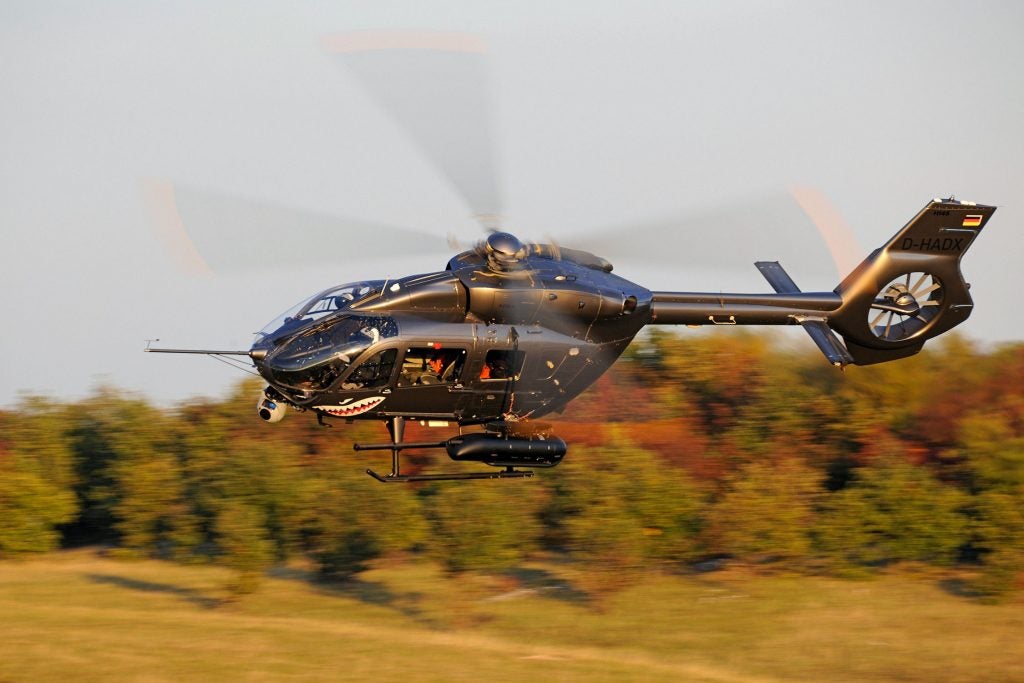 Already in-service with the German military (15 are in use supporting the KSK SOF unit with a further seven ordered for Combat Search and Rescue) and it is being procured by Luxembourg, Serbia and Thailand. The H145 platform is also in the running for the Australian Special Operations Command (SOCOMD) requirement for a light special operations helicopter as previously reported by Overt Defense.
Airbus are also forging ahead with a program to test integration of manned-unmanned teaming with unmanned aerial vehicles (UAVs) piloted by the aircrew in a H145M. Airbus are also experimenting with mounting chemical obscurant dispensers that aim to cloak the helicopter in an infra-red resistant fog in a similar fashion to smoke dispensers on armoured fighting vehicles. This is believed to be the first time such a technology has been attempted with a rotary wing platform.