Royal Navy Awards Contract For 'Project Cetus' Crewless Submarine
The Royal Navy has awarded a £15.4 million contract for its first crewless submarine to Plymouth firm MSubs. The contract is funded by the Anti-Submarine Warfare Spearhead programme and will deliver the largest and most complex crewless submarine operated by a European Navy.
The vessel, developed under Project Cetus, will be delivered to the Navy in two years. The battery powered Cetus submarine will be able to cover up to 1,000 miles in a single mission. It will be 12 metres long, 2.2 metres in diameter and weigh 17 tonnes. It has also been designed to be modular, with an optional section that can be added to double the capacity of the vessel. UK Defence Secretary Ben Wallace said:
"In order to meet the growing threats to our underwater infrastructure, the Royal Navy needs to be ahead of the competition with cutting edge capabilities. Project Cetus, alongside bringing forward the MROS ships, will help ensure we have the right equipment to protect the security of the UK and our Allies."
The vessel will fit inside a shipping container and can be transported around the world to wherever it is needed. It will be designed to operate with all of the Royal Navy's ships, as well as those of allies.
Project Cetus is the first step in developing an operational autonomous submarine that will work independently or side-by-side with crewed submarines such as the Royal Navy's Astute-class and its successors.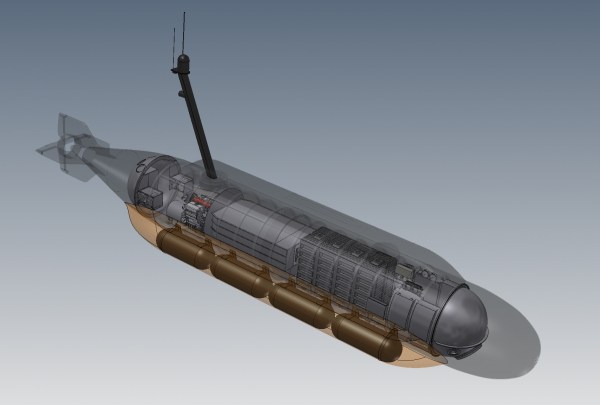 The acquisition of large uncrewed underwater vehicles would provide the Royal Navy with a platform to experiment and advance technology as well as best practices. Multiple nations are currently building their own large crewless underwater vehicles.
The crewless submarine is the latest step taken by the Royal Navy into autonomous systems, and have been for over a decade. Crewless minehunting systems are already operating in Scotland, and driverless Pacific 24 sea boats are undergoing testing. Various aerial drones are used by ships for reconnaissance and intelligence gathering.
Cover image: Project Cetus crewless submarine (U.K. MoD)