DefExpo 2022: Larsen & Toubro Showcases SOV400 Midget Submarine
Larsen & Toubro (L&T) Defence showcased their indigenous midget submarine SOV400 during India's flagship defence exhibition DefExpo 2022, held in Gandhinagar. Two models of the submarine design were displayed.
L&T Defence is marketing the SOV400 as "The Small, Smart Submarine." The diesel-electric multi-role submarine is primarily intended for special operations. The submarine is equipped with a 'Moon Pool' for deployment and recovery of marine commandos at depths of up to 40m.


Up to eight commandos can be carried onboard the submarine. They can either use two four-man swimmer delivery vehicles or commando containers for insertions – both of these can be carried by the SOV400.
The SOV400 is 45m long, 5.9m high and has a pressure hull with a diameter of 4.3m. Hull structures are designed to be built using submarine grade DMR 249 steel. The submarine would have a crew of 12 and a normal displacement under 500 tons. The equipment in the aft compartment are controlled remotely from consoles in the forward compartment.
A 350kW motor can propel the SOV400 to submerged speeds of over 10 knots. Designed for an endurance of over 20 days, it can cruise at four knots for over 80nm when submerged. Two 400kW generator sets are provided to recharge two groups of lead acid batteries.

L&T claims the submarine can dive to 120m, operate in waters as shallow as 20m and is capable of being bottomed. Various safety and ergonomic features are also incorporated in the submarine design. This includes an escape hatch, two 140kW AC plants, scrubbers, oxygen regeneration system and bunk beds among others.
The SOV400 is equipped with two 533mm torpedo tubes for shallow water attacks and self defence. A bow mounted conformal sonar array along with other communication and surveillance devices provide information to the crew through an integrated combat management system.

The existence of the SOV400 design was first revealed in 2021. The design can be tailored according to user requirements. L&T is working on an advanced variant of SOV400 with Li-ion batteries and other improvements.
The Indian Navy has a requirement for two midget submarines, which would be used by its MARCOS special operations unit. L&T is promoting the submarine as a 'value for money' proposition capable of providing credible deterrence capability, "especially for smaller navies with limited defence budgets."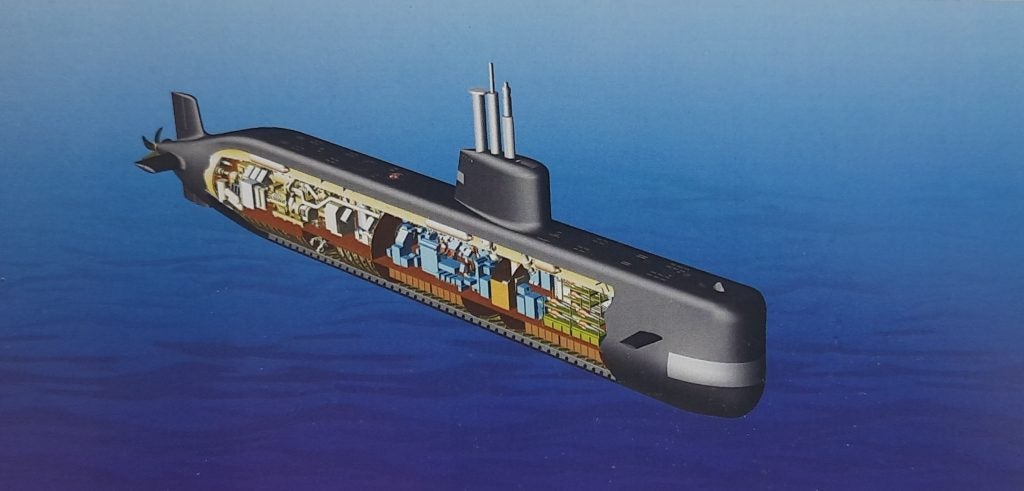 L&T currently plays a major role in the construction of India's ballistic missile submarines. L&T and state owned Mazagon Docks Limited (MDL) are contenders for the beleaguered Project-75I, which aims to build six diesel electric submarines. Both Project-75I and the midget submarines were requirements approved by the Indian MoD in October 2014.
Meanwhile, MDL is also looking to develop various types of midget submarines. Both L&T and MDL were among the firms at DefExpo 2022 which showcased development of unmanned naval assets.