India's Astra Mk-II Missile Revealed In IAF Promotional Video
An Indian Air Force (IAF) promotional video has revealed the Astra Mk-II air to air missile (AAM) for the first time. The short clip was part of a near nine minute video released on October 4, ahead of IAF's 90 year anniversary on October 8. Meanwhile, the integration of Astra Mk-I AAM onto the Tejas light combat aircraft is in progress.
The short clip showed the Astra Mk-II missile labelled "BVR Mk-II ASTRA" being launched from an ejector pylon onboard a Su-30MKI. Another clip also showed the Astra Mk-I being launched from an ejector pylon. However, the videos did not feature any footage of either missile igniting its rocket motor. The Mk-II missile is being developed by DRDO.
All publicly revealed Astra Mk-I launches so far had been from rail type pylons. Such pylons cause carriage issues due to the launch plumes of the missile. Ejector pylons ensure that the missile plume doesn't interfere with the aircraft or payload.
Astra Mk-II is a dual pulse AAM with an expected maximum range of over 160km. The missile is virtually indistinguishable from the Astra Mk-I visually, a tiny increase in diameter at the mid section being the only notable external change.
When inducted, the Astra Mk-II is expected to provide IAF with an indigenous alternative to the MBDA Meteor ramjet propelled missile used onboard IAF Rafales as well as the PL-15 missile in use with India's adversaries Pakistan and China.
The Mk-II missile is the second in the Astra missile family. More missiles such as the solid fuel ducted ramjet (SFDR) propelled Astra Mk-III are in development. Multiple variants of the Astra Mk-I with more indigenous content and other features are also being developed. The VL-SRSAM missile being developed for the Indian Navy is also derived from Astra program.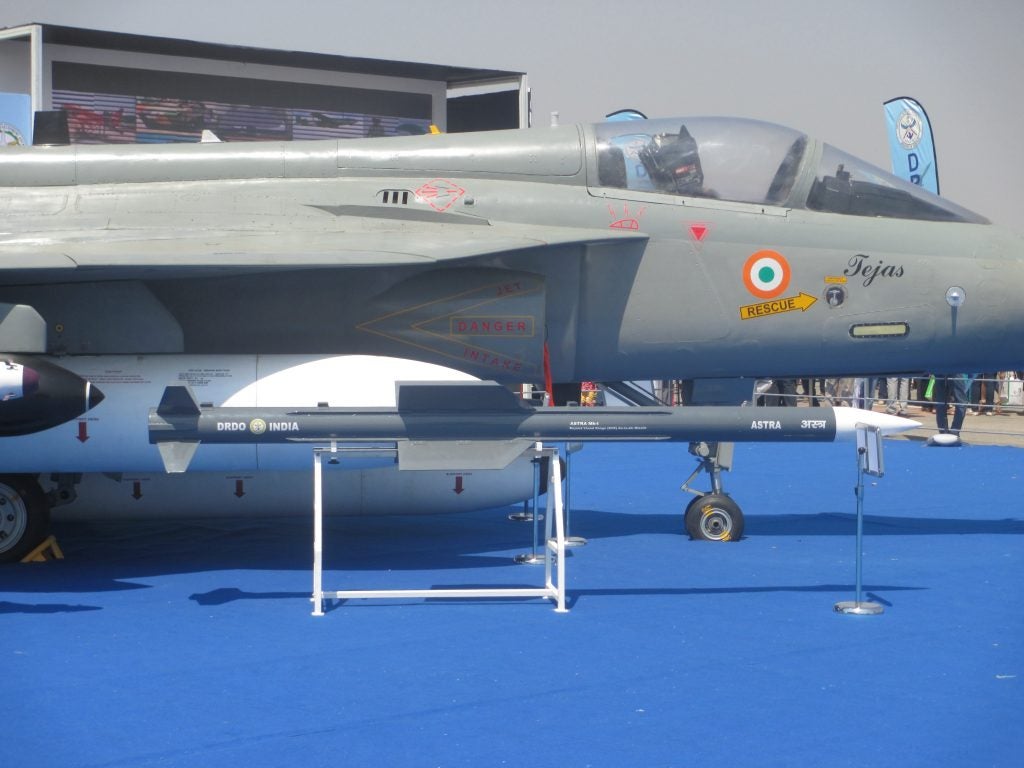 248 Astra Mk-1 missiles were ordered for the IAF and Navy. The missile, produced by Bharat Dynamics Limited, is being integrated with the LCA Tejas. A senior official of Hindustan Aeronautics Limited (HAL) told Overt Defense in late September that the carriage trials of the missile onboard Tejas are in progress with satisfactory results. The missile will "definitely" be fired from Tejas in 2022, the official reiterated.
The promotional video was launched during a press conference by IAF chief VR Chaudhari. He stated that two more single seat Tejas Mk-1 aircraft are left to be inducted of the 32 ordered. All eight trainers ordered alongside these would be delivered in 2023.
The IAF chief admitted that IAF's low squadron strength poses issues and reaffirmed IAF's commitment to the controversial and long pending Multi-Role Fighter Aircraft (MRFA) program to import and manufacture 114 medium weight fighters.